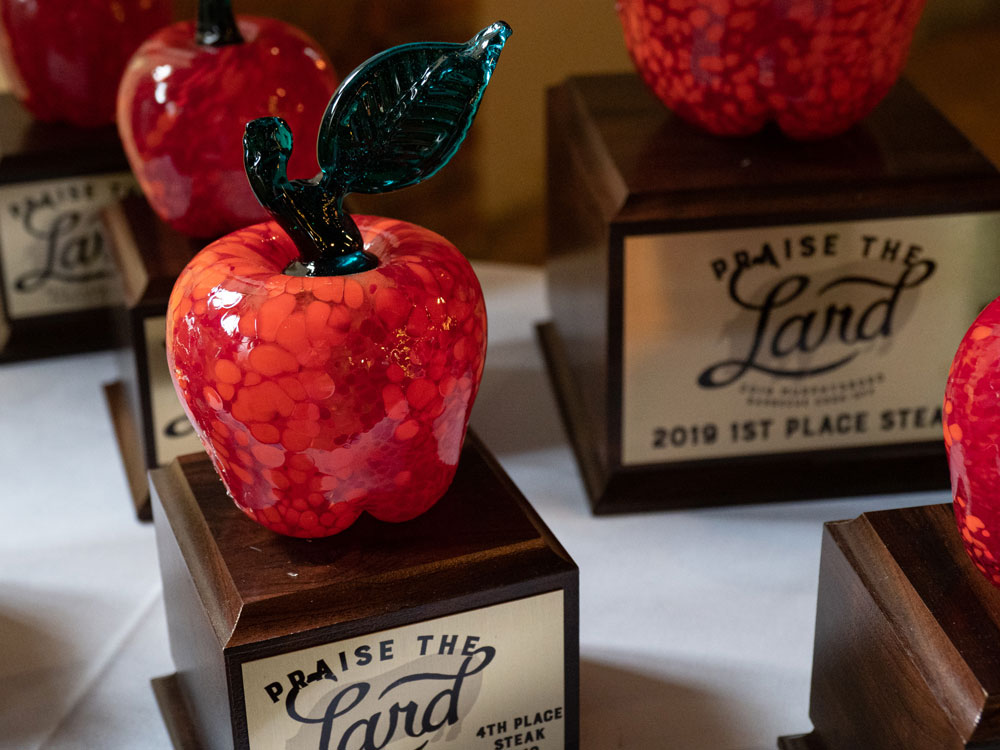 Our 32nd annual cook-off took place this weekend, September 19–21. Over 100 teams from 18 states set up camp around the 17th Street Barbecue Warehouse to compete for Grand Champion bragging rights, entry into the World Steak Championship, the Kansas City Royal, the Jack Daniel's draw and a share of $28,000 in prize money. Over 200 judges, volunteers and ambassadors traveled from 20 states.
Our contest is like a slice of pure Americana. This is our opportunity to showcase the very best of Murphysboro and Southern Illinois to a wonderful group of people from all over the world. This is a field of fierce competitors. If you can win here, you can win anywhere. In fact, we have a number of World Grand Champions in this field.
It also marked the 13th year of a dual-sanctioned event with teams cooking both the Memphis Barbecue Network and Kansas City Barbecue Society contests. Of the 79 competing teams, 22 were MBN sanctioned teams and 57 were KCBS sanctioned teams. Ten teams cooked in both contests.
This year was the sixth annual Steak Cook-off, sanctioned by the Steak Cook-off Association, with 57 teams competing.
Winning teams received original trophies of one-of-a-kind hand-blown glass apples, exclusively commissioned for the Murphysboro Barbecue Cook-Off by the Douglass School Art Place in Murphysboro. Heath Riles, this year's double Grand Champion received two chainsaw-carved pigs from father/daughter duo Wendy Brown and Mike Brown of Bear Tracks in Brownsville, Illinois.
We have the most generous support from our community and our sponsors. We couldn't produce an event of this magnitude without their support, and without the multitude of local volunteers who help in so many ways. For our contest to have continually grown over the past 32 years is a testament to all of the people who come together to make this a crown jewel of the barbecue circuit. Murphysboro absolutely shines during this weekend.
Praise The Lard Murphysboro Barbecue Cook-Off Sponsors include 17thStreet Barbecue, The City of Murphysboro, Ole Hickory Pits, Wichita Packing Company, Townsend Supply, Venegoni Distributing, Silkworm, Republic Services, Certified Angus Beef, Arthur Agency, Big Muddy Brewing, Graue, Inc, Henson's Septic Service, Mileur Orchard, Oliver and Associates, Pepsi, River Radio, Kingsford Charcoal, Schwebel Printing, Sound Core, Performance Food Group, US Foods, and Voss Heating and Air, among others.
Here are the results:
Memphis Barbecue Network
Grand Champion: Heath Riles BBQ
MBN Ribs
5) Serial Grillers
4) Phat Chance
3) Get Your Grill On
2) Boro City Smokers
1) Heath Riles BBQ
MBN Pulled Pork
5) Goin' Hog'N
4) Heath Riles BBQ
3) BBQ Bus
2) Phat Chance
1) Smokin' Mud Duckers
MBN Whole Hog
5) Smokin' Mud Duckers
4) Auto Be Grillin
3) Steamboat BBQ
2) Heath Riles BBQ
1) Bubba Grills
KCBS Grand Champion: Heath Riles BBQ
KCBS Reserve Grand Champion: St. Louis Black Iron BBQ
KCBS Chicken
10) Serial Grillers
9) One2bbq
8) Chasin Chicken Barbecue
7) Carrol Lous Smokehouse
6) Hot Coles BBQ
5) Jakey Leg BBQ
4) Checkered Pig
3) Razoracks
2) Smoke Me Silly
1) Heath Riles BBQ
KCBS Ribs
10) Carrol Lous Smokehouse
9) Hot Coles BBQ
8) Risky Brisket
7) Heath Riles BBQ
6) Chasin Chicken Barbecue
5) Razoracks
4) Iowa Smokey D's
3) Rocky Top Barbeque
2) Rooters N Tooters
1) Smoke Me Silly
KCBS Pork
10) Smokin' Sauced
9) Iowa Smokey D's
8) BBQ Bus
7) One2BBQ
6) Serial Grillers
5) Hefty Lefty BBQ
4) Smoke Me Silly
3) Crown Town Q
2) Carrol Lous Smokehouse
1) St. Louis Black Iron BBQ
KCBS Brisket
10) Hot Coles BBQ
9) One2bbq
8) Chasin Chicken Barbecue
7) Checkered Pig
6) Iowa Smokey Ds BBQ
5) Hefty Lefty BBQ
4) Cluck, Oink & Moo Barbecue
3) Rocky Top Barbecue
2) Fire Dancer BBQ
1) Bubba Grills
SCA Steak
5) Dave Salm
4) Tim Brown
3) Tim Axe
2) John Lindsey
1) Sandy Brown
Cabo Wabo Cabo-rita – It's 5 O'clock Somewhere
Fish Contest – 1stPlace: Nuthatch Hill
Wings Contest – 1stPlace: Steamboat BBQ