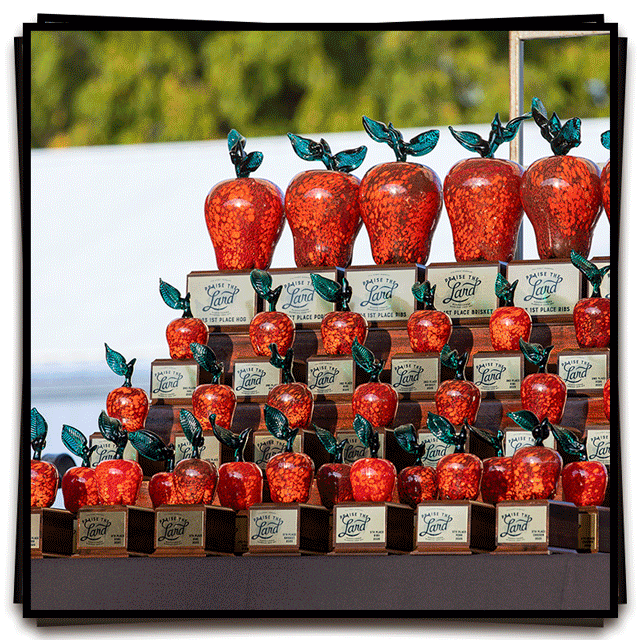 Here it is…the list of the 2023 Praise the Lard Cook-Off Winners!
For the last 36 years, the Murphysboro Praise the Lard Cook-Off has been a cornerstone on the national barbecue circuit, having earned the reputation as one of the best three-days to experience and celebrate the competitive barbecue culture. This year, 17th Street Barbecue was thrilled to welcome back 90 teams from 15 states, competing for Grand Champion bragging rights, entry into the Kansas City Royal, the Jack Daniel's draw and over $30,000 in prize money.
This year also saw the eighth year of our successful partnership with the Steak Cook Off Association, as we expanded the widely popular Friday night competition into a Doubleheader taking place through Saturday afternoon. We also introduced the first Pork Steak Cook-Off ancillary, recognizing this Midwest classic. A record number of 40 teams competed in the Steak Doubleheader. Rounding out a weekend of firsts, was the Anything Apple ancillary, paying tribute to Murphysboro's rich apple history.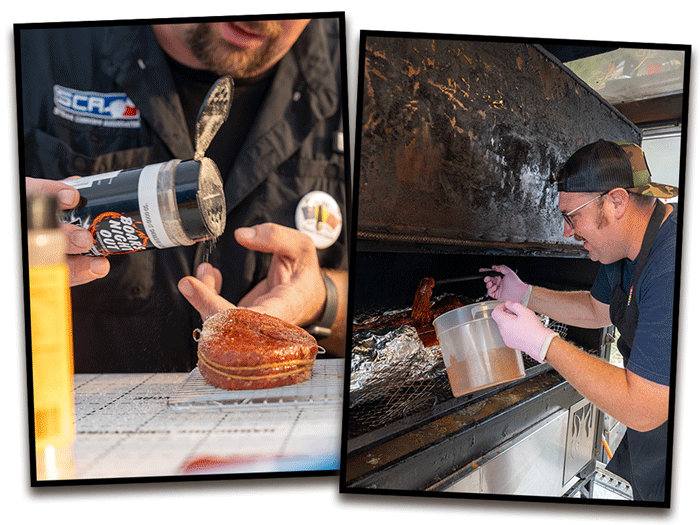 This year marked the 15th year of a dual-sanctioned barbecue event with teams cooking for both the Memphis Barbecue Network (MBN) and Kansas City Barbecue Society (KSCBS) sanctioned contests. 
The three-day event continues to pay tribute to the memory of my dad, Mike Mills, affectionately known as "The Legend," who passed away at the end of 2020. Originating as a one-day effort hosted by him to benefit the community, Praise the Lard Cook-Off has become as much a jewel in the crown on the barbecue circuit as one of the most anticipated fall weekends in the world of barbecue. We're so proud to showcase the city of Murphysboro and show the teams and judges the gracious hospitality that is a trademark of Southern Illinois. We're continuing his legacy of promoting barbecue as a conduit for community.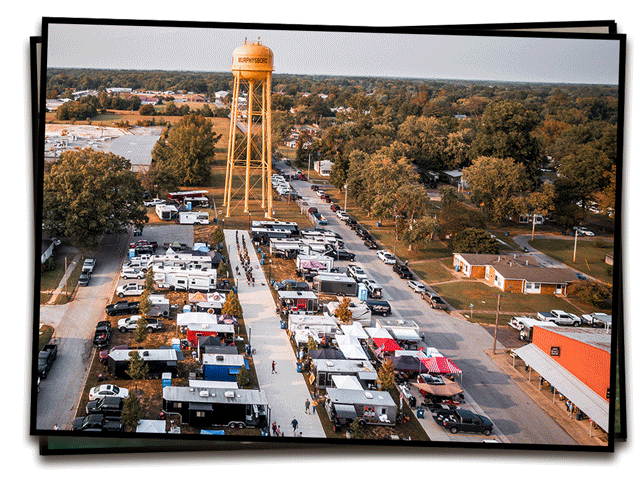 The trophies at our competition are coveted works of art. Winning teams received one-of-a-kind hand-blown glass apples, exclusively commissioned for The Murphysboro Barbecue Cook-Off by the Douglass School Art Place in Murphysboro. The two Grand Champions each received a chainsaw-carved pig from Southern Illinois Chainsaw Carving in Marion, Illinois.
We are thankful for the generous support of the city, sponsors, community at large and hardworking volunteers to make the 36th year of this treasured weekend possible.  
---

2023 MURPHYSBORO BARBECUE COOK-OFF RESULTS
MBN GRAND CHAMPION:
Swine Life BBQ
RIBS
1) Swine Life BBQ
2) Boro City Smokers
3) Ain't it the Life
4) The Great Pig in the Sky
5) Twyford BBQ
PULLED PORK
1) Smoke Masters BBQ
2) Ain't it the Life
3) BBQ Bus
4) Twyford BBQ
5)  Will-Be-Que
WHOLE HOG
1) Swine Life BBQ
2) Steamboat BBQ-1
3) Party Q
4) The Great Pig in the Sky
5)  Will-B-Que
KCBS GRAND CHAMPION:
Janky Leg BBQ
KCBS RESERVE GRAND CHAMPION:
Good Googly Goo BBQ
CHICKEN
1) Good Googly Goo BBQ
2) Fire Dancer BBQ
3) Razorracks
4) Swine Life
5) Jab's BBQ
RIBS
1) Fire Dancer BBQ
2) Iowa Smokey D's
3) Jab's BBQ
4) Backdraft BBQ
5) Janky Leg BBQ
PORK
1) Janky Leg BBQ
2) T-Rex BBQ
3) Rusty Pig BBQ
4) Q-Jitsu
5) Swine Life
BRISKET
1) Kith N' Kin
2) Triple H BBQ
3) Man Meat BBQ
4) Fire Dancer BBQ
5) The BBQ Bus
SCA COOK-OFF 1
1) Joe Osbrick
2) Paul Perpich
3) Ann Neal
4) Dale Benson
5) Sandy Brown
SCA COOK-OFF 2
1) TIE: Kevin Jaenke and Pat McDevitt
3) Chad Korte
4) Rust Hadacek
5) Zac Miller
PORK STEAK
1) Marty Plate
2) Randy Twyford
3) Ken Perkins
4) Steve Innarrone
5) John Bovinette
ANYTHING APPLE
1) Jessica Korte
2) Melissa McDevitt
3) Cierra Krause
4) John Bovinette
5) Paul Perpich
Winners photos: ©Kyle Quigley
Drone and event photos: ©Prescott Doll

---
Praise The Lard Murphysboro Barbecue Flagship Cook-Off Sponsors include 17th Street Barbecue, Faye, Ole Hickory Pits, Certified Angus Beef, Townsend Spice, Pepsi, Silkworm, Samron, City of Murphysboro, Graue Inc, Big Muddy Brewing, Kingsford, Oliver & Associates, Brews Brothers, Henson's Septic Service, Mileur Orchard, Republic Services, SIH, Schwebel Printing, Arthur, Voss Heating & A/C, US Foods, PFG Performance Food Group, Wichita Packing Company, Southern Illinois Tourism, UA 160, Donnewald Distributing Co., and Holiday Inn Express.