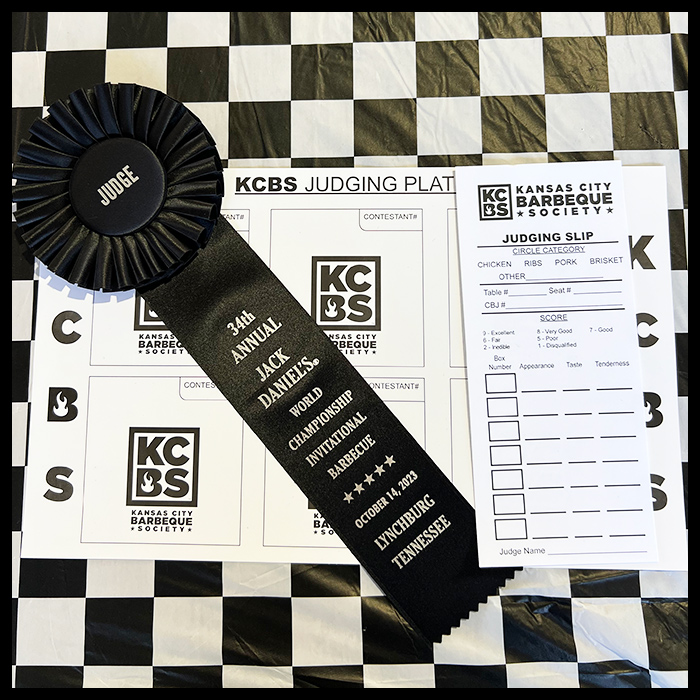 Judging The Jack is a cherished October tradition and I'm always honored to be chosen to be a judge for this special contest. This was my 19th year to participate and the third without my dad. I'm so grateful for the memories we made there over the years. Apple City Barbecue was the Grand Champion in 1992 and — fun fact — whole hog was a category that year and they placed first in whole hog, as well as in the sauce category. In 2013, Apple City Barbecue competed again, along with all past Grand Champions, as part of the 25th anniversary celebration. This blog post details that weekend. I'm so glad I had the opportunity to cook alongside my dad at this contest.
The Jack is the ultimate #bbqfamily reunion and it's a great opportunity to catch up with so many friends, all under one tent, not to mention seeing all of our friends who are fortunate enough to be cooking the contest.
Pictured with: Brad Orrison from The Shed, Chris Lilly, Big Bob Gibson, Michael Ollier, Certified Angus Beef, LeeAnn Whippen, Joe Leavitt, May the Smoke Be With You podcast,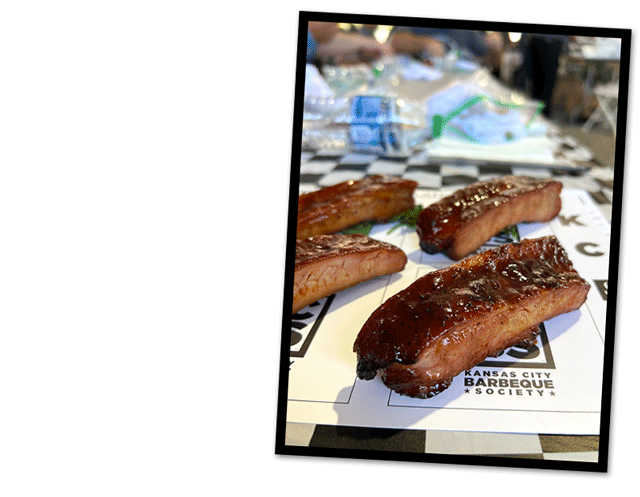 The barbecue at this event is always stellar and this year was no exception. Judging requires a lot of concentration as judges must judge each bite singularly, without comparing it to their favorite restaurant, the barbecue they make it home, or other barbecue on the plate. The teams in this field are the best of the best — they won a state contest and were lucky enough to be drawn. Other competitors won seven grand champions in the year, or they won Memphis in May, the American Royal, or the Houston Rodeo, giving them an automatic entry. Last year's Jack winner is an automatic, too. Rounding out the field are the international teams, who are so excited to be experiencing this very special and prestigious American contest.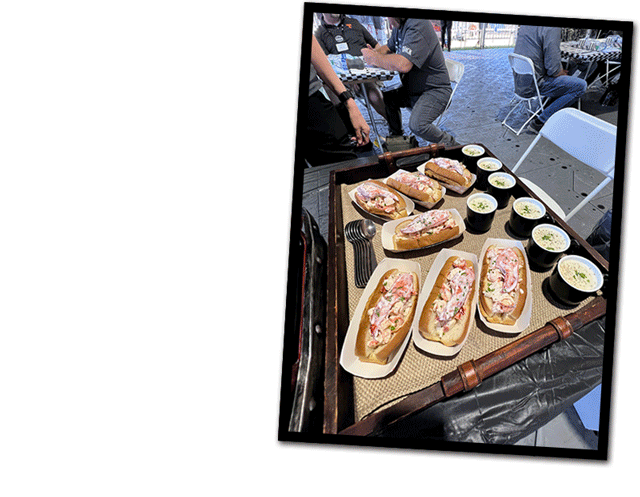 In addition to the main KCBS categories — chicken, ribs, pork, brisket — The Jack also has sauce, food of the homeland/chef's choice, and dessert categories. As you can see by these photos, the teams who enter ancillaries go all out on presentation. Watching the team captains carry the entries back to the tables is the food version of a fashion show runway. Our table judged three chef's choice entries — small skillets with grits, topped with a sausage and delivered in the cutest Jack Daniel's truck, lobster rolls and clam chowder, and a perfectly cooked filet topped with a lobster tail. My personal favorite was the lobster roll/chowder combo which was quintessentially New England in its preparation. The lobster was tender and perfectly cooked and seasoned.
The dessert presentations are so much fun and many teams include a nod to Jack Daniels as an ingredient or with their decor. Our table had four desserts this year. Cheesecake and chocolate always seem to be the judges' favorites and there is every variation imaginable. Some teams also include a beverage of some sort and one of my entries had a boozy, creamy drink as an accompaniment.
Thrilled to hear so many of our friends get stage calls. Huge congratulations to Uncle Pig's Barbeque Pit, Grand Champion, and B's Mackin BBQ, Reserve Grand. All event scores can be found here.
Judging the Jack is a favorite fall activity, for sure. Huge thanks to Debbie Christian the Jack Daniel's World Championship Barbecue Cooking Contest team for including me and toNiki Giacchina of Finn Partners for facilitating my trip.