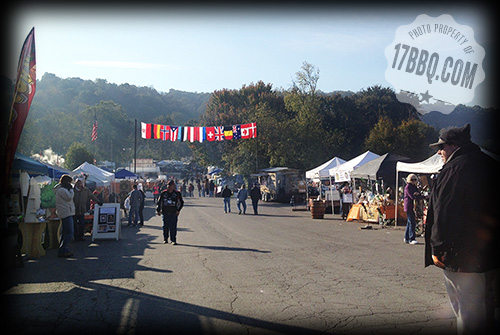 Have you experienced the magic of the  Jack Daniel's World Invitational Barbecue Cooking Contest? Mike and I have been fortunate to have been judges for the past 10 years.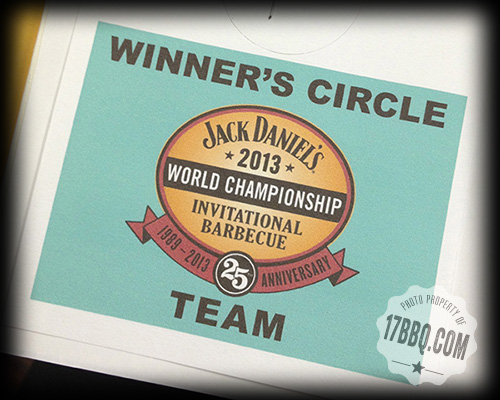 This year, however, we changed it up a bit. As the 1992 Grand Champions, we were invited to cook  as part of the Winner's Circle, commemorating the 25th anniversary of the contest.
We packed up our belongings, Clampett-style, and headed on down to Lynchburg.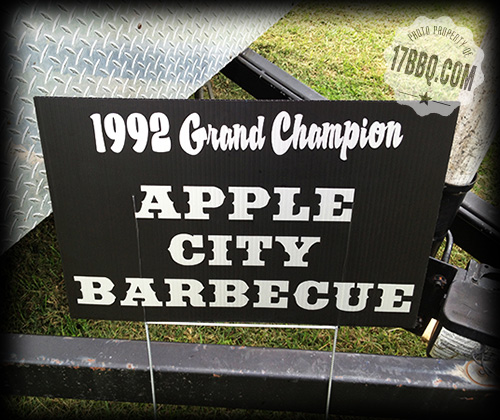 The Winner's Circle was pretty awe-inspiring. The teams were arranged in a large circle in a prime location right by the judging pavilion. Cooking amongst this field was a bit nerve-wracking, especially since it was the first KCBS contest in which we've cooked since 1992.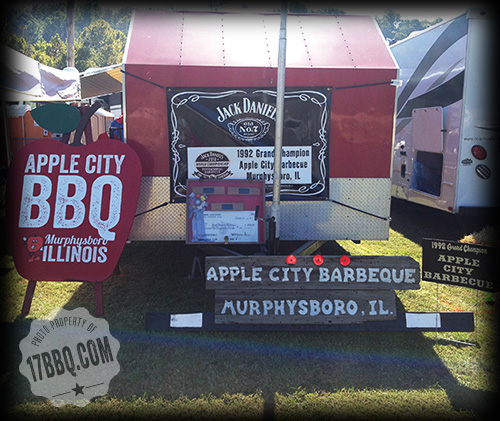 This signage represents Apple City Barbecue from 1989 through today.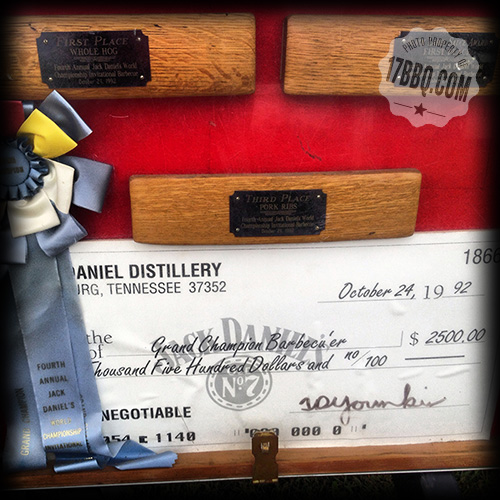 Lots of the teams brought their old trophies and memorabilia. This shadowbox contains Apple City's 1992 awards: 1st place hog, 3rd place ribs, 1st place sauce, and the Grand Champion check for $2,500.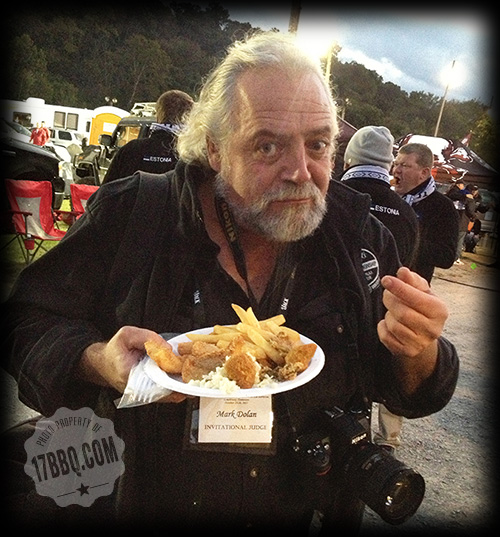 Our site backed up to the International Team circle and they were kind to invite us to their traditional Thursday night fish fry. Here's Barbecue Pilgrim Mark Dolan enjoying the delicious spread.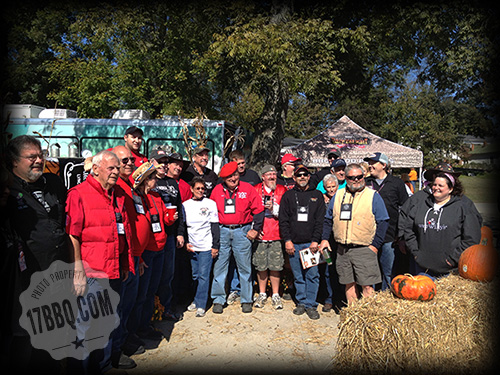 Part of the Winner's Circle field. A once-in-a-lifetime photo opp.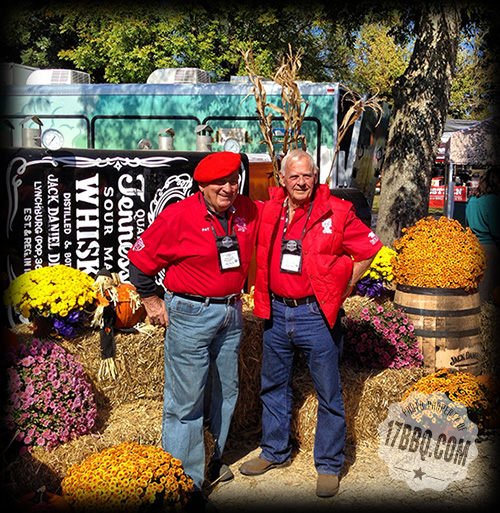 Mike and Pat posing for their commemorative portrait.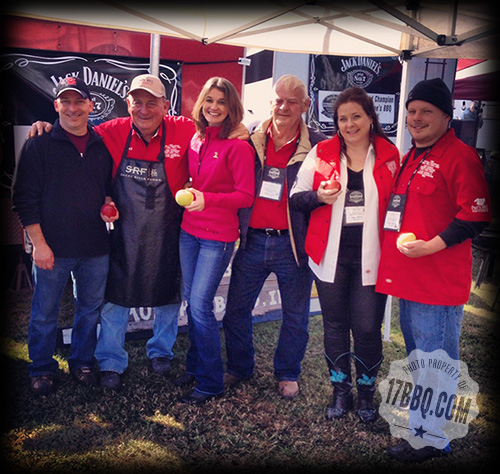 Quick group shot with PR girl extraordinaire Jennifer Brand.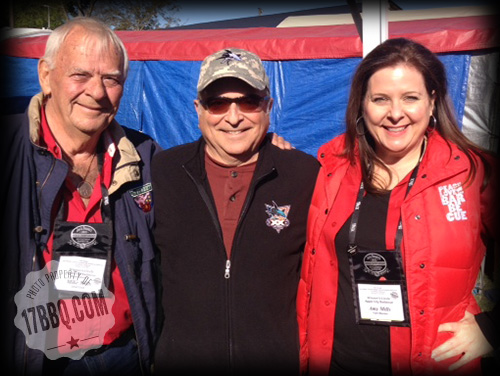 Meeting new friends is a big part of experience. Thanks for the photo, Stu Ganz!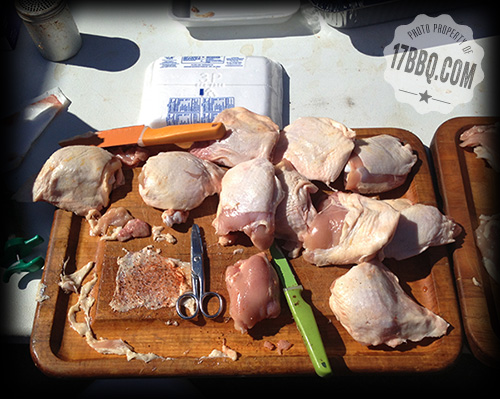 In between posing for photos and greeting new and old friends, we had to get down to work.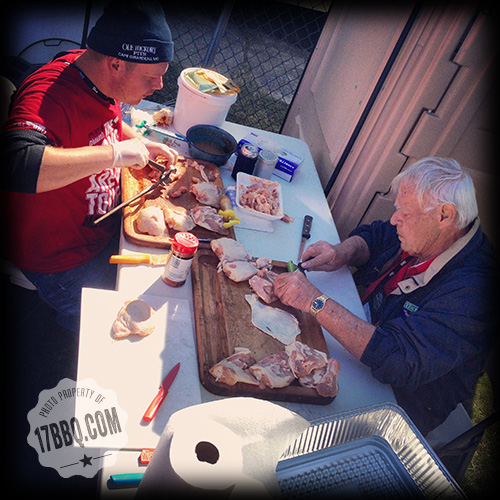 Mike and Phillip are on chicken duty.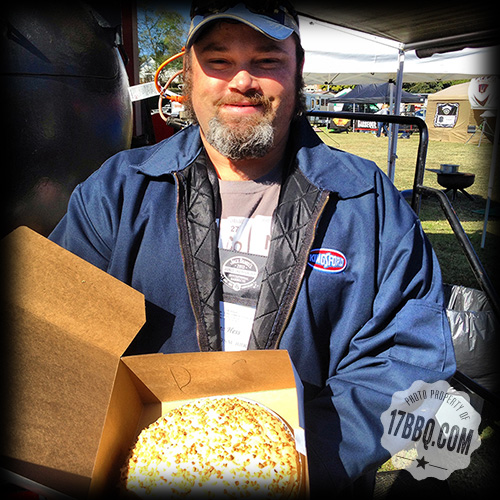 We did take a break to greet Ken Hess, of Big Bob Gibson, who attended this year as a judge. He came bearing a gift of a peanut butter pie. One of the highlights of the weekend!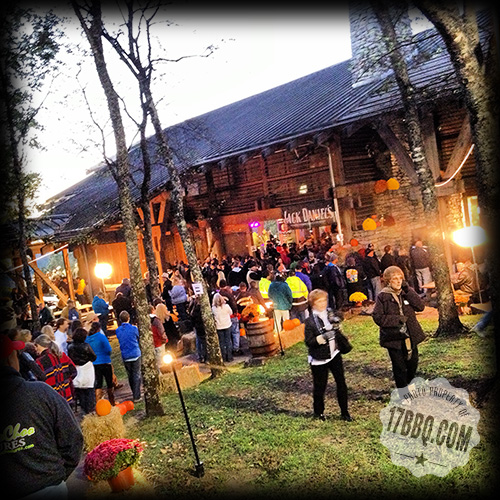 On Friday night, teams and judges are bussed to a rollicking party on the Hill. There's great music, fried chicken and other delicious grilled items prepared by Jim Stancil and his crew, and lots of friends with whom to chat. Taking in the view of the holler, with the sun setting and the smoke rising, is an awe-inspiring sight.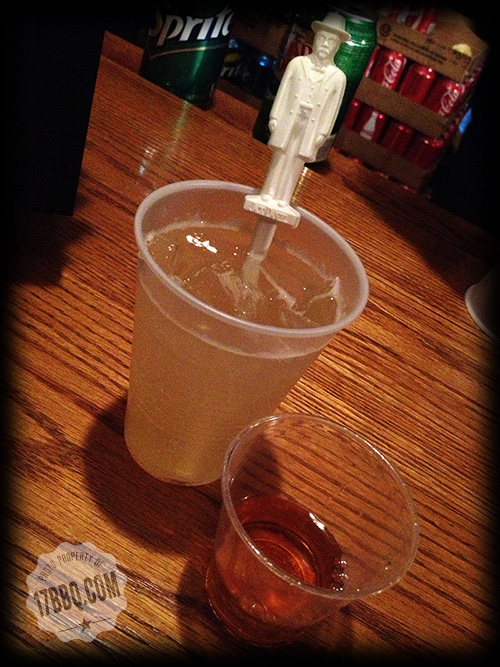 And, of course, there are famous Jack cocktails to imbibe.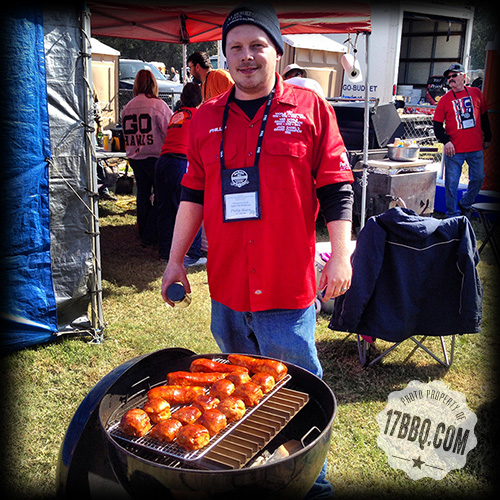 On Saturday it's pretty much all business, in between signing barrel heads which are the souvenir of choice. Here's Phillip with what turned out to be our 2nd place chicken entry.
Things got very busy after I took this photo and the rest of the turn-ins were a blur. My friend, Kat Kinsman of CNN's Eatocracy.com, attended as a judge and you can read about that process here.
Phillip, Mike, and Ken Hess during the awards ceremony. We were pretty pleased with our overall results: 2nd chicken, 4th pork, 9th ribs … and 20th brisket. Yikes. That brisket score was well deserved. We're not sure exactly what happened, but it tasted like NOTHING. No flavor whatsoever. We were 9th overall and that, along with three top 10 finishes, was huge in this field.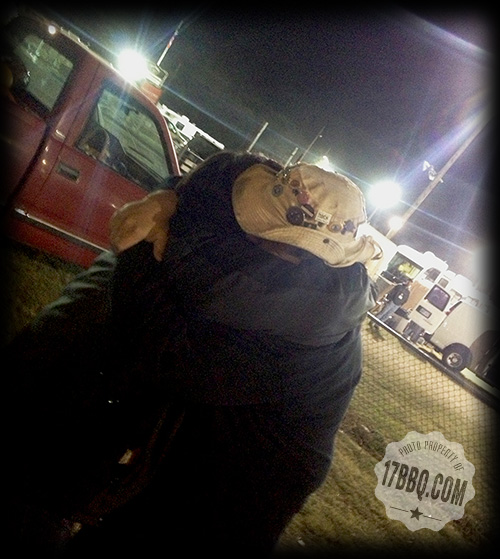 Tuffy Stone and his Cool Smoke team won Grand Champion, right on the heels of his big Kansas City Royal win. Angie and Shad Kirton of A Boy and his BBQ were Reserve Grand Champions and I was in the right place at the right time to capture this sweet moment.
We're so very grateful to Debbie Christian and Kaycee Goodman of Jack Daniel's for this experience. This was basically a contest within a contest and I know firsthand how much extra work this entailed — layers of logistics, details, and egos. Thank you so very much for making this happen and I hope you'll do it again.
Follow our adventures in real time on Instagram and Twitter.
See lots of entertaining and barbecue ideas on our Pinterest boards.
And we post fun things on Facebook, too!