Registration is open for the
4th Annual Whole Hog Extravaganza/
Brisket Bonanza/BBQ MBA!
January 18-20, 2015 | Murphysboro, IL
Just 40 seats are available, and last year we sold out just before Christmas* so don't wait – reserve a spot now!

Here are Just a Few of Our Speakers & Pitmasters: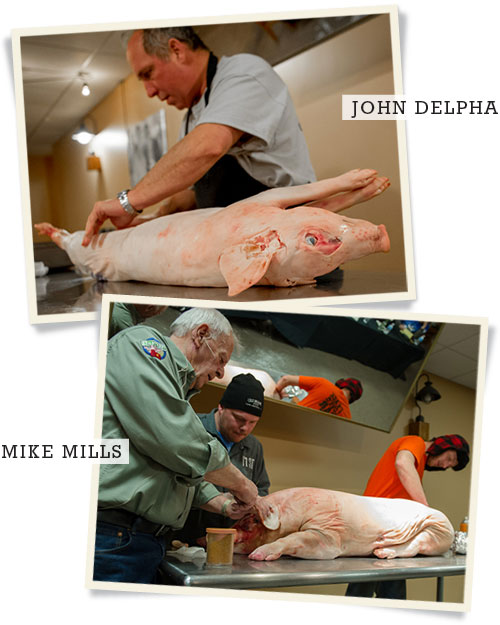 Whole Hog Extravaganza
& Brisket Bonanza Demos
Whole hog. Beef ribs. Brisket. Sausage. You'll learn about regional traditions and, best of all, you'll be able to taste the different flavor profiles cooked with a variety of wood, spices, and sauce.

The BBQ Story
BBQ MBA Speaker Series
Barbecue is about so much more than the food. Values, family, personal experiences, and dreams create a narrative that's unique to you. Learn from industry leaders as they discuss telling the barbecue story. Here are just a few of the sessions we have planned:
Ace the Audition
Coolfire Studios, producers of a number of award-winning shows, as well as the Mills family's upcoming series, shares casting advice and a behind-the-scenes look at making compelling television.
All About the Book Deal
John Delpha, Ken Goodman, and Amy Mills share insight into the publishing game. They'll discuss their book deals, the writing and photography process, and what happens once a book is published.
Telling the Story Through Images
Celebrity chef/food photographer Ken Goodman gives five simple steps for improving your smartphone photos.
Standing on the Shoulders of Giants
Sam Jones, Amy Mills, and Wayne Mueller talk about being raised up barbecue, their roles in their family businesses, and how they're taking it to the next level.
Field Guide to the Barbecue Life
Industry luminaries discuss the barbecue lifestyle, and the principles and ideals by which they're guided.
More to be announced shortly!

To learn more or to register, just email Amy Mills.
*Thinking of gifting a registration to someone? Whole Hog Extravaganza Gift Certificates are available! Just email Amy.