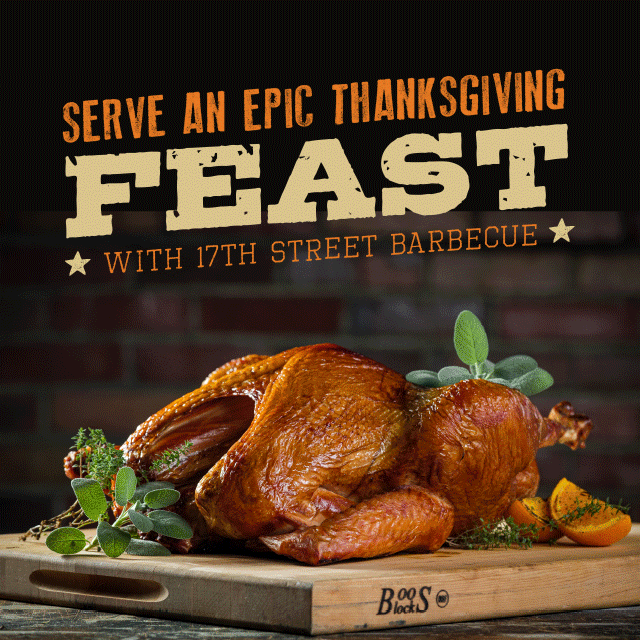 Hey, Southern Illinois! Feeding a crowd this Thanksgiving?
If you live in Southern Illinois, place your Thanksgiving 2023 pre-order right here! Reserve a smoked turkey or spiral-sliced applewood-smoked ham from 17th Street Barbecue, along with a full selection of mouthwatering Thanksgiving sides – including cheese potatoes and brisket-seasoned green beans – plus charcuterie & cheese boards, hot appetizers, batched cocktails, and desserts, too!

---
ALL ITEMS WILL BE CHILLED AND COME WITH HEATING INSTRUCTIONS.
---
Entrees:
Applewood Smoked Half Spiral Ham w/Holiday Glaze | Serves 10-15 | $70
Whole Turkey (22-24lbs) | Serves 15-20 | $85
Slicing Fee | $10
Sides:
Sweet Potato Casserole | $25/half-gal | $15/qt
Cheese Potatoes | $30/½ gal | $22/Qt
Green Bean Casserole | $25/half-gal | $18/qt
Seasoned Green Beans | $25/half-gal | $15/qt
Dressing | $30/half-gal | $22/qt
Potato Salad | $25/half-gal | $15/qt
Pit Beans | $25/half-gal | $15/qt
Gravy | $15/qt | $9/pt
Extras:
Charcuterie & Cheese Platter (serves 4-6) | $45
Classic Pecan Cheeseball (serves 10-12) | $12
Faye Mile High Biscuits | $30/doz
Honey Butter or Bourbon Butter | $5
Assorted Faye Cookies | $24/doz
Bread Pudding or Brownies  | $30/half-pan
Add-Ons:
Pulled Pork | $14.75/lb
Baby-Back Ribs | $25/lb
Brisket | $25/lb
Sliced Turkey Breast | $20/lb
Wings | $13/8 per order
Pimento Cheese and Sausage | $36/12 oz/3 sausages
Warehouse Punch | $30/qt
17th St. House Margarita | $30/qt
Barbecue Sauce | $6.5/bottle
Magic Dust | $10/5 oz
---
Place your order online BEFORE NOON CT on THURSDAY, November 16. You can also phone your order in to our catering office at 618-684-8902 (we are in the office from 9am to 4pm) or send Laurie an email.
Orders will be ready for pickup between 1pm-3pm on WEDNESDAY, November 22 at The 17th Street Warehouse, 214 N. 17th Street, Murphysboro, IL.
17th Street Barbecue will be closed Thanksgiving Day. Thanksgiving pre-order cancellations will be accepted through Friday, November 17.
To order a Thanksgiving turkey or ham shipped right to your door, click here. 
---