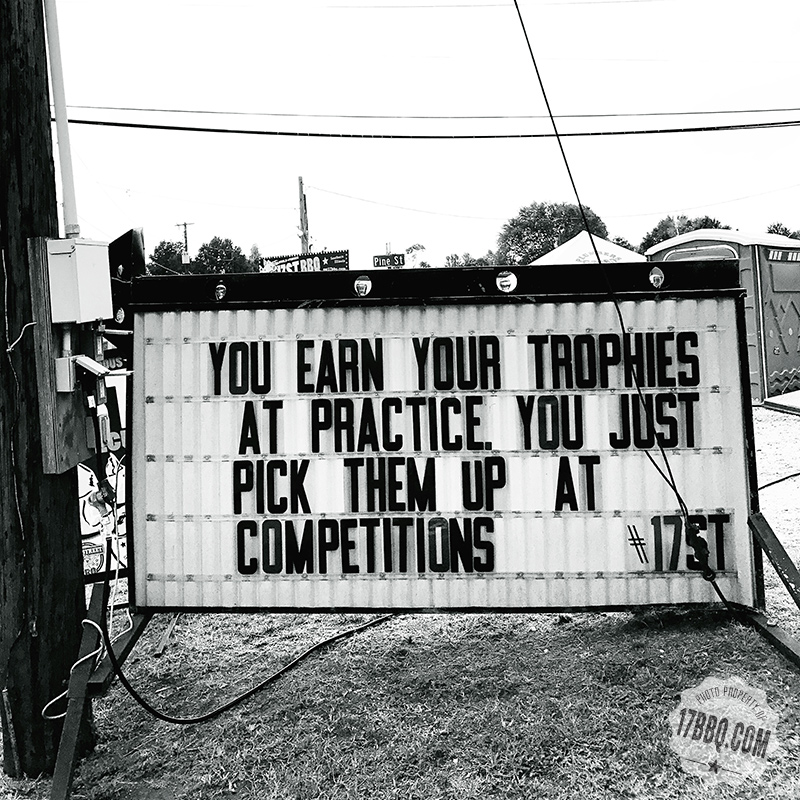 Our cook-off is one of the most anticipated competitions on the barbecue circuit and our 30th annual event took place this weekend. 79 teams from 16 states and Canada set up camp around the 17th Street Barbecue Warehouse to compete for Grand Champion bragging rights and share of $25,000 in prize money. Over 200 Judges, volunteers and ambassadors traveled from 18 states.
This contest is like a slice of pure Americana. This is our opportunity to showcase the very best of Murphysboro and Southern Illinois to a wonderful group of people from all over the world. The field of competitors is fierce. Mike Mills likes to say that If you can win here, you can win at any of the big competitions. In fact, each year we have grand champions of Memphis in May, Kansas City Royal, Houston Rodeo, and The Jack in the field.
The year also marked the 10th year of a dual-sanctioned event with teams cooking both the Memphis Barbecue Network and Kansas City Barbecue Society contests. Of the 79 competing teams, 22 were MBN sanctioned teams, 57 KCBS teams and 16 teams cooked in both contests.
This year was the third annual Steak Cook-off, sanctioned by the Steak Cook-off Association, and the 4th-ever Bloody Mary Contest, sponsored by Brews Brothers Taproom. The 5th-ever Townsend Spice Kid's Que drew a field of 8 competitors.
Winning teams received original trophies of one-of-a-kind hand blown glass apples exclusively commissioned for The Murphysboro Barbecue Cook-Off by the Douglass School Art Place in Murphysboro. The two Grand Champions each received a chainsaw-carved pig from Bear Tracks in Brownsville, Illinois.
In addition to providing three days of music, food, and fun, the cook-off benefits Murphysboro as a community. We recently completed an economic impact study and learned that over the past 30 years, this event has injected over $1.6 million dollars into Murphysboro and surrounding towns.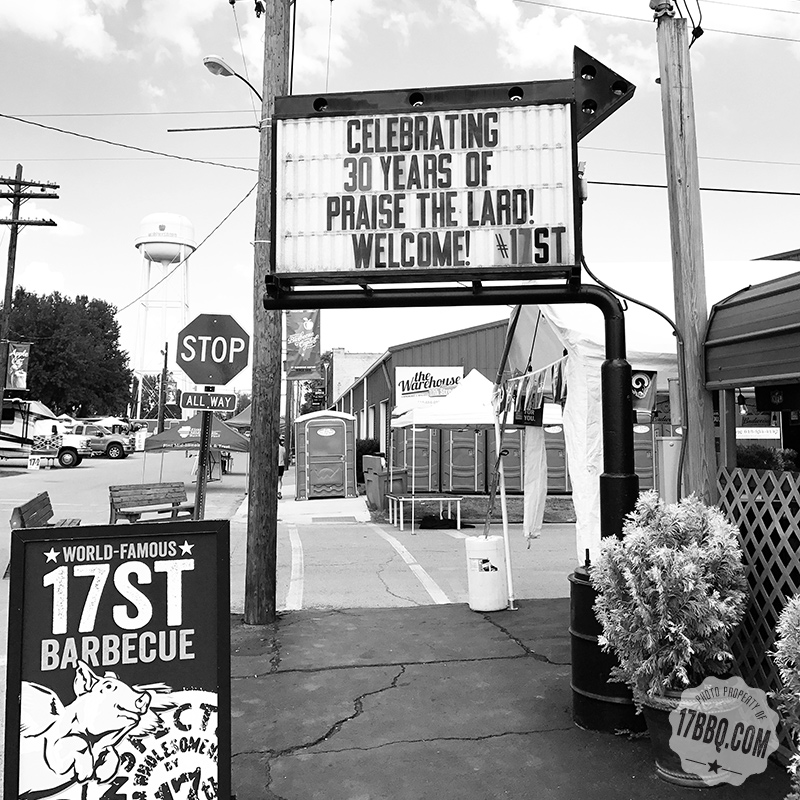 The only reason we are here, 30 years later, is because of the generosity of the community. We want to thank the sponsors, whether they're companies or individuals, competitors, and all the volunteers. There are so many people that come together to make this all possible and create this special stop on the barbecue circuit.
Praise The Lard Murphysboro Barbecue Cook-Off gold and silver sponsors include 17th Street Barbecue, City of Murphysboro, Townsend Supply, Venegoni Distributing, Silkworm, Republic Services, Certified Angus Beef, Arthur Agency, Big Muddy Brewing, Graue, Inc, Henson's Septic Service, Mileur Orchard, Oliver and Associates, Pepsi, River Radio, Royal Oak Charcoal, Schwebel Printing, Sound Core, Steve Hudson, US Foods, Voss Heating and AC, Old Rome, and Performance Food Group.
---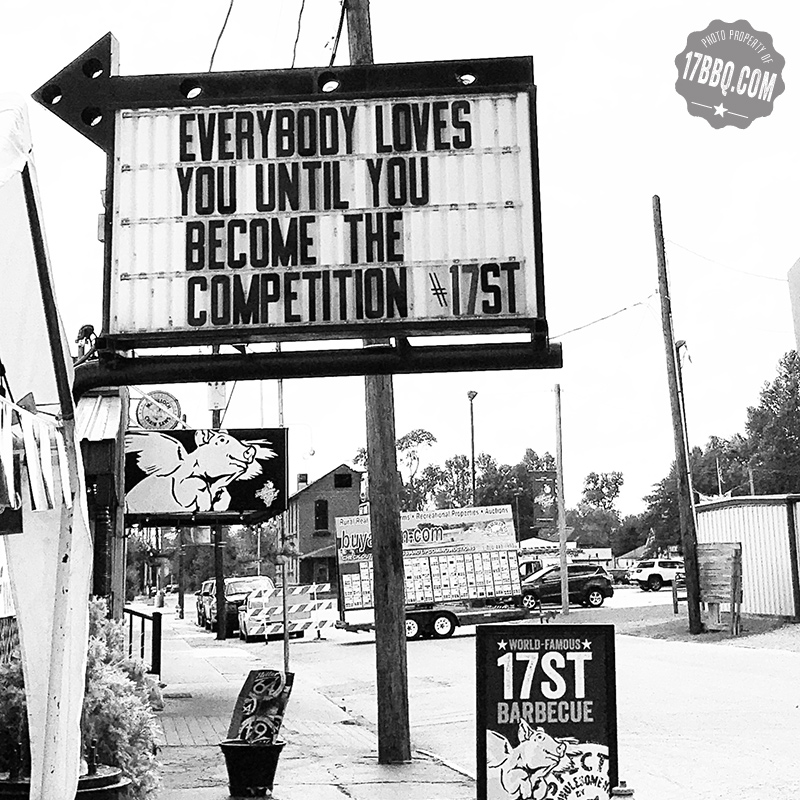 2017 MURPHYSBORO BARBECUE COOK-OFF RESULTS
MBN
GRAND CHAMPION:
Victory Lane
Ribs
5) Ham's Hock
4) Diamond D Cooking Team
3) Serial Grillers
2) Phat Chance
1) Victory Lane
Shoulder
5) Diamond D Cooking Team
4) Phat Chance
3) BBQ Bus
2) Will B Que BBQ Team
1) Victory Lane
Hog
5) 3 Taxi Guys
4) SugarFire Smokehouse
3) Poker Porkers
2) Jordy Q
1) Diamond D Cooking Team
---
KCBS
GRAND CHAMPION:
Q Bones

RESERVE GRAND CHAMPION:
It's 5 O'Clock Somewhere
Chicken
10) Phat Daddy Doug's BBQ
9) JH Old School
8) Swine Life
7) One2bbq
6) Iowa's Smokey D's BBQ
5) Victory lane BBQ
4) BBQ Bus
3) Poker Porkers
2) Jugs BBQ
1) Qbones
Ribs
10) Woodware Barbeque
9) One2bbq
8) Pork Paradise
7) SwineLife
6) It's 5 O'Clock Somewhere
5) Iowa Smokey D's
4) Gilly's BBQ
3) Smoke Me Silly
2) Smoke Freaks
1) BBQ Bus
Pork
10) Swine Life
9) Pork Paradise
8) All In Que
7) One2bbq
6) St.Louis Black Iron BBQ
5) Victory Lane BBQ
4) Woodward Barbeque
3) Phat Chance
2) Sexy Q
1) Boss Hawg
Brisket
10) Phat Daddy Doug's BBQ
9) One2bbq
8) Smoke Me Silly
7) Smoke Freaks
6) Smokey's Q
5) Tennessee Mojo
4) Gilly's BBQ
3) QUAU
2) Qbones
1) It's 5 O'Clock Somewhere
Steak
10) Jami Durkin
9) Danny Ewer
8) Brian Thompson
7) Kevin O'Sullivan
6) Nathan Grodeon
5) Doug Vickery
4) Chris Graue
3) Jay Durbin
2) Josh Hawkins
1) AllenSmith
Townsend Spice Kids' Que
3) Little Man BBQ
2) Sassy Bacom BBQ
1) May The Sauce Be With You
Brews Brothers Taproom Best Bloody Mary
3rd Place: Rub Runners – Todd Henery & Scott Sauer
2nd Place: Hot Mess BBQ – Brian Thompson
1st Place: Cure's What Ails Ya – Lisa and Richard Blake
Fish Contest
1st Place: Pork Whisperers
Wings Contest
1st Place: Party Que
---
Follow our adventures in real time on Instagram and Twitter.
See lots of entertaining and barbecue ideas on our Pinterest boards.
And we post fun things on Facebook, too!