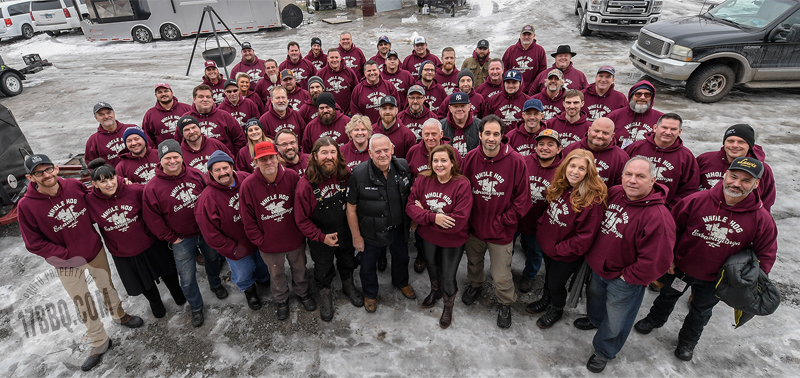 The 2019 group shot. We spend an intense two and a half days together, and seeing the huge smiles and relationships formed is really special. There's truly nothing like the barbecue community.
About OnCue
OnCue offers the only professional barbecue education in the world. Many of the top names in barbecue have joined us here at 17th Street. We're celebrating 10 years of superlative learning; over 1300 people traveled from 45 states and 16 countries to attend our programs. If you're in the business, serious about barbecue, or a super enthusiast, this class is not to be missed. This is the perfect time to get motivated for a new year and a new decade. You'll learn new skills, form important relationships, and immerse yourself in superior barbecue business education.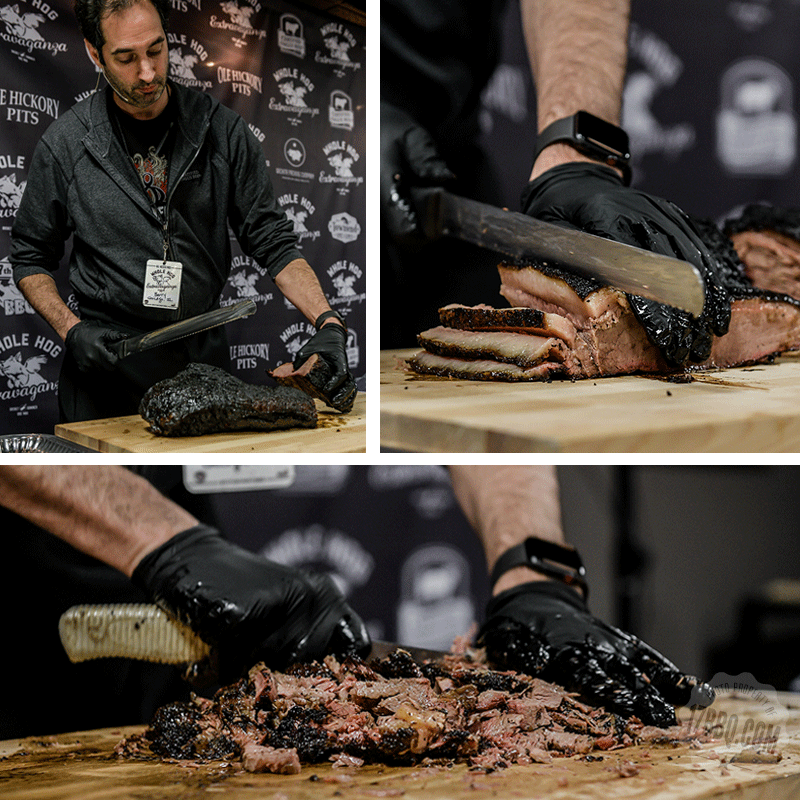 What happens Tuesday
Tuesday of the Whole Hog Extravaganza is filled with food. Everything we prepped on Monday comes off the pit. Barry Sorkin, of Smoque, is known for his brisket expertise, and even seasoned pros learn something new as he talks about slicing brisket and the way he uses the different sections.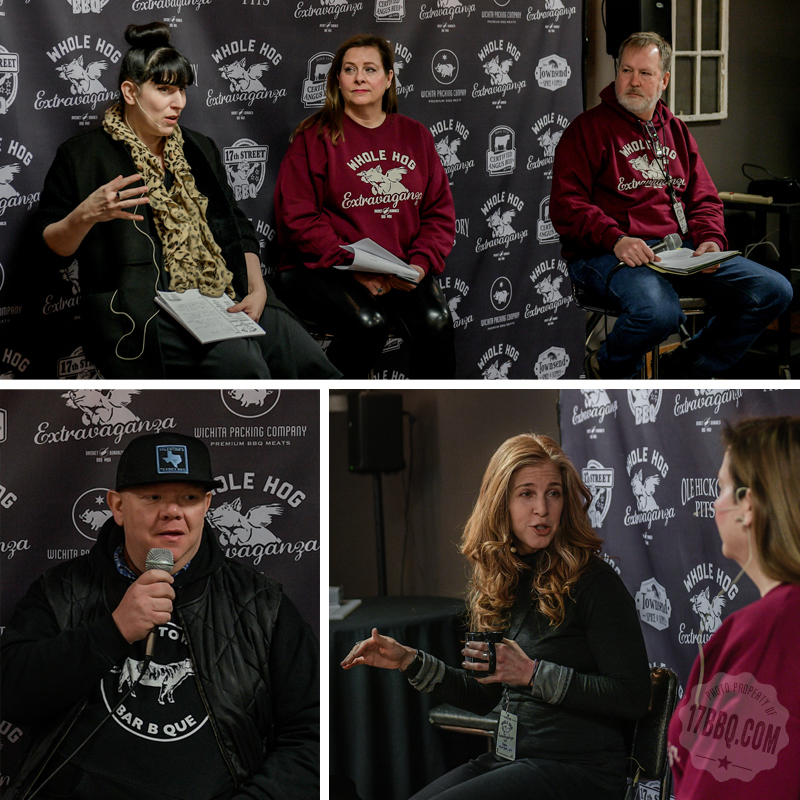 Seminar sessions
This day is also filled with lots of panel discussions. Kat Kinsman, senior editor of Food + Wine magazine, is part of every Whole Hog Extravaganza, and the discussion she leads about anxiety, addiction, and depression in restaurant kitchens is both sobering and hopeful. This discussion always results in a great deal of sharing amongst our group, and she provides solid resources for help. I know for a fact, based on feedback we get each year, that this session has provided concrete help and saved more than one life.
In the bottom right photo above, I'm chatting with Beth Schiff, casting director for CHOPPED, among other Food Network shows. Beth and I led a discussion about how to get cast for food television. She shared all kinds of tips regarding what casting directors are seeking, how to maximize your appearance, what makes a great competitor on a show, and more. The class participants had a chance to mingle with Beth throughout the class, and so far, four people have been cast on shows.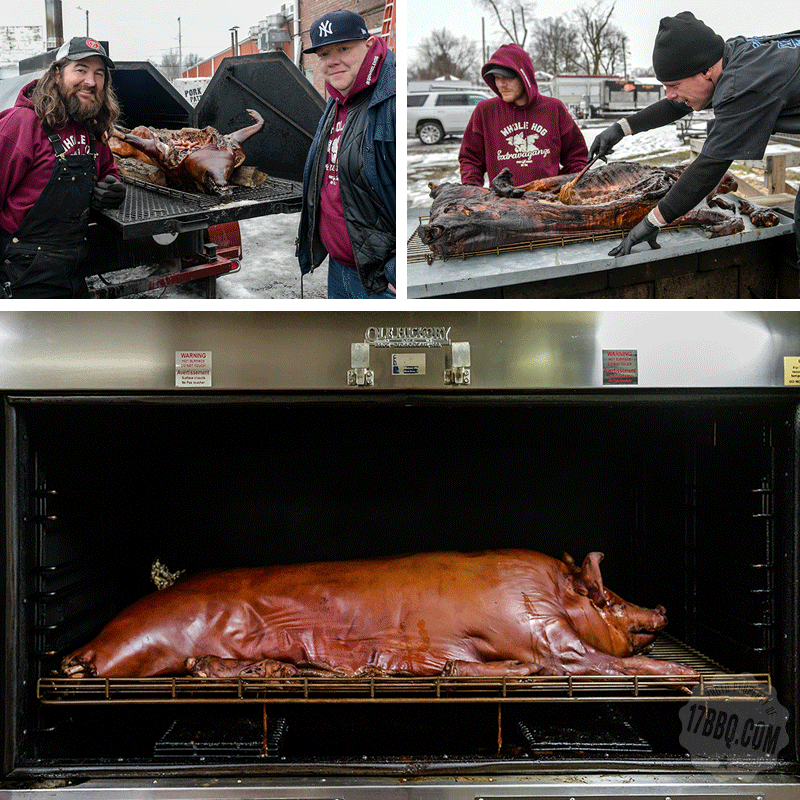 These gorgeous whole hogs are the star of the show, and just before lunch, we pulled them from the pits.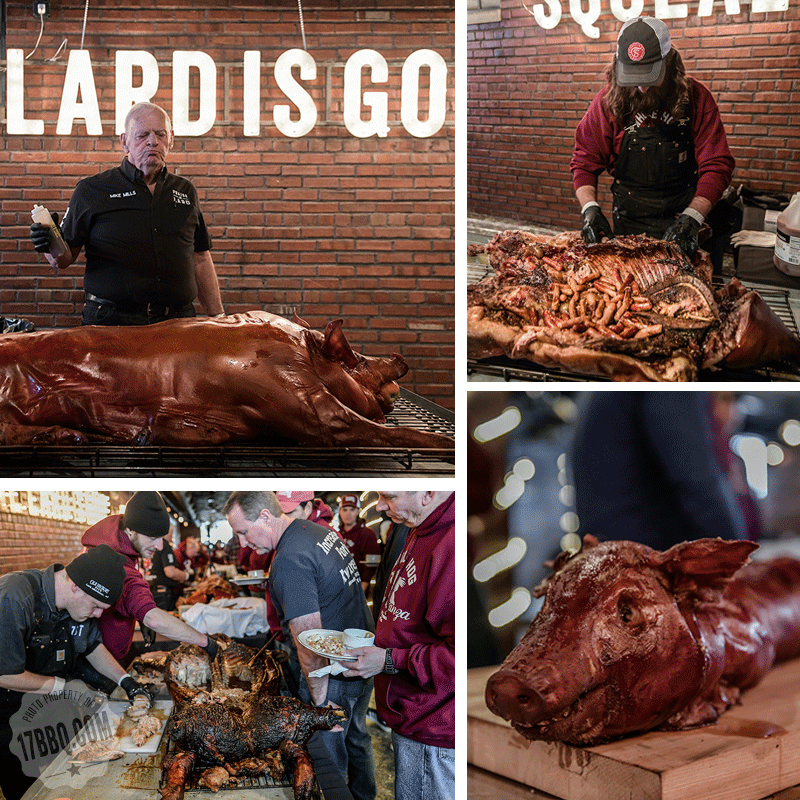 One compliment we continually hear during our classes is about the food. We eat well and abundantly over the course of this event. You would have to travel for thousands of miles to eat the food from all of these outstanding pitmasters, and it's such a treat to have it all under one roof. The plate above represents meat from three different hogs, a sausage, a slice of porchetta, slaw, and potato salad ~ the perfect barbecue sides. The porchetta is such a special treat, and John Delpha is truly the master of this creation. Students watched and learned as he deboned the hog, brined it, made the sausage, and put it all together with the fragrant herb mixture, then tied up. It's a multi-step process and a labor of love. Participants leave with his special recipe and it's fun to see people re-creating this once they get back to their restaurants and sharing it on social media.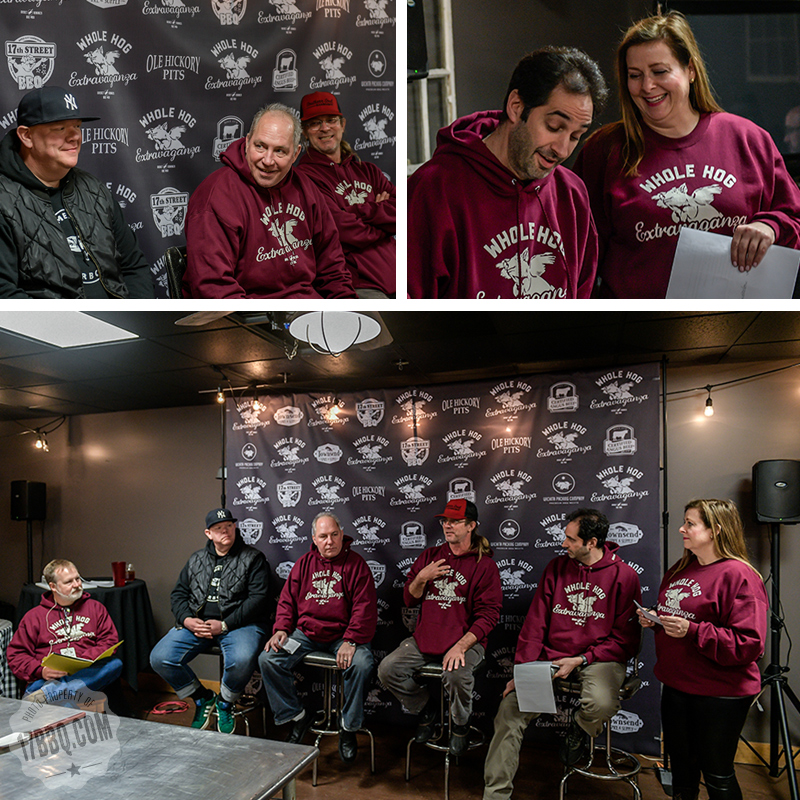 After lunch, it's time for final panel discussions and a Q&A. The photo above is the 50 ideas in 50 minutes speed round, with each person giving bits of advice that lead to success. The audience furiously scribbled notes — this content is gold.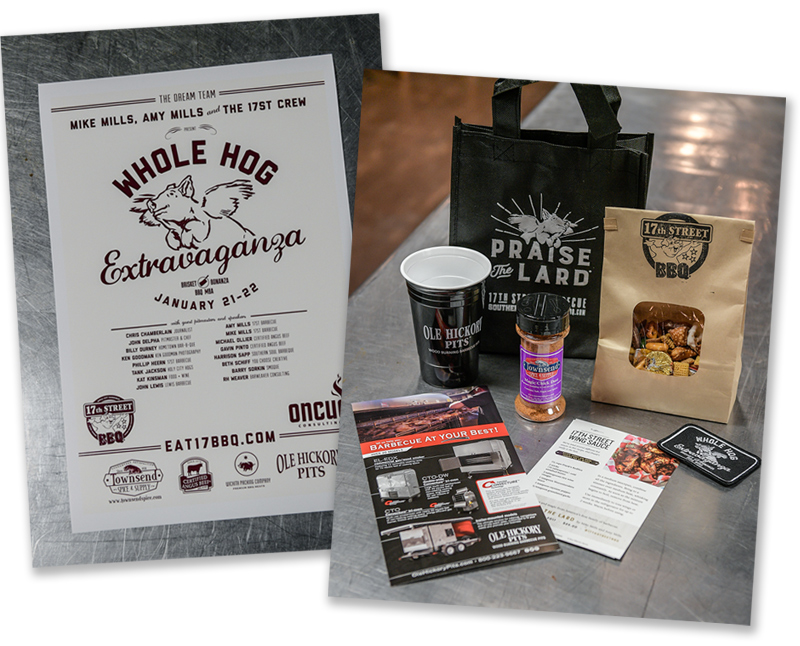 I get lots of questions about the sweatshirts we're wearing in these photos. You have to attend the seminar to get a sweatshirt; we don't sell them and we only print one per guest/speaker/sponsor. We also print collectible posters, and it's fun to see these framed and hanging in restaurants all over the country.
The 2020 Whole Hog Extravaganza/Bovine Bonanza/BBQ MBA dates are January 20-21, and we're half full at the moment. Click here now to secure your spot — this will sell out!
All photos by Ken Goodman Photography.