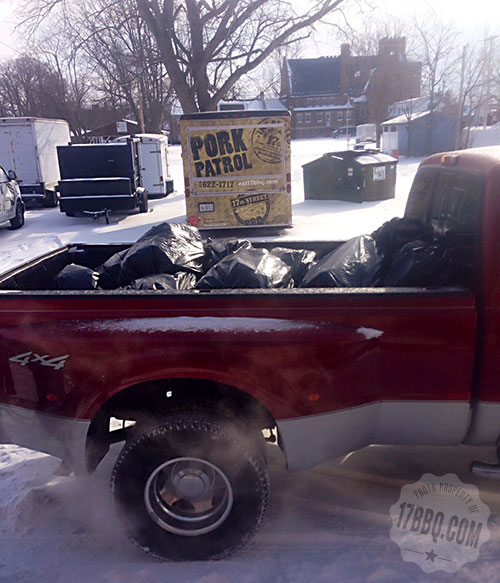 The National Barbecue Association conference is a must on our yearly calendar. The learning and networking opportunities for our crew — and for Mike and me — are valuable to us personally and professionally. A few weeks ago we packed up our suitcases — just like the Beverly Hillbillies — and flew to Austin, Texas for a few days of team building, eating, and restaurant recon prior to the conference.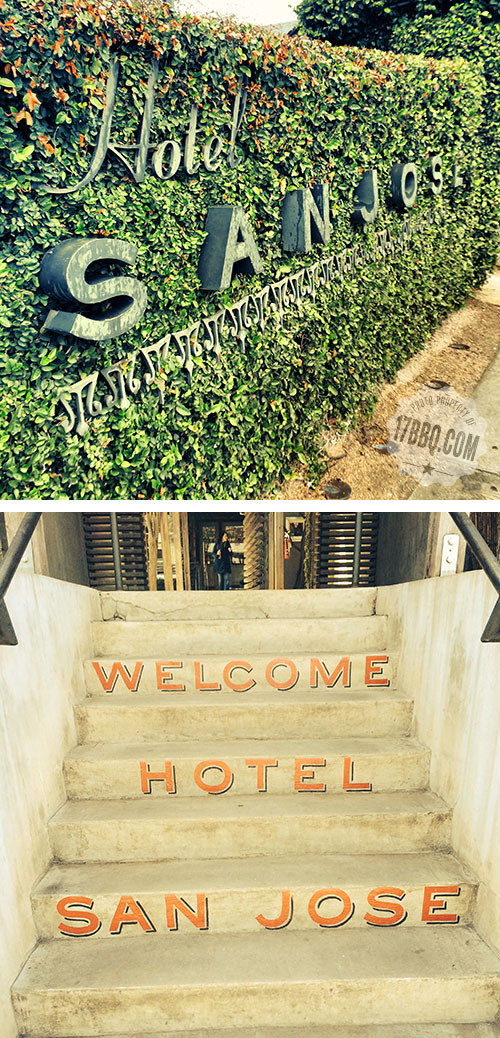 Since I was arriving from Boston, I checked in a few days prior so I'd be well rested for the week. Hotel San Jose on South Congress is one of my happy places and a good central location for appointments and all of the places we needed to visit.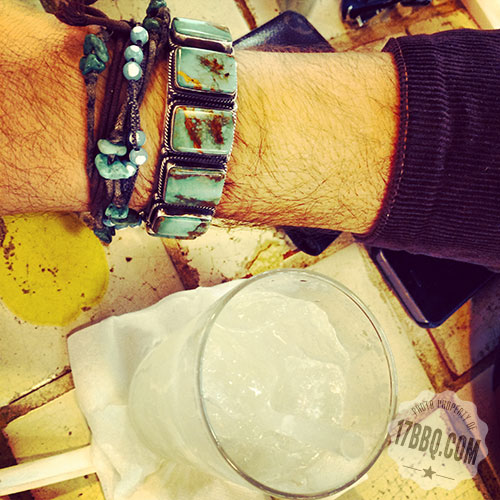 After checking in, I strolled to Guero's for refreshing margaritas, creamy queso, and general unwinding after a long and turbulent flight. The cute boys next to me complimented my boots, which led to a more lengthy conversation, and before long, I joined in their fun. My new friend, William, had an awesome turquoise arm party going on and I had to snap a picture. Turns out he's part of Ranch 616 restaurant …. more about that later.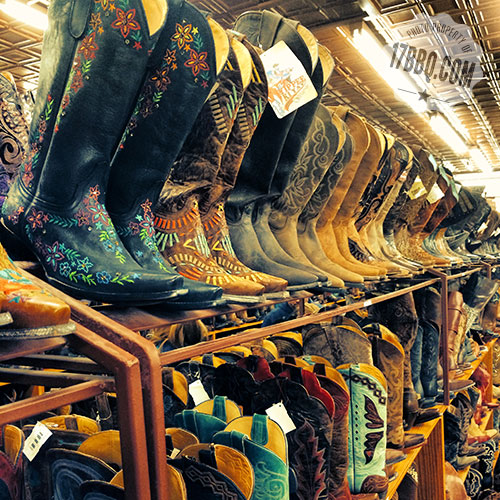 My friend and fellow barbecue pitmaster, Shelly Hunt, met me at Guero's and for a quick trip to boot heaven to see what's new. I indoctrinated her right quick and she left with new boots and a boot jack she didn't even know she needed.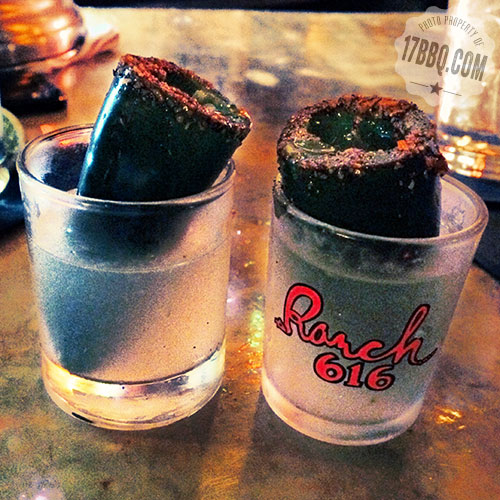 When Mike and the 1-7 crew arrived, we had an amazing multi-course meal at Ranch 616. We toasted with many Fire in the Hole shots, pictured above. These are crafted from Tito's vodka, orange liquor, and lime juice, and served in a hollowed-out jalapeño, rimmed with chile salt. So many flavors and a little tingle from the pepper. Thank you so much, Kevin and William, for your gracious hospitality!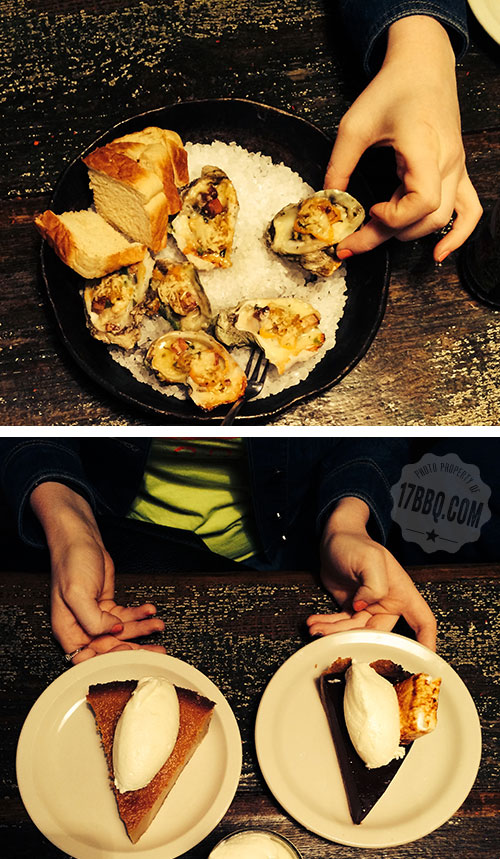 Afterwards, went to Lucy's and ordered one of each dessert … and several varieties of oysters, too. The sweet tea chess pie was the unanimous favorite.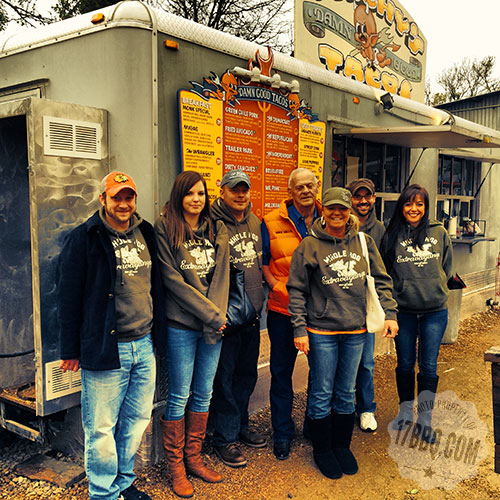 I planned an ambitious itinerary for our time in Austin. We started with early morning breakfast tacos at Torchy's …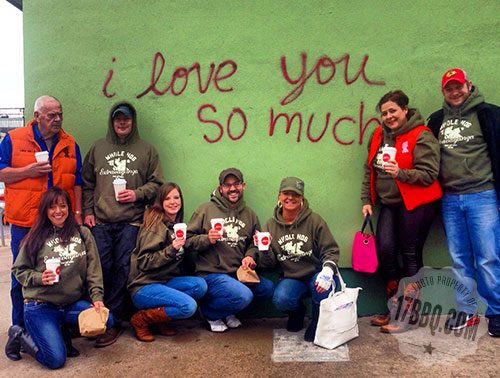 Followed by coffee and pastries at Jo's. We stopped to pose for a group shot in front of their famous side wall.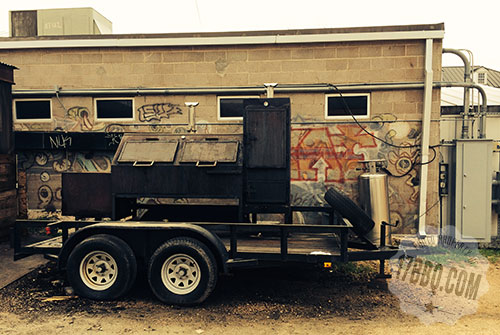 Our first stop on Tuesday was Freedmen's Bar.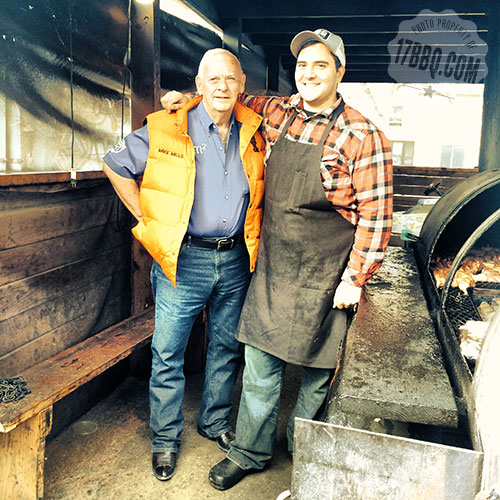 As I walked by the pit, I heard someone say, "Hey, Amy! I know you!" I turned around and was pleasantly surprised to see Evan LeRoy, formerly of Hill Country in New York City.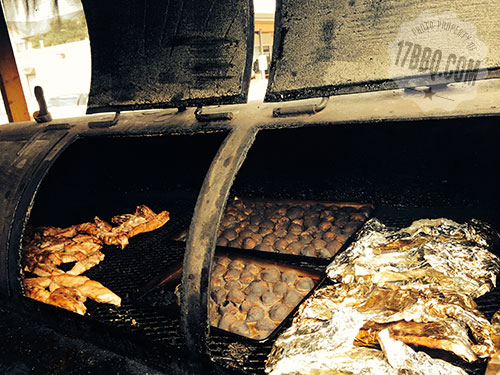 We peeked inside the pit and saw ribs, brisket, and trays of beets being bathed in smoke.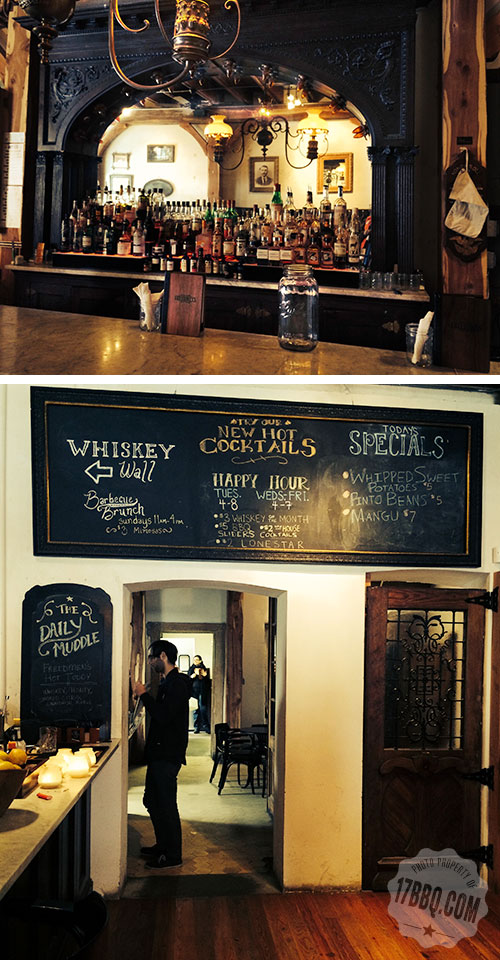 The interior is so charming with an antique bar, marble, lots of wood, and other vintage touches.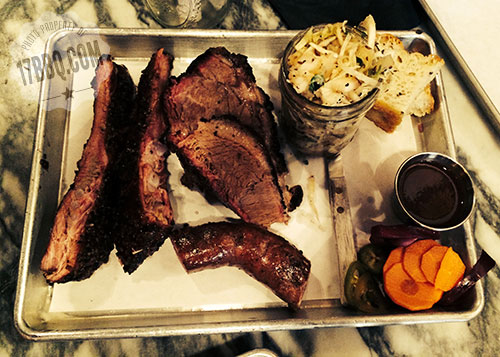 We ordered all of the meats and sides.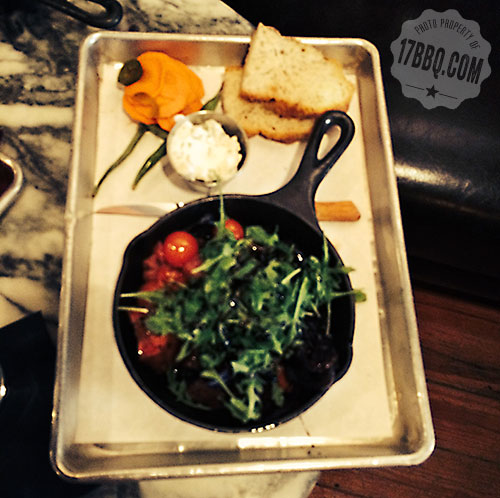 The roasted tomatoes and argula, served in cast iron, was fresh and delicious. Crisp pickled vegetables are in the upper left corner. The roasted beets with chèvre and balsamic glaze is also highly recommended.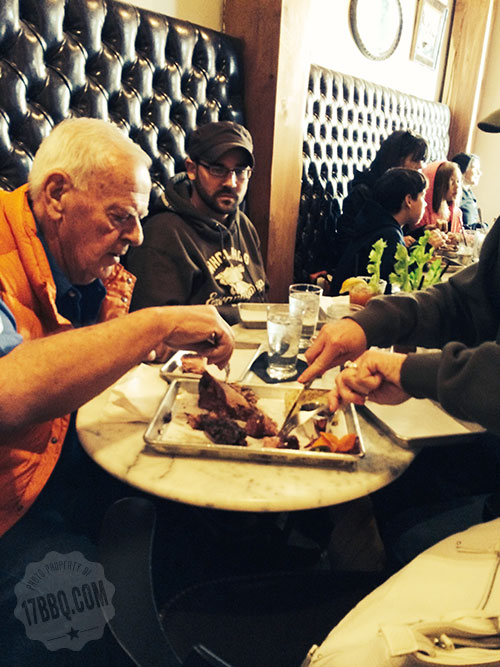 If you go to Freedmen's, be sure to order the smoked banana pudding — not pictured, because we devoured it so quickly.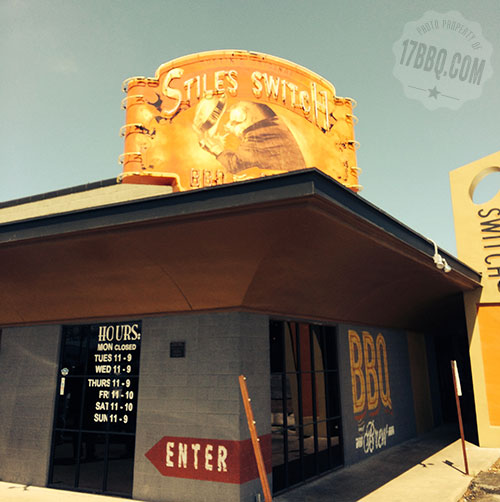 Stop number two was Stiles Switch.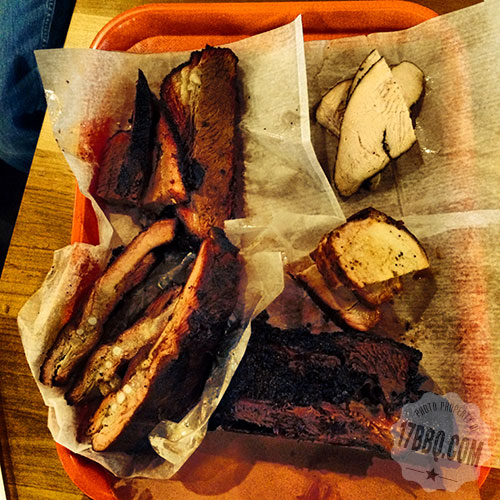 Again, we tried all of the meats. Beef ribs, pork ribs, brisket, turkey, pulled pork. So nice to meet Shane and his crew. Thank you again for your most gracious hospitality!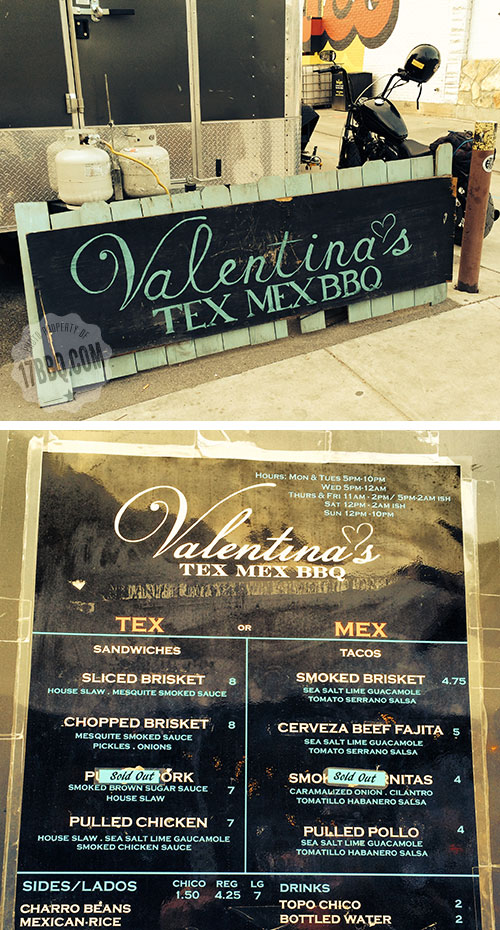 We were slowing down a bit at this point … but we had one final stop on the agenda: Valentina's Tex Mex. We discovered they don't open until 5:00 p.m. on Tuesdays. So ….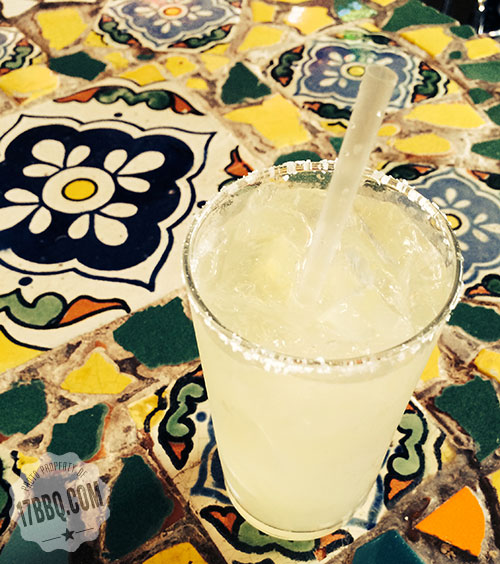 …  back to Guero's  for racaus conversation, spicy queso, and many, many margaritas and beers.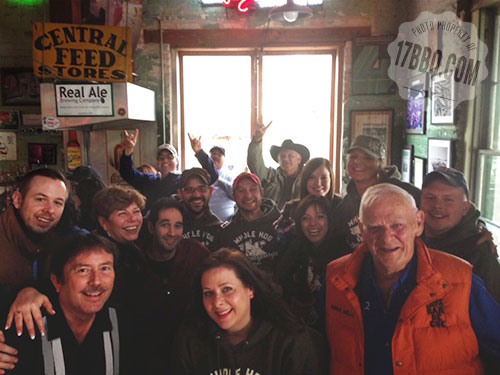 This is the good stuff, and probably my favorite afternoon. Those strangers in the back of this photo were totally entertained with our stories and shenanigans.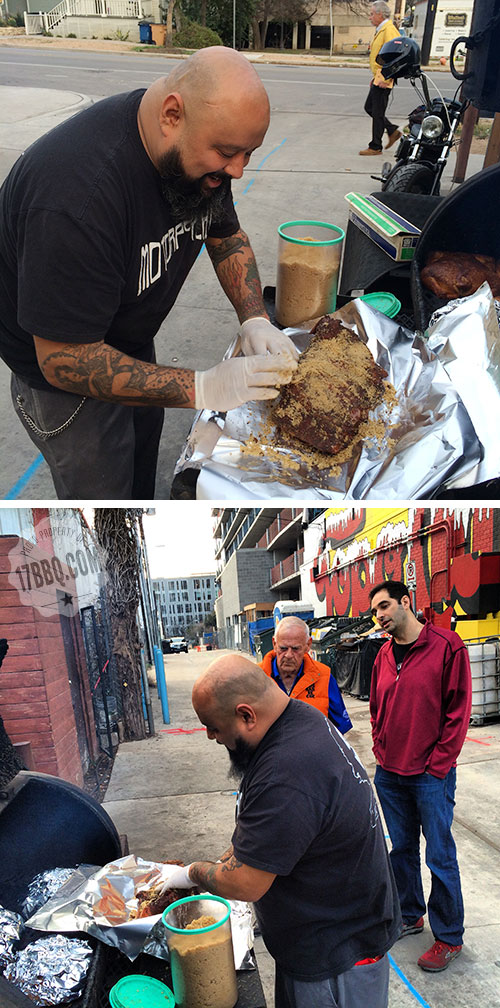 We made it back to Valentina's just in time for Mike and Barry to shig off Randy in the back of the trailer. Hmmm… that's a lot of brown sugar!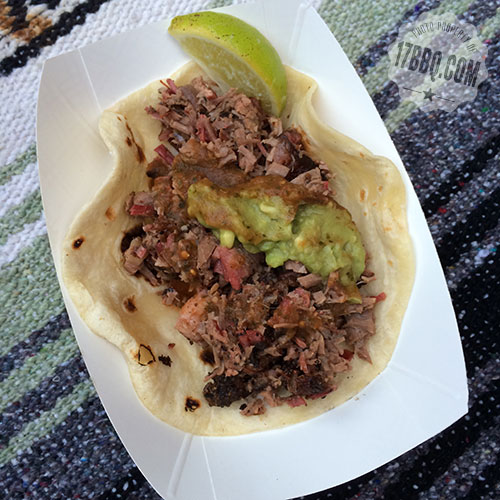 We sampled fajita and brisket tacos with fresh, homemade flour tortillas. So good.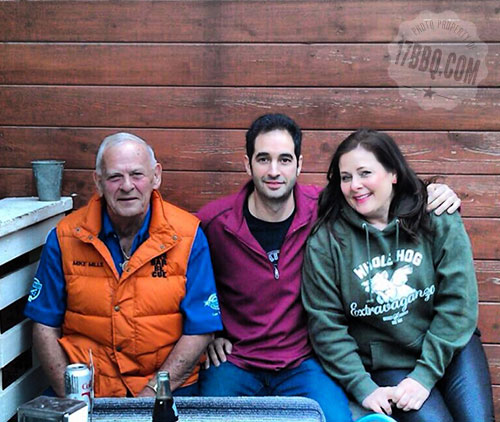 Mike, Barry Sorkin, and me at Valentina's. At this point we'd lost half of our crew to the bar at Ranch 616, which is conveniently located next door, and what we really needed was a dive bar to finish off the evening. They suggested Dirty Bill's, right around the corner. Perfect.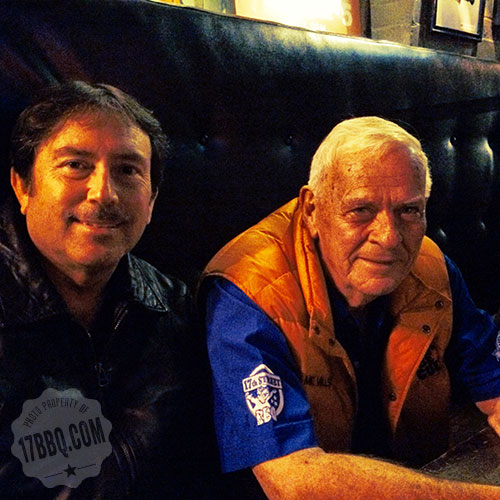 Mike and sausage czar Tim Mikeska at Dirty Bill's.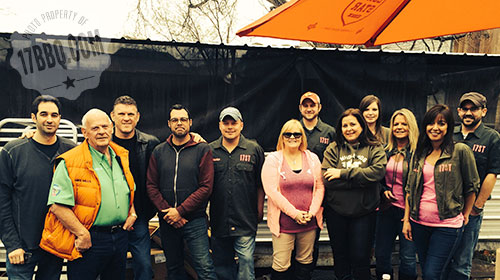 Wednesday morning we were off to Franklin Barbecue. Barry Sorkin of Smoque and Wayne Mueller of Louie Mueller Barbecue joined us for this epic day of eating.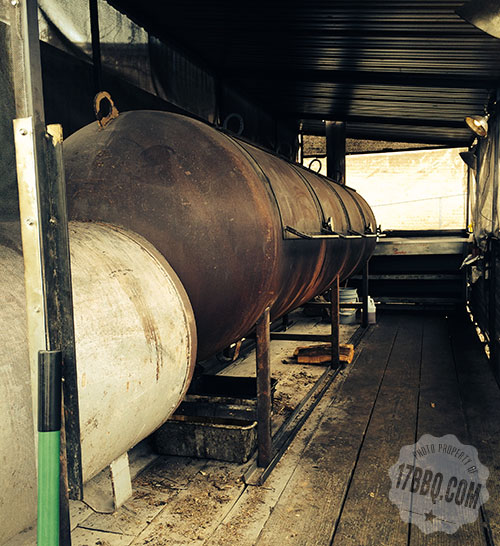 One of the five pits Franklin's fills to capacity every day.
Two more giant trays of delicious meat and a few sides.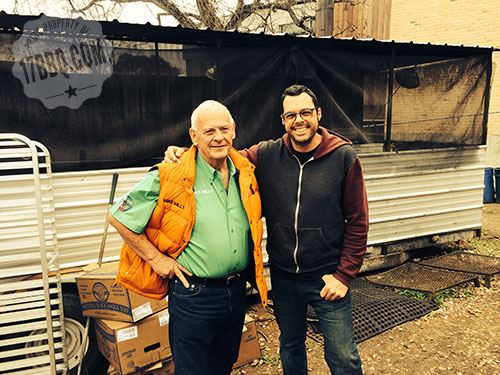 Mike and Aaron Franklin.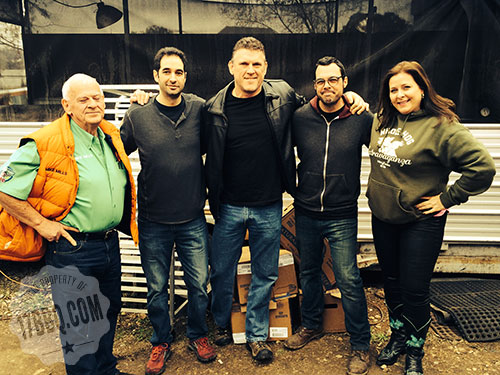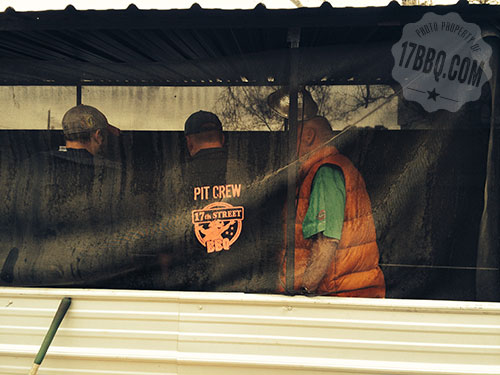 Kris, Phillip, and Mike checking out one of the pits.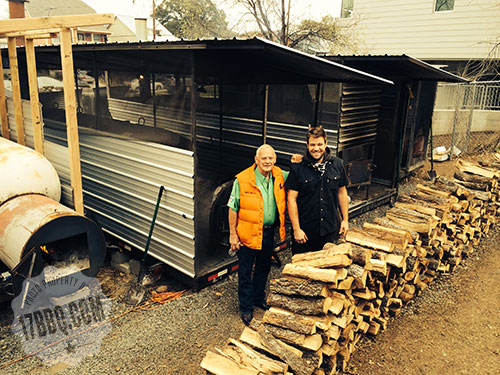 Mike enjoyed chatting with pit boss Karl.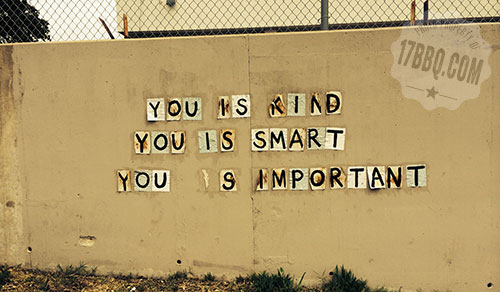 Art is everywhere in Austin. This impromptu installation is in front of Franklin Barbecue.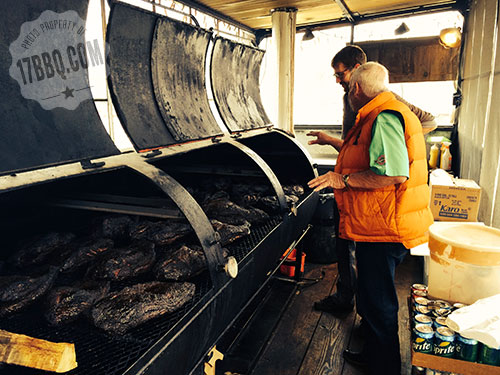 Next up was La Barbecue. Mike headed straight to the trailer to check out the set up …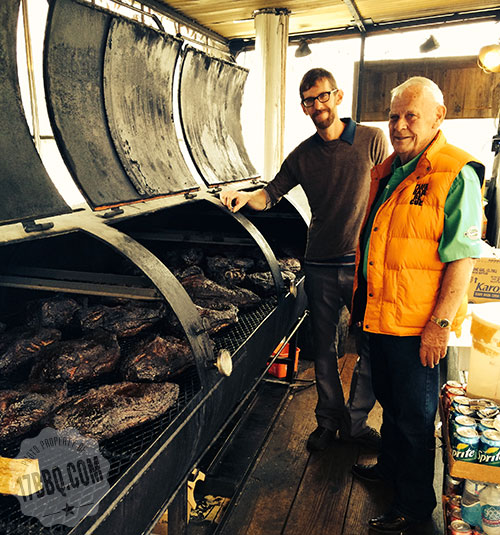 … and chat barbecue with John Lewis.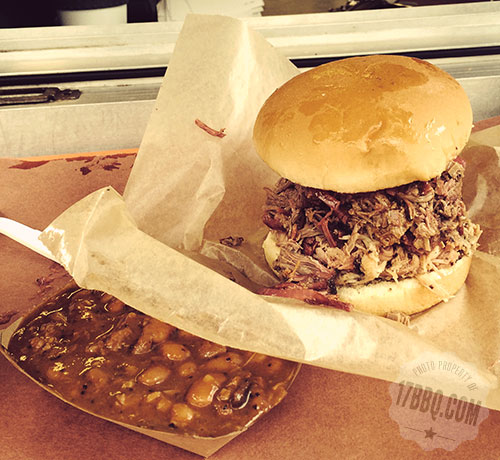 We sampled two more giant trays of meat … of which I do not seem to have a photo. Here is another one of their specialties: the famous El Sancho — chopped brisket, pulled pork, sliced hot guts, and pickled onions, piled high.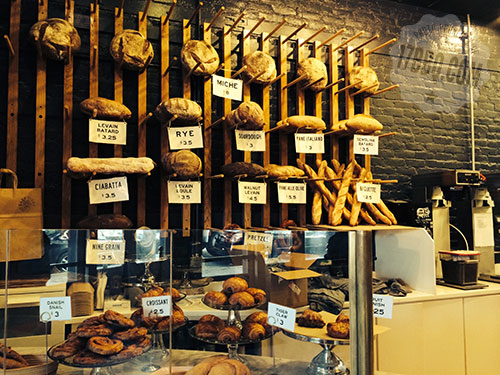 We finished off the day with craft beers, pastries, and pretzels at Easy Tiger, truly one of the best bakeries I've experienced. The almond croissants and cheese danish are outstanding, and a bonus: they sell their pastries at Jo's Coffee, too. Their large, soft pretzels with beer cheese, mustard, and salty butter, combined with ice-cold beer, are the perfect afternoon snack.
In addition to the food,  we were soaking up the design details, feel, and culture at each stop. Austin has a vibrant independent restaurant scene and there are so many interesting details and good ideas of which to take note. That, coupled with the opportunity for our crew to interact and learn outside of our own restaurant, made this trip hugely successful.
After all of this eating, it was off to San Marcos for the National Barbecue Association conference. More about that in a future post.
Follow our adventures in real time on Instagram and Twitter.
See lots of entertaining and barbecue ideas on our Pinterest boards.
And we post fun things on Facebook, too!