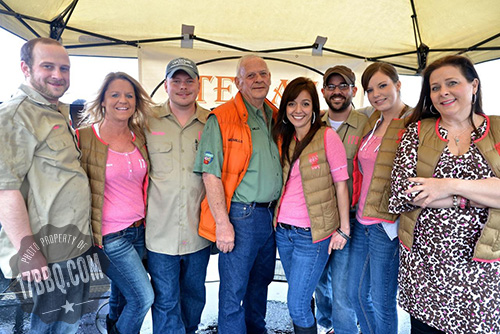 After our epic two days of eating our way through Austin, our pit crew traveled down the road to San Marcos, Texas  for the National Barbecue Association conference.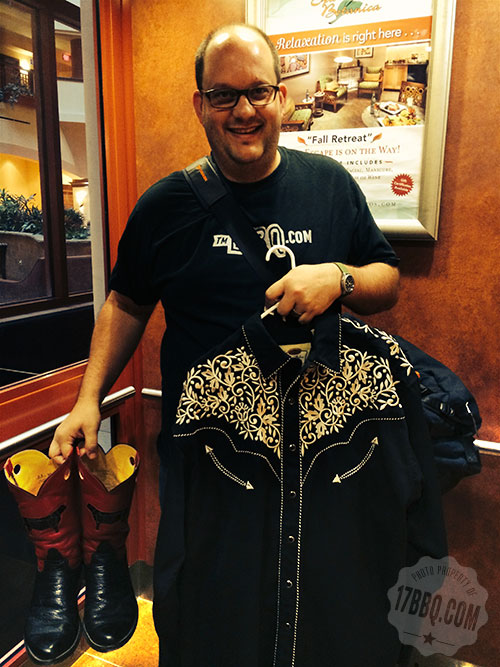 Daniel Vaughn, Texas Monthly magazine's barbecue critic, gave the opening address and took the audience on an historical tour of Texas barbecue. Here's Daniel with his official Texas costume.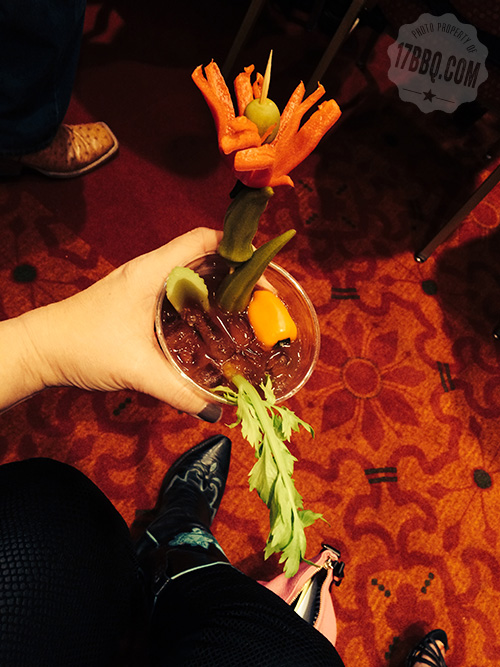 Bright and early the next morning we were back at the seminars. Fortunately Brooke Lewis and Cheryl Atkinson from The Shed served fancifully garnished Bloody Marys in their outstanding catering session … .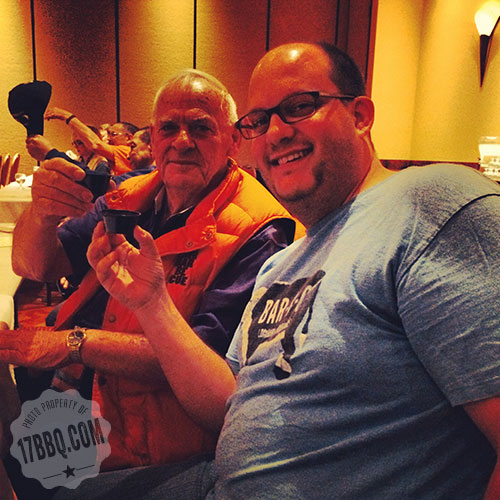 And Randy Twyford interrupted his talk for the traditional 9:22 shot of Gentleman Jack.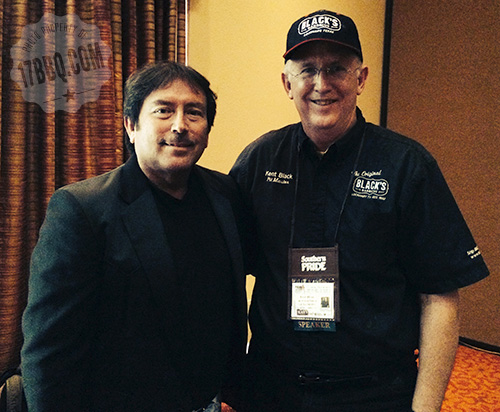 One of my favorite seminars was learning about the history of Czech and German sausage from Tim Mikeska and Kent Black.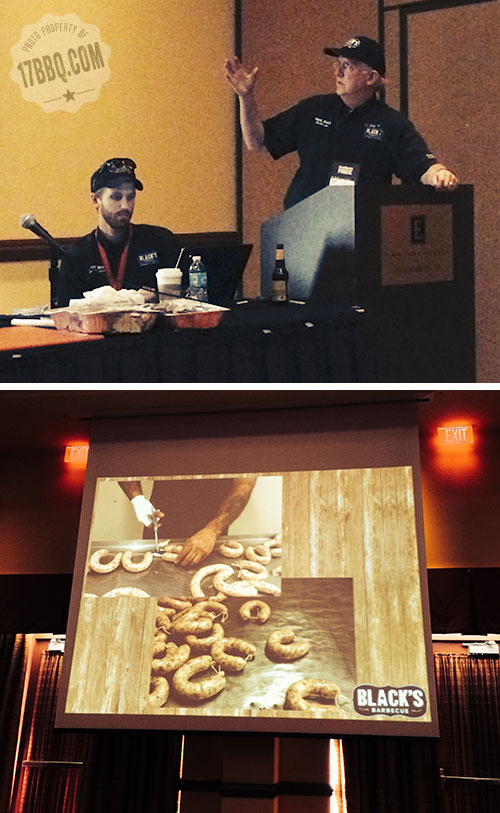 Each old-line Texas barbecue shrine has a unique, carefully guarded family recipe. You can buy Black's sausage online here. Mikeska sausage is sold to a number of excellent barbecue restaurants around the country. Click here for more information.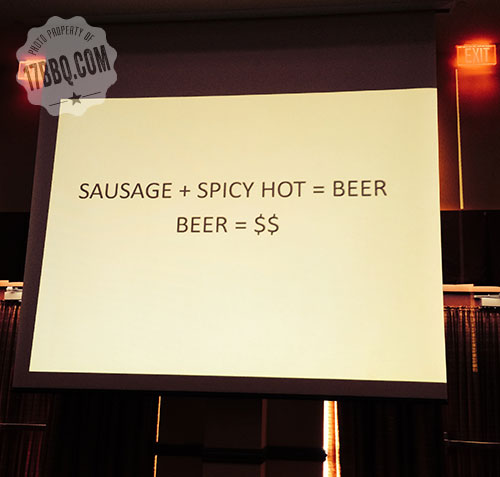 "THE magic formula for which mathematicians, engineers, economists, and chefs, all over the planet, have looked for centuries to make money!" ~Tim Mikeska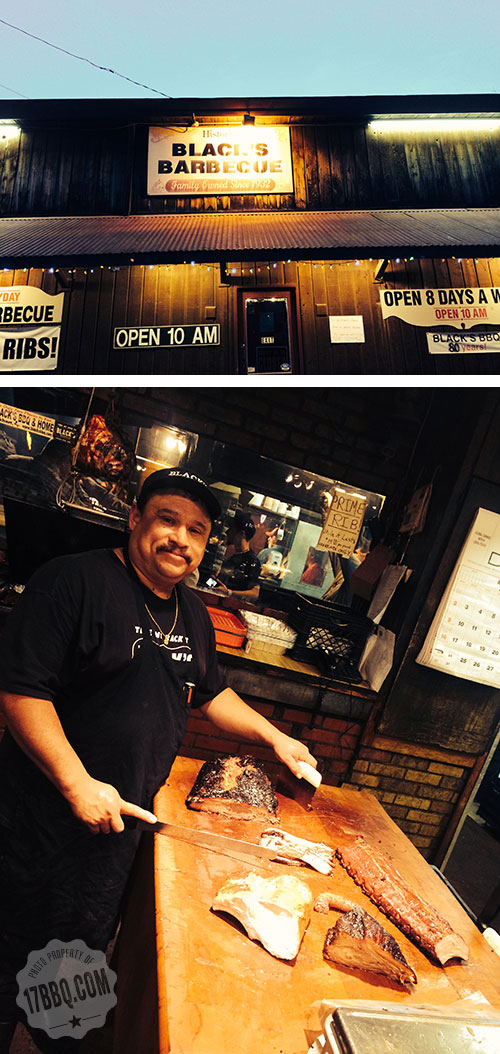 One of the extra events for which you could register was a private dinner at Black's Barbecue, followed by an evening of music at Gruene Hall.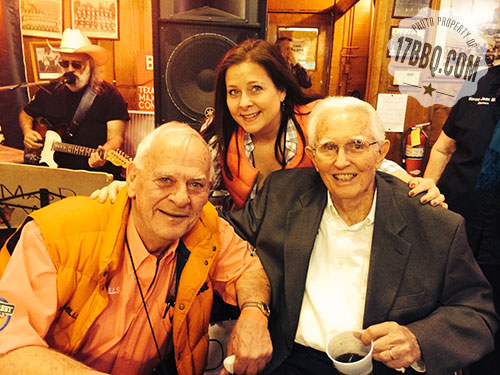 Spending time with Edgar Black was honor.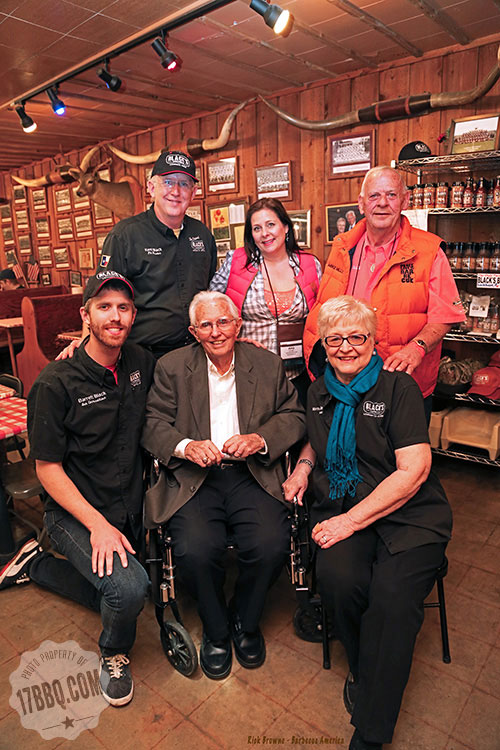 A priceless moment – multi-generations from 17th Street and Black's. Thank you, Rick Browne, for the great shot!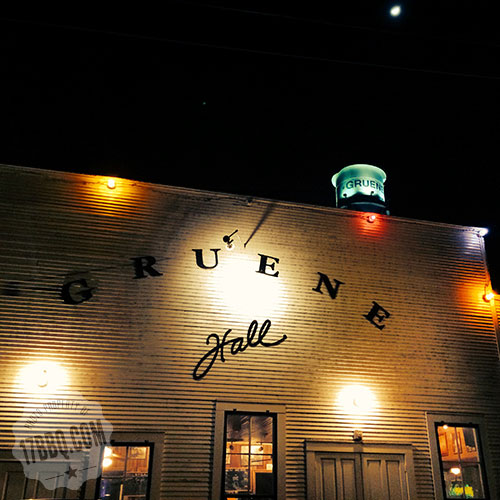 After the barbecue feast, we went to the charming town of Gruene to experience Gruene Hall, the oldest dance hall in Texas.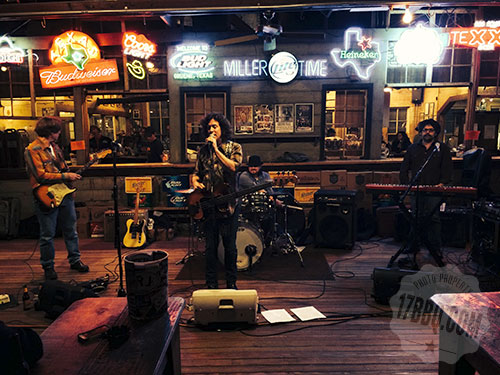 Lively music …

… amidst storied walls, lined with  photos of all of the stars who've played here.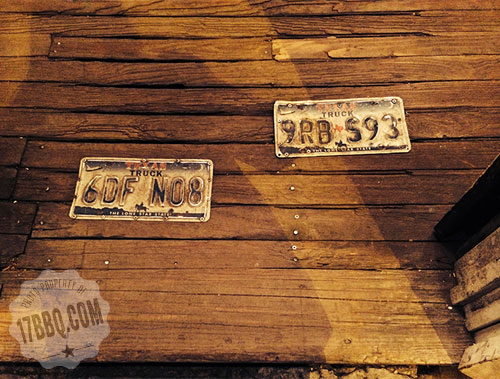 Holes in the floor are patched with license plates.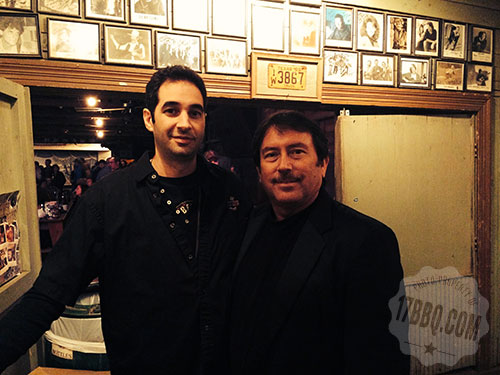 Barry Sorkin and Tim Mikeska. Barry serves Tim's outstanding sausage in his restaurant, Smoque, in Chicago.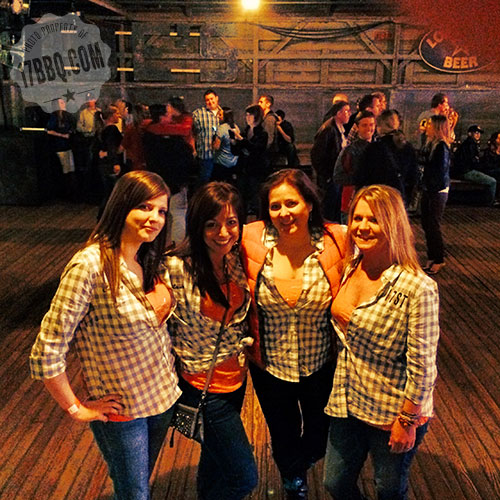 Cassidy, Laurie,me, and Jenn. These girls make me so proud.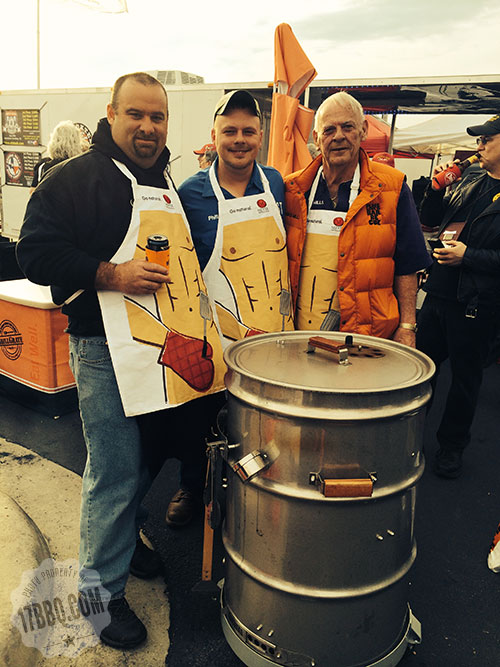 One of the highlights of the conference was Friday evening's outdoor picnic, featuring a variety of Meyer's Natural Meats, and a steak cook-off. A number of NBBQA pitmasters cooked alongside seasoned steak circuit cooks.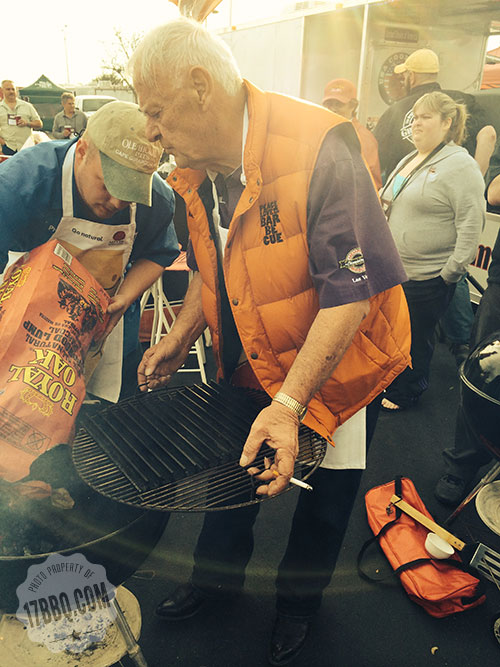 Phillip and Mike borrowed a grill and joined in the steak cook-off fun.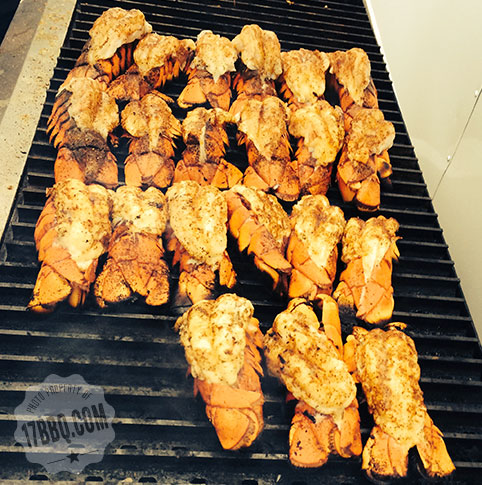 DennyMike Sherman brought some fresh Maine lobster tails with him …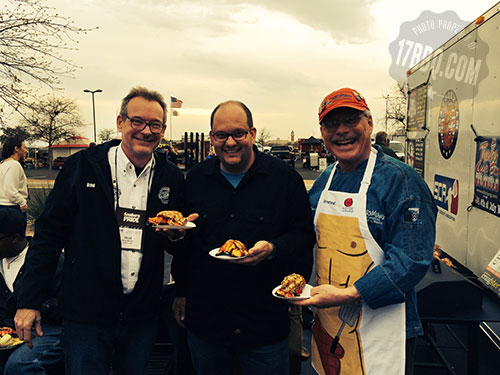 …  and grilled them up on Brad Barrett's GrillGrates. Lightly seasoned and charred goodness.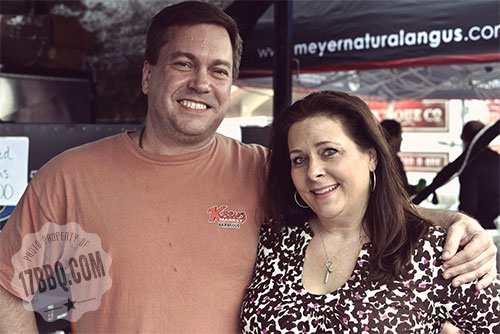 My Texas barbecue family was out in full force. Thanks to Robert Lerma for making this picture of Keith Schmidt and me.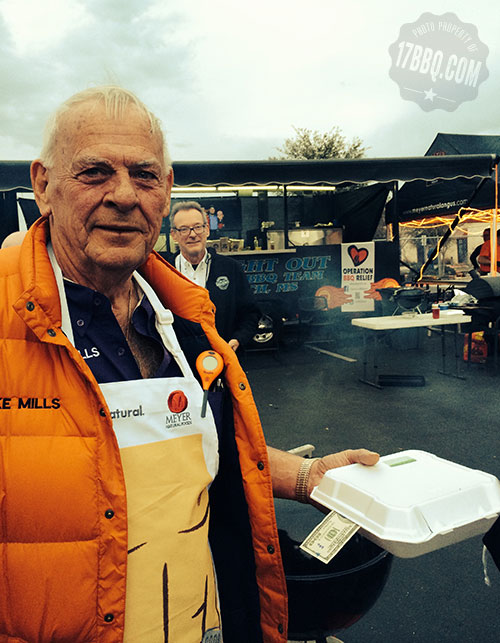 Mike is hoping that this turn-in bribe will help his score.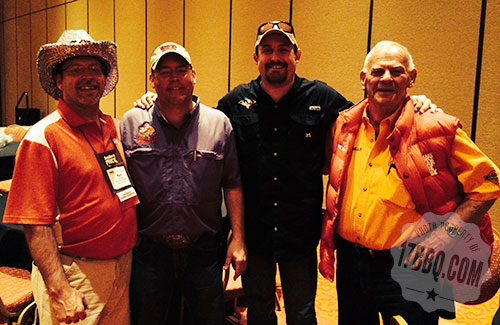 Rhinestone cowboy steak GRAND CHAMPION Kell Phelps, past NBBQA president and editor of the National Barbecue News, was the grand champion. He's pictured here with National Steak Champion Monte Brown, Diamond W BBQ, and Mike after the final dinner and auction.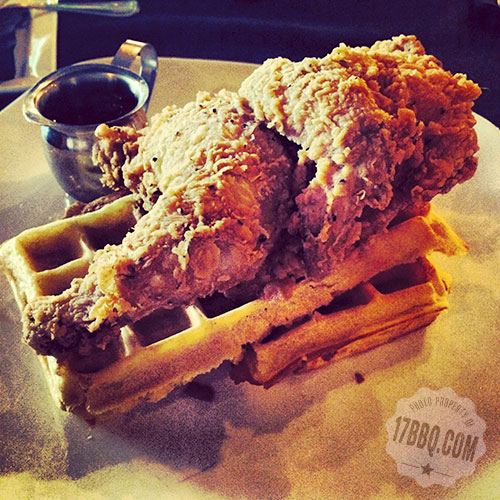 Our last Texas meal was brunch at Cody's Bistro in San Marcos with Keith Schmidt. Chicken and waffles — half of a fried cornish game hen over malted waffles with a cayenne-spiked maple syrup. So delicious.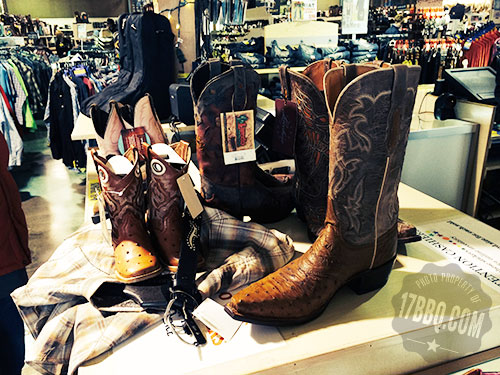 And of course, a final stop before departure: Texas Western Wearhouse. They were kind enough to loan us dozens of pairs of gorgeous cowboy boots with which to decorate the tables for our auction and final meal, so we had to check them out. Six pairs of boots, belts, shirts, and more and we were ready to head for home.
If you're in the barbecue business, kindly consider joining NBBQA and attending next year's event which will be held in Nashville. We are staunch supporters of NBBQA. Mike is a past president and continues to serve on the board, Becky Streuter, our catering manager has served on the board, and Amy organized several conferences. The  educational opportunities, coupled with with the opportunity to meet barbecue people from all over the country, make this experience valuable. We have met so many of our very good friends through these conferences. Y'all join us!