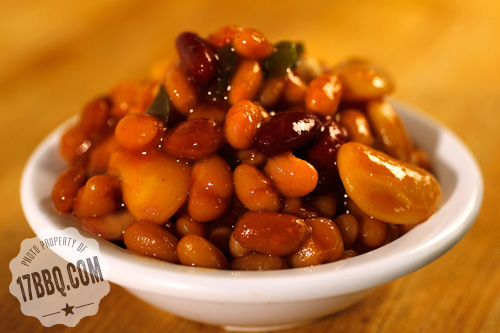 These baked beans are the most popular side dish in our restaurants. Their sweet, smoky flavor is an excellent complement to barbecue. Each type of bean has a different texture, so the different varieties used in this recipe make these beans a bit more interesting. At our restaurants, we use pulled pork instead of bacon to achieve a bit of a smoky taste. You could also bake them with a few already-smoked ribs. Just take four or five already-smoked rib bones, with the meat still attached, and lay them across the top of the beans. Or you can push them down into the beans so they're covered. After baking, pull the meat off the bones, discard the bones, and gently mix the meat back into the beans.
Here in Boston, where I live most of the time, chili beans are not readily available. Ranch Beans from Whole Foods are pretty much the exact same thing.
Ingredients
2 tablespoons French's yellow mustard
3 cups Hunt's ketchup
1 cup diced onion
1 small to medium green or red pepper, diced
1 1/2 cups brown sugar
1/2 cup sorghum or honey
1 to 1 1/2 tablespoons Magic Dust
1 large can (28 ounces) pork and beans (such as Campbell's or Showboat)
1 can (19 ounces) large red kidney beans, rinsed
1 can (15 1/2 ounces) chili beans (such as Bush's Chili Starter)
1 can (15 1/2 ounces) large butter beans, rinsed
1 can (15 1/2 ounces) of a fifth bean, your choice, rinsed
4-5 uncooked bacon strips or a few cooked ribs or some pulled or chopped pork.
Preheat the oven to 350°.
In a large bowl, mix the mustard, ketchup, onion, red or green pepper, brown sugar, sorghum or honey, and Magic Dust well. Be sure to work out all of the lumps of brown sugar. Add the beans, stirring gently with clean hands or a large spatula; just enough to evenly distribute the mixture. Over mixing will cause the skins of the beans to burst and the consistency will become mushy, more like refried beans, which you don't want.
Pour into a 9-inch x 12-inch pan. Lay bacon strips across the top. Cover with aluminum foil and bake for 45 minutes. Remove foil and bake for an additional 15 minutes or until bubbly.
Serves 10 to 15 people. Reheats well. Will keep in refrigerator for up to one week. May also be frozen for up to one month.
© Mike Mills & Amy Mills. Adapted from Peace, Love, and Barbecue (Rodale) and reprinted with permission from Rodale.