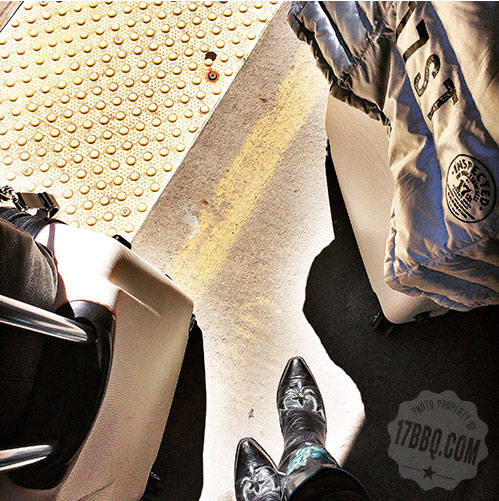 In April, I traveled to New York City for the filming of the third annual Kingsford Invitational.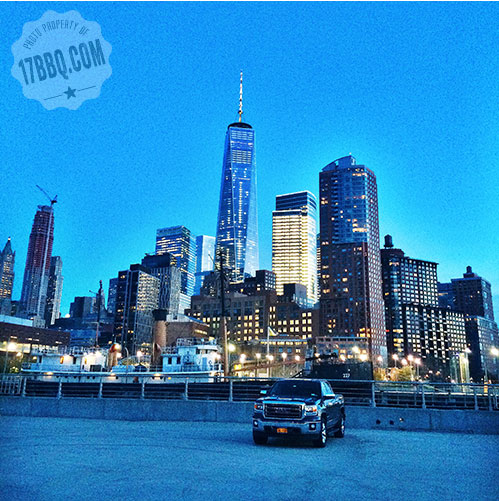 The setting was Pier 26 in Tribeca, with a majestic skyline and the Freedom Tower in the background.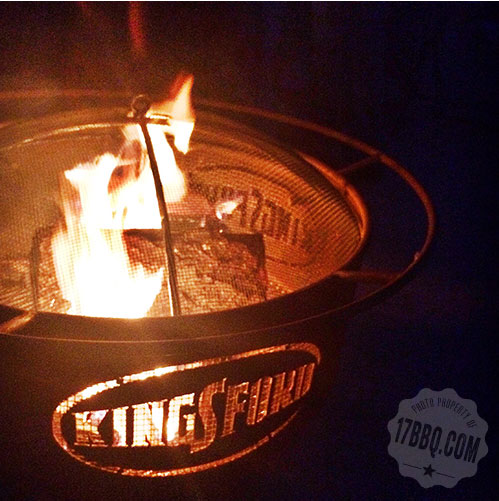 We warmed up by these custom Kingsford firepits in the evenings.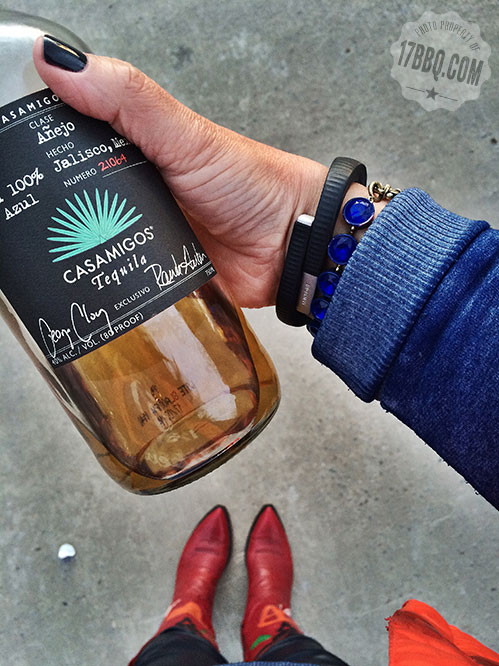 And of course, a little tequila helped, too.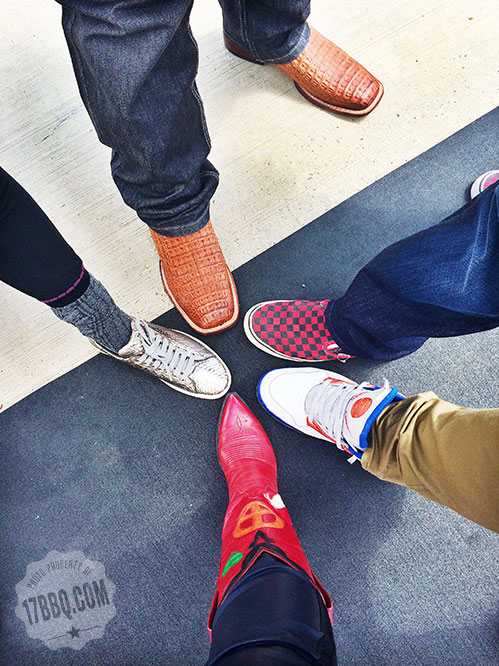 Can you match the shoes with my fellow judges? Tom Ford sneakers, Lucchese boots, Vans, Nike pumps, and Lucchese boots.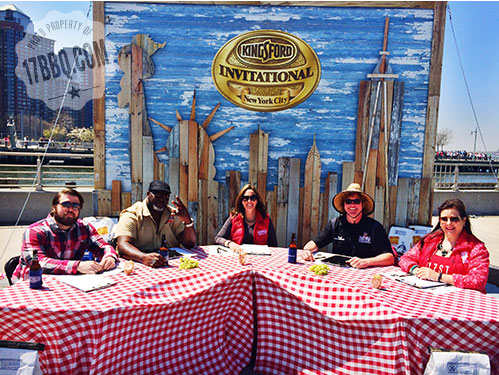 Also known as Ben Robinson, Moe Cason, Melissa Cookston, Brad Orrison, and me.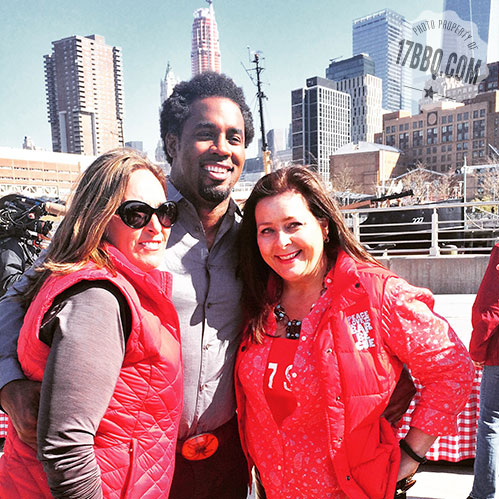 Chris Lilly was the host of the past two Kingsford Invitational contests, and as he was cooking this round, former NFL linebacker and sports personality Dhani Jones joined the cast as the host. He is personality plus and a consummate professional. So much fun to be around.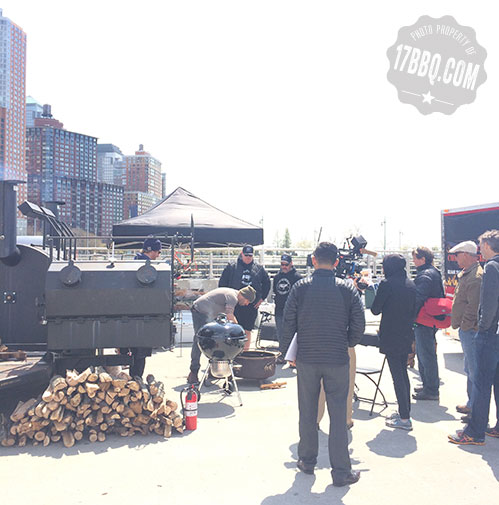 The set was one of a kind. This is the Dirty Water Dogs, a team formed just for this show, representing New York City. Billy Durney, Hugh Magnum, and Will Horowitz jumped into the fray with some very experienced competitors and did extremely well.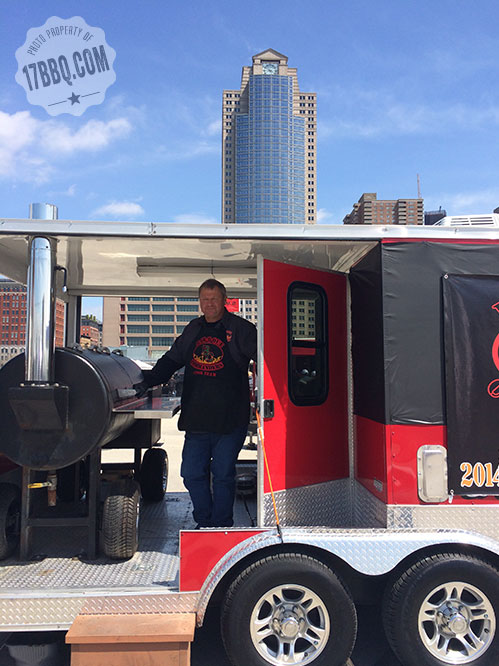 Jamie Geer, the 2015 Houston Rodeo Grand Champion, inventor of the coveted Jambo Pit, and very recent winner of BBQ Pitmasters. You can read more about Jamie on these Texas Monthly BBQ blog posts.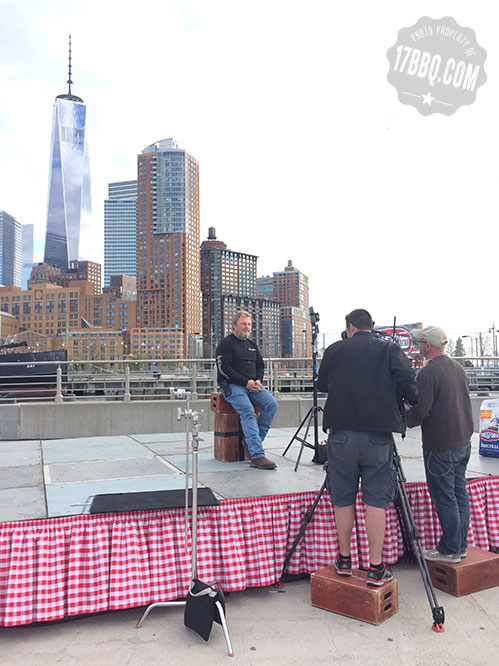 Getting to know Donny and Tracy Bray was such a pleasure. His skill is well known, but our paths have never crossed.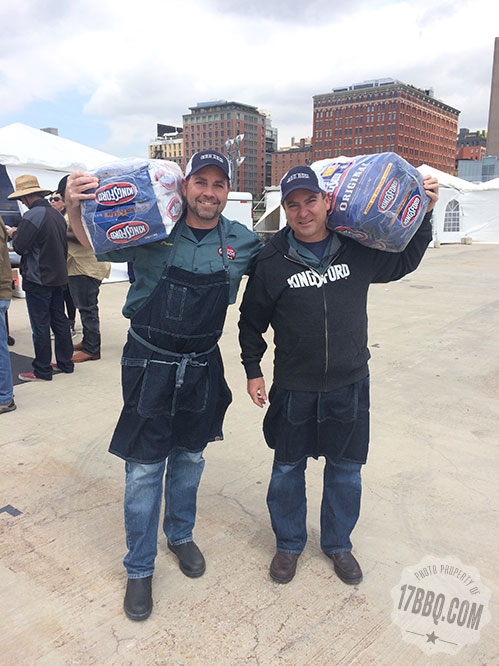 Drew McGowan and Owen Lilly are all smiles as they haul charcoal to their site in preparation for the Wal-Mart One-Bite Challenge.
Each contestant had a choice of steak cuts and could use just five ingredients in the preparation. These were some of the best entries I've ever tasted in a contest.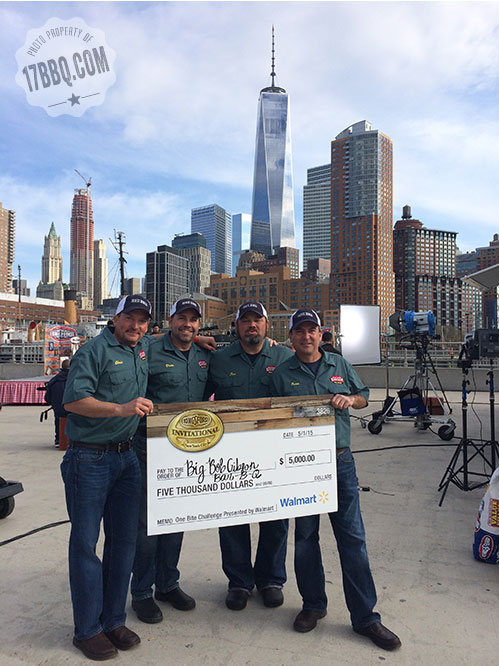 Big Bob Gibson was the clear winner. His steak was all about heritage – seasoned with Big Bob Gibson dry rub and garlic and a marinade as an ode to his favorite childhood steakhouses. They were thrilled to collect a check for $5,000, but more importantly, they received an extra point for the next day's score.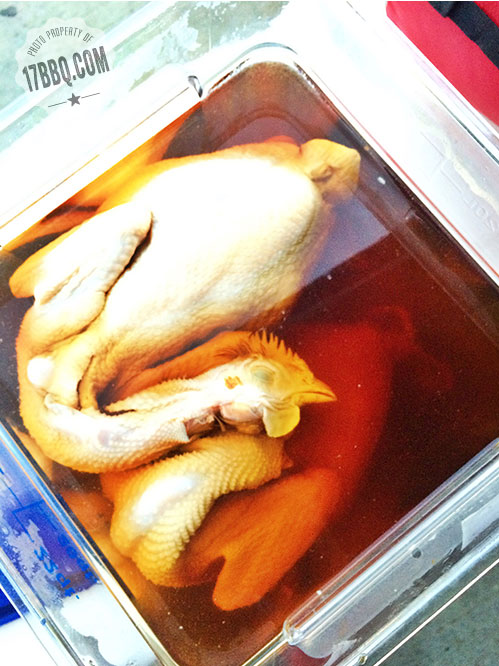 What I really enjoyed about this contest was the opportunity for cooks to experiment and turn in simply good barbecue, not the homogenous competition 'que that is so ubiquitous on the circuit today.
Sometimes that experiment paid off, as was the case with Chris Lilly's quarter chickens dunked in white sauce … and sometimes it did not, as evidenced by the Dirty Dogs' take on Peking chicken. The effort, however, was valiant and appreciated by the judges. And of course, it all made great television.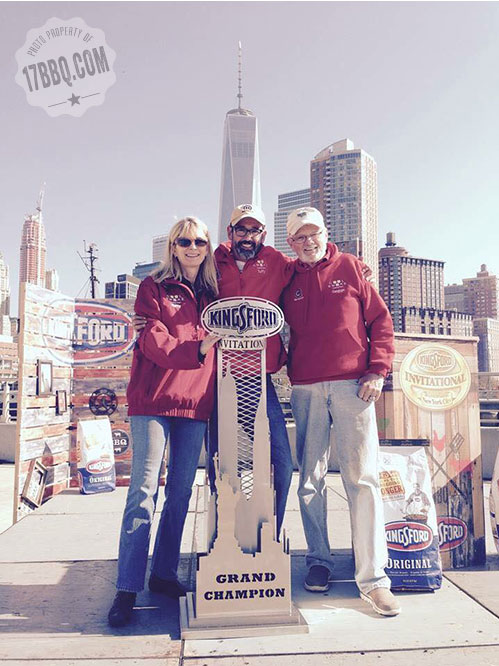 Cool Smoke, comprised of Tuffy and Leslie Stone, and his dad and constant teammate, George Stone, took home the grand prize of $50,000, this amazing trophy, and a custom ring. Tuffy was a judge on the first Kingsford Invitational show, and a competitor last year. This victory was a sweet one, indeed, for him and for all of us. Cheering one another on and reveling in the success of our barbecue family is what makes this world so special.
Kingsford Invitationals to can see behind the scenes of the first two Kingsford Invitational contests.
 Follow our adventures in real time on Instagram and Twitter.
See lots of entertaining and barbecue ideas on our Pinterest boards.
And we post fun things on Facebook, too!