Our small event room, called The Annex, is used constantly and it was in desperate need of an update. Knowing we could get more accomplished if Mike Mills was NOT in the building, our catering manager, Becky Streuter, and I arranged a team of painters, floor professionals, and materials to come in the front just as he was exiting the back door for a few weeks in Springfield at the Illinois State Fair.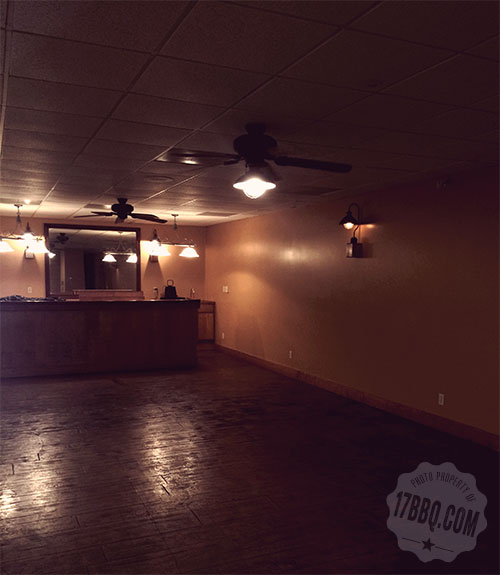 This is in a new part of the building that was constructed after fire damaged the original structure in the 1970s. The floor is concrete, stamped and stained to look like wood.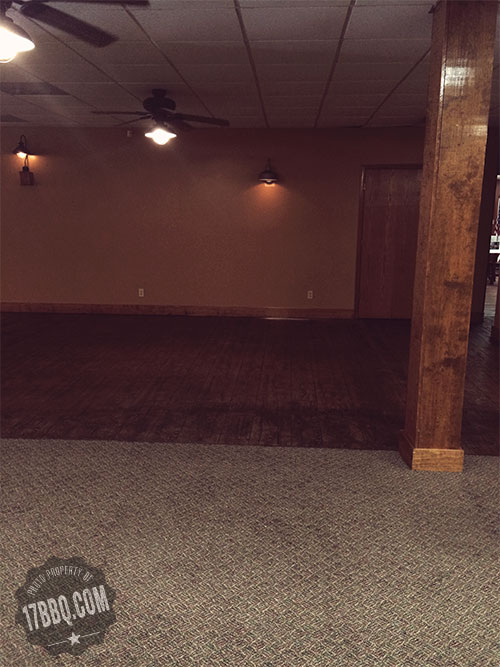 The concrete part still looks good, but someone decided to carpet part of it, and that looked decidedly not so good.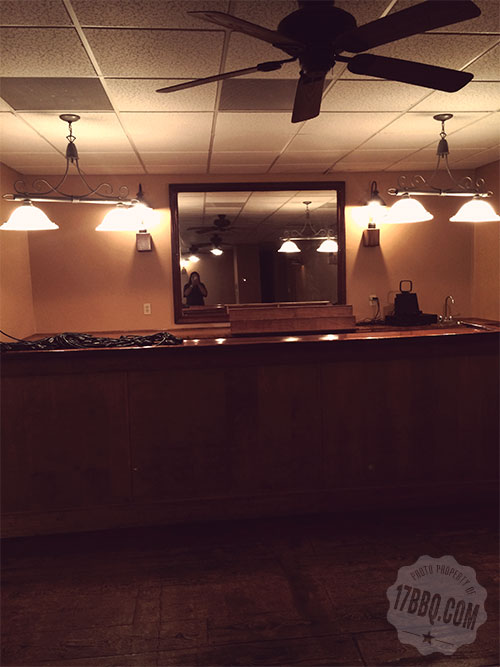 Two very dated light fixtures were hanging over the bar.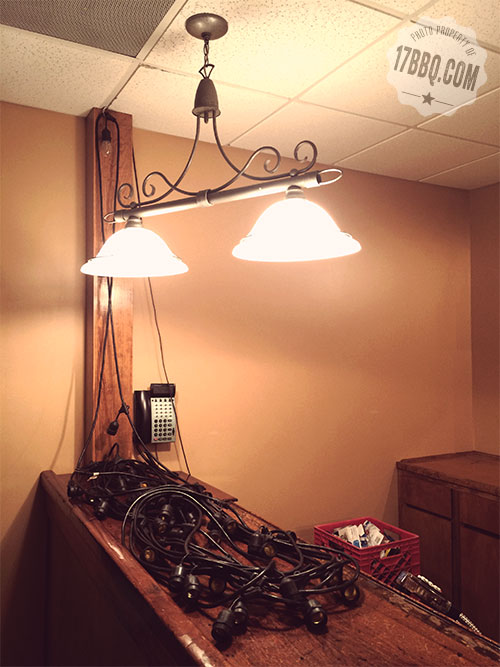 and not a lot of personality.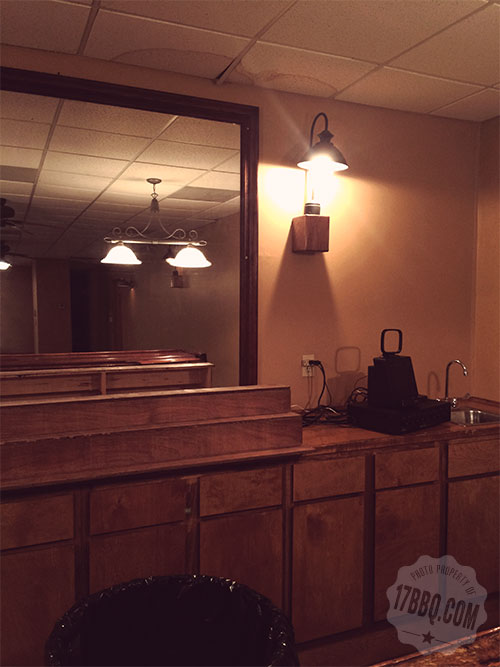 These wall fixtures have bothered me for years. Someone must've gotten a deal on the top part of outside pole lights and decided we could use them inside if they were perched on these wooden boxes. Yikes.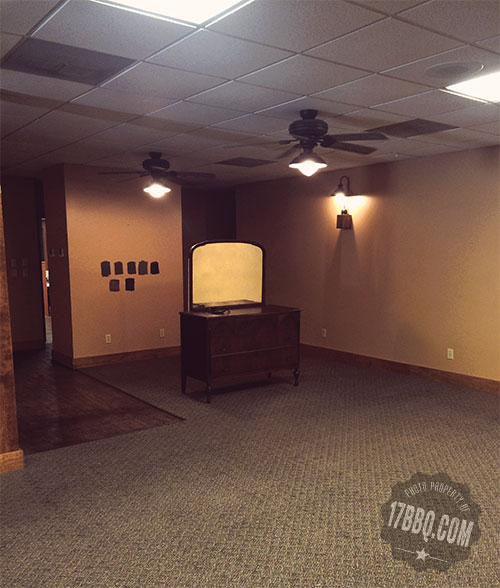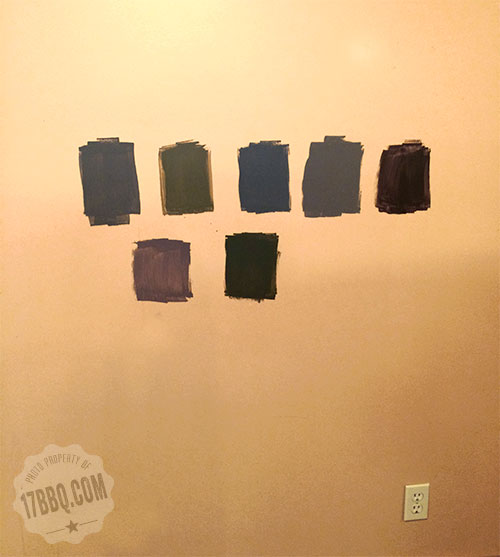 I knew I wanted to change the color to a more updated dark grey. The room has no windows, but instead of trying to make it look light with a lighter colored paint, we decided to embrace the dark. I bought more pints of sample paints than we needed, but it's always better to err on the side of trying everything you think you might like. We ended up choosing the one on the top row, second from the right.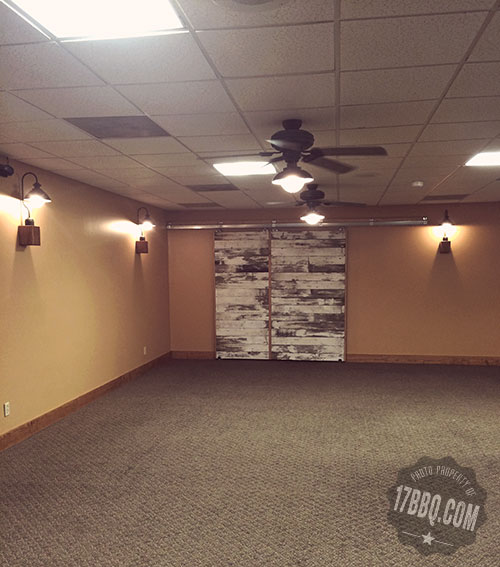 Our ace handyman, Gerald Strothmann, can make anything and he fabricated these barn doors to cover an existing set of double doors.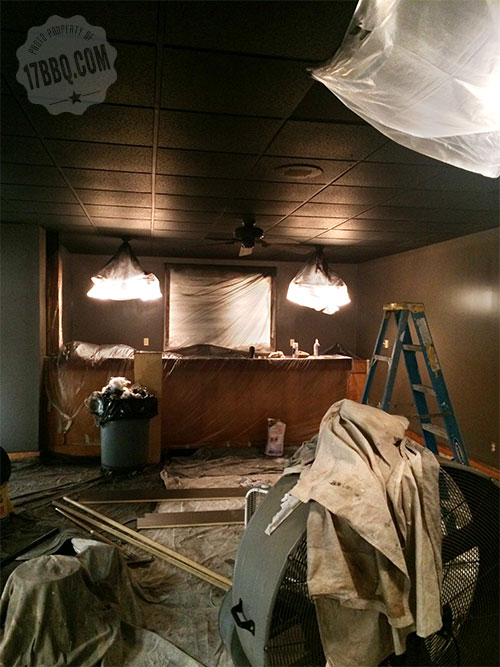 I wanted to get rid of the ugly drop ceiling and ceiling fans, but that was not an option. So the first order of business was to spray the drop ceiling black, so it would disappear. This was a huge improvement and now the ceiling fans don't look so bad at all.
Lighting in such a large space is requires a great deal of thought and planning. Visual weight, scale, material, style, and the amount of light emitted are all considerations. The room is large and we needed 14 sconces. That adds up quickly. I looked at a staggering number of options, most of which were more than I wanted to spend. Ultimately, I chose these simple Lowe's galvanized steel outdoor lights. These are a good, well-priced option that strike just the right note of industrial/rustic chic. After installing just one, we could see this would be a huge improvement.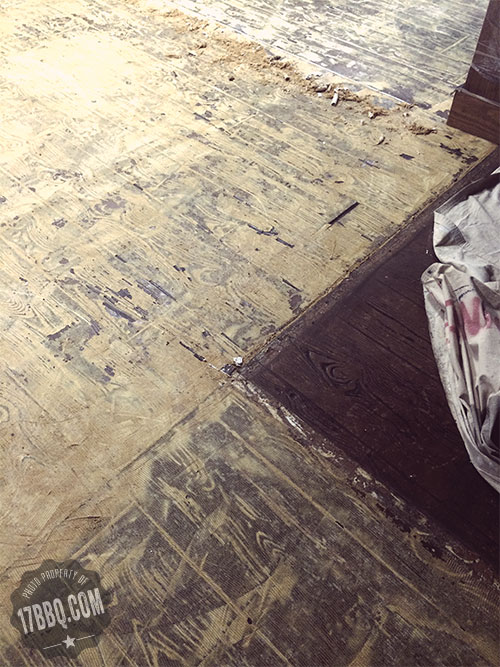 The next order of business was to tear out the carpet.
Here's where things got a little dicey. The carpet was glued and that glue got into the crevices of the stamped wood floor. Keith Stokes from Distinctive Interiors came in with a garden hose and soaked the floor to try to soften glue. The carpeting came up, but the glue was stuck in the crevices of the stamped wood floor.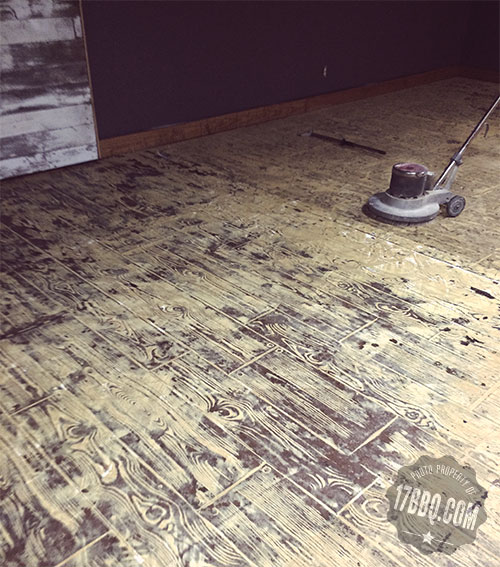 He sent over someone to chisel at it with a wire brush. That didn't work so well.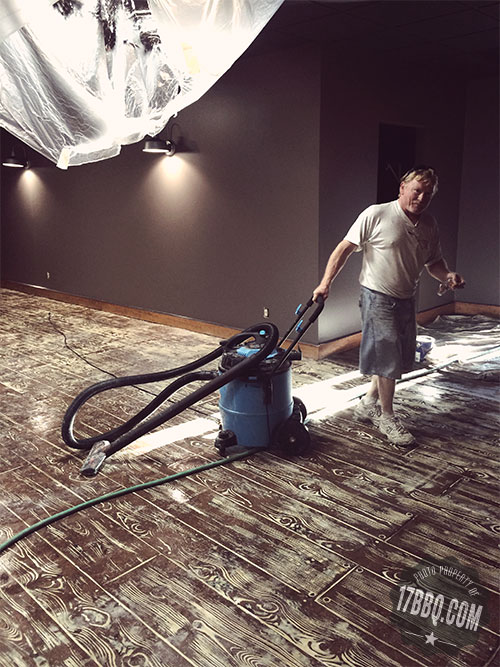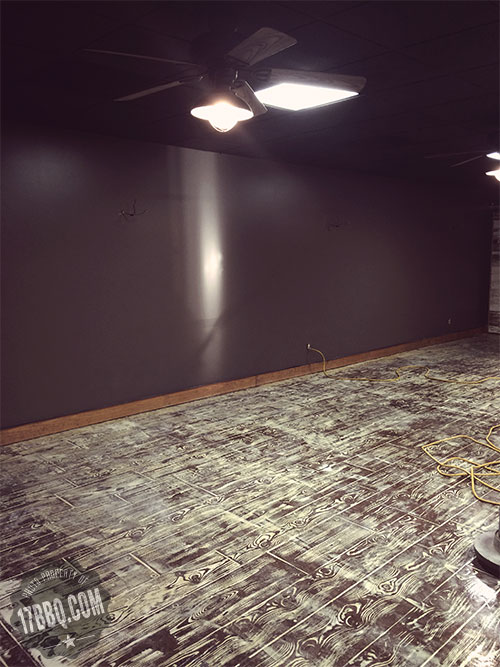 Keith came back with a buffer, a shop vac, and the garden hose.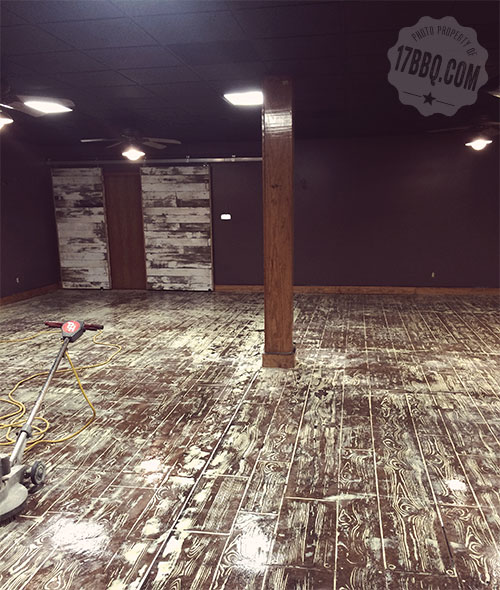 Bit by bit it began to look better.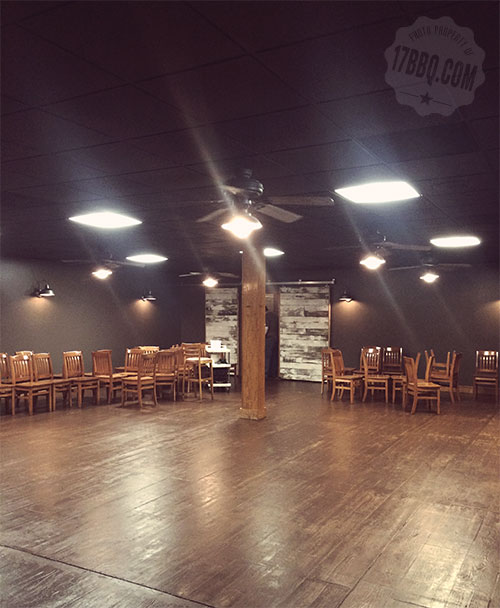 The solution was to paint the entire floor and let it wear with use. You can see a distinct color difference, but it's barely noticeable once the furniture was moved back in.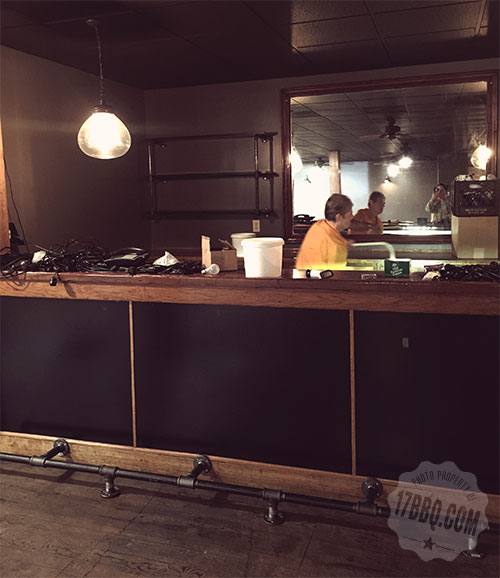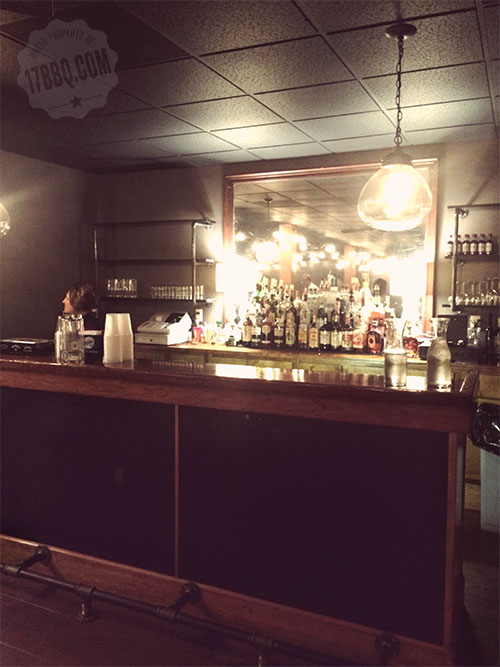 We installed two Lowe's glass globes with Edison bulbs, also from Lowe's, in the bar area. Simple metal pipe and black board shelving were commissioned for either side of the large mirror. We also painted the panels in the front of the bar and had a new bar rail built and installed.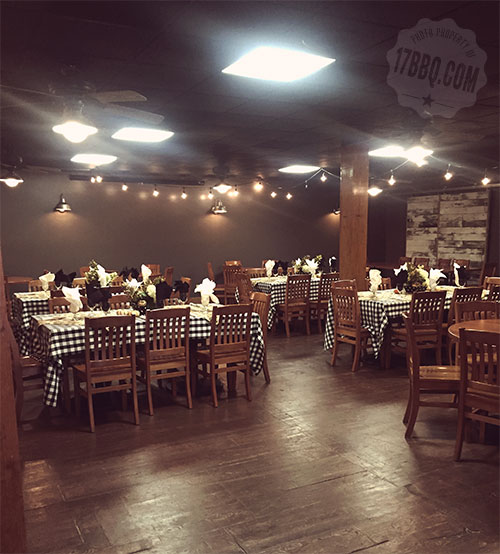 String lights plus the wall lights provide the perfect amount of light for parties and celebrations. For meetings, we can use the overhead florescent lighting. The warm brown tones of the cherry furniture complement the trim and columns.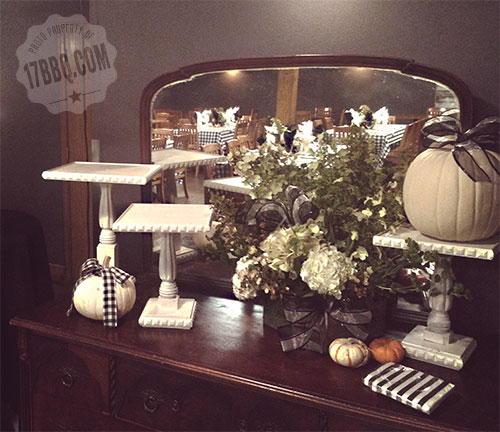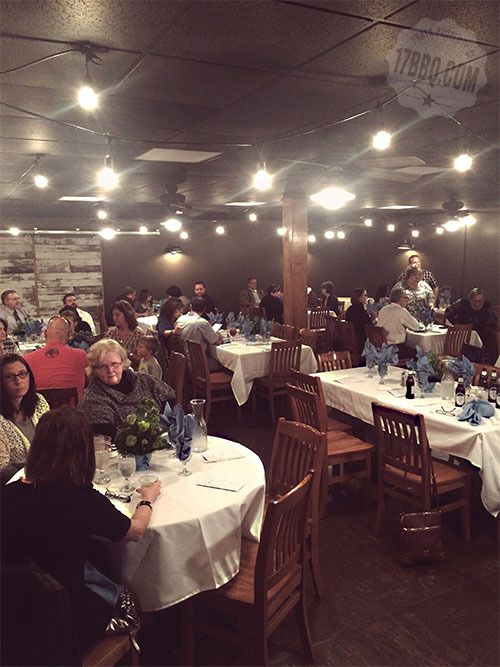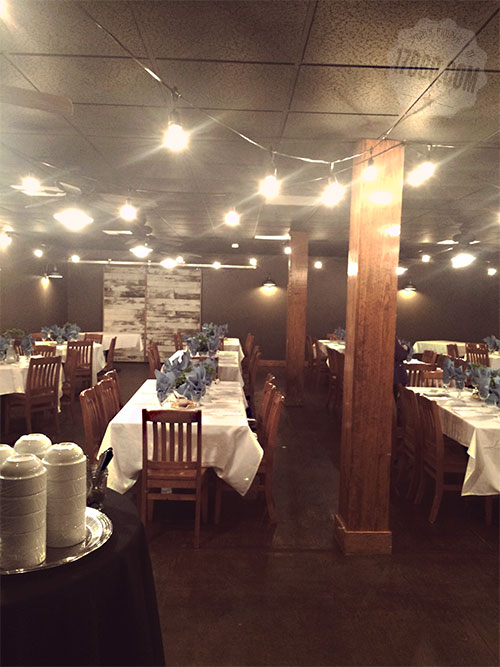 Twinkling lights and party-ready.
This room holds up to 100 people comfortably and is used for all sorts of celebrations: birthday parties, showers, family reunions, and rehearsal dinners, as well as corporate and community meetings. For more information on reserving the room, click here.
Follow our adventures in real time on Instagram and Twitter.
See lots of entertaining and barbecue ideas on our Pinterest boards.
And we post fun things on Facebook, too!