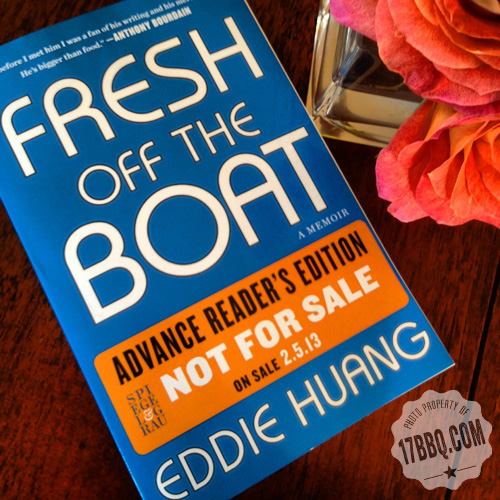 Thank you, Eddie Huang, for sending me a copy of Fresh off the Boat.
I met Eddie and his charming girlfriend last fall at the Southern Foodways Alliance symposium. He spoke about his unconventional life experiences within an immigrant family and the barbecue he ate and made while growing up in Florida and during his early years in Manhattan. We spent time gathered around Pat Martin's pit and shared swigs of whiskey and stories about Sonny's Bar-B-Q. His childhood, family life, and the experiences that formed his perspective and persona are fascinating.
I've always felt my group of friends is fairly diverse, but until now I didn't know anyone whose formative years were quite like this. The anchor of his story and our common language is, of course, food.
One of my favorite passages:
"I realized that day, it's the simple things in life. It's not about a twelve-course tasting of unfamiliar ingredients or mass-produced water-added rib-chicken genetically modified monstrosity of meat that makes me feel alive. It's getting a bowl of food that doesn't have an agenda. The ingredients are the ingredients because they work and nothing more. These noodles were transcendent not because he used the best produce or protein or because it was locally sourced, but because he worked his dish. You can't buy a championship."
If you're interested in food and how it informs much of who we are, you'll want to read this book. Order your copy here.