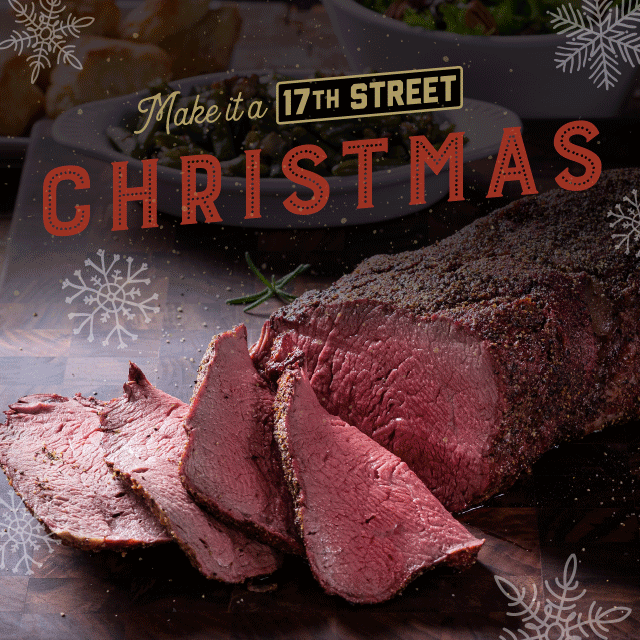 Let 17th Street do the cooking for your Christmas celebration.
We're offering up Tenderloin, Turkey, and Ham, along with an array of appetizers, sides, desserts and cocktails… all in a variety of sizes to feed just a few or a larger family! Holiday Menu orders due by 12 noon on Monday, December 20.
---
PLEASE NOTE THAT WE HAVE A LIMITED NUMBER OF HAMS AND TURKEYS, SO GET YOUR ORDER IN AS EARLY AS POSSIBLE! IF YOU PLAN TO TRAVEL OR CELEBRATE EARLY, PLEASE LET US KNOW AND WE'LL TRY TO ACCOMMODATE YOUR TIMING.
---
All items will be chilled with heating instructions:
3lb. Beef Tenderloin w/Horseradish Cream | $195
Spiral Ham w/Holiday Glaze | $55
Tom Turkey | $60
Turkey Breast | $18/lb
Wreath Salad | $30
Sweet Potato Casserole | $18/half-gal
Cheesy Potatoes | $18/half-gal
Brisket-Seasoned Green Bean Casserole | $22/half-gal
Seasoned Green Beans | $18/half-gal
Savory Sausage Breakfast Casserole | $40/half-gal
Dressing | $18/half-gal
Gravy | $13.5/qt
Mile-High Biscuits | $20/doz
Honey Butter or Bourbon Butter | $6
Bread Pudding | $20/pan
Brownies | $20/pan
Hand-Crafted Spiked Egg Nog or Warehouse Punch | $30/qt
Plus all your 17ST barbecue favorites:
Turkey Breast | $18/lb
Ribs | $21/rack
Pulled Pork | $13.75/lb
Chopped Brisket | $22/lb
Smoked Chicken Wings | $12/8
Pimento Cheese & Sausage(12 oz/3 sausages) | $27
Potato Salad | $13.50/qt
Brisket-Seasoned Green Beans | $14/qt
Tangy Pit Beans | $13.50/qt
Sauce | $6
Magic Dust | $6
Place your order in Marion or Murphysboro BEFORE NOON CT on MONDAY, DECEMBER 20. You can phone your order in to either restaurant or to our catering office at 618-684-8902 (we are in the office from 9am to 4pm) or send Laurie an email.
Orders will be ready for pickup at your chosen location on FRIDAY, DECEMBER 24.
Marion Restaurant:
618-998-1114
Murphysboro Restaurant:
618-684-3722