Shane Linn, Mike mrva, Adam Wood, David Bogan, Woody Tunnicliffe, Phillip Heern, Mike Mills, Lawson Linn, Tracy Heern, Laurie Neef, Colin Wilkinson, Diana Gremillion, Erik Hernandez, John Hulslander, and Mike Humes.
June 2015 marked the 13th anniversary of the Big Apple Barbecue Block Party. Here's our traditional pit crew photo, just prior to the starting bell. This is comprised of our core 17th Street group, along with treasured friends and volunteers, some of whom are local and some of whom travel to help us with this mammoth production.

Mike Humes, Adam Wood, Woody Tunnicliffe, Phillip Heern, Amy Mills, Mike Mills, Tracy Heern, Laurie Neef, Erik Hernandez, and Steph Jeltsch.
This is our core 17th Street group. They drive a literal convoy of pits, trailers, and box trucks with the equipment necessary to put on this show. The two-day cross-country journey is an event with itself and they have plenty of adventures along the way. For some, this is a repeat trip. For others, it's their first time in Manhattan. We always plan an extra day prior to set-up so our team can enjoy exploring the city.

Adam Wood, Shane Linn, Erik Hernandez, Mike Mrva, John Hulslander, Robin Insley, Woody Tunnicliffe, Amy Mills, Mike Mills, Phillip Heern, Laurie Neef, Steph Jeltsch, Tracy Heern, Mike Humes, Colin Wilkinson. 
Whole group, day two.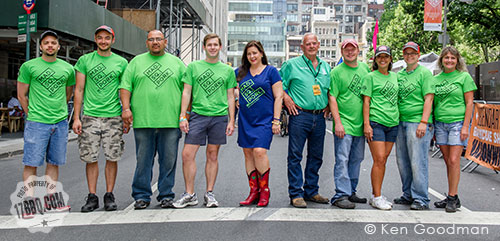 Mike Humes, Adam Wood, Erik Hernandez, Woody Tunnicliffe, Amy Mills, Mike Mills, Phillip Heern, Laurie Neef, Steph Jeltsch, and Tracy Heern.
Core group, day two.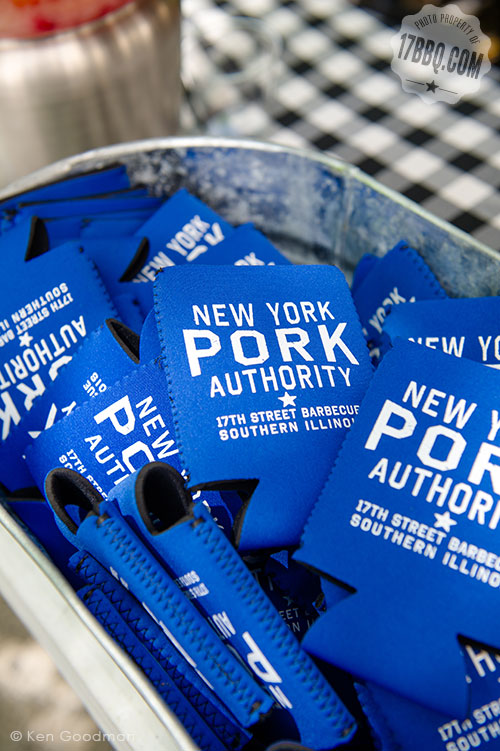 We have a lot of fun coming up with New York-centric slogans for t-shirts and coozies each year. We are grateful to the brilliant minds at Arthur Agency and the outstanding production work of Silkworm, Ink, who produces all of our apparel and promotional items.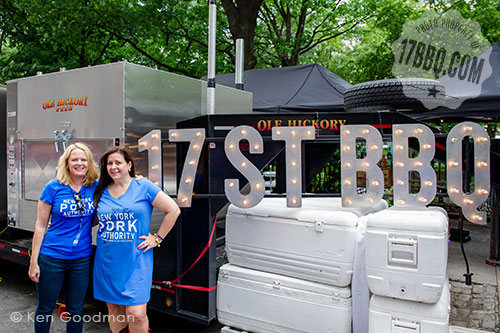 Robin Insley ran our VIP area and helped with every detail behind the scenes. You're the best, Robin. Thank you!
Royal Oak is the charcoal sponsor of the event and we burn bags and bags of charcoal, along with sticks of apple wood.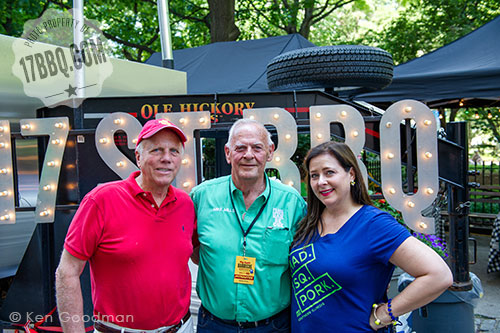 Richard Hagmann from Royal Oak.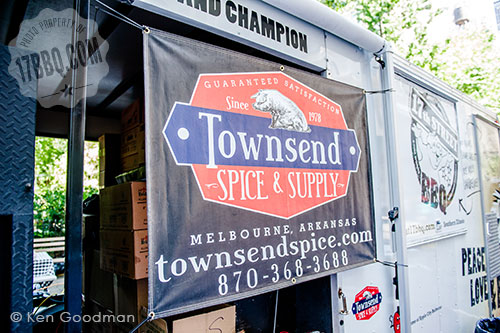 Townsend Spice has blended our Magic Dust® since the early 1990s. They're huge supporters of everything we do and we love having them with us at all of our events.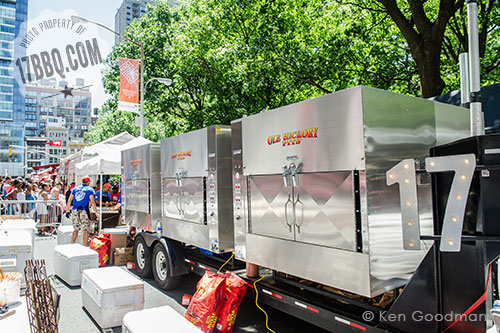 Ole Hickory Pits built us this trailer for maximum fire power.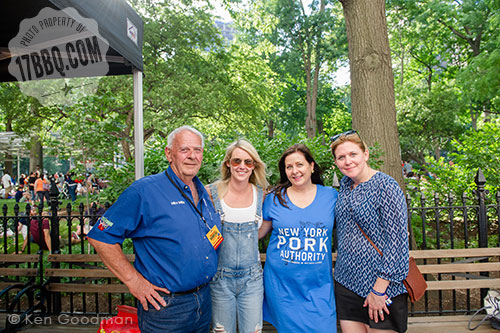 This year we cooked a few whole hogs, too, and this year they were beautiful Chester White pigs from family-owned Cheshire Farms in Seven Springs, North Carolina. This is Marlowe Ivey and Esther Vaughn from Cheshire Farms.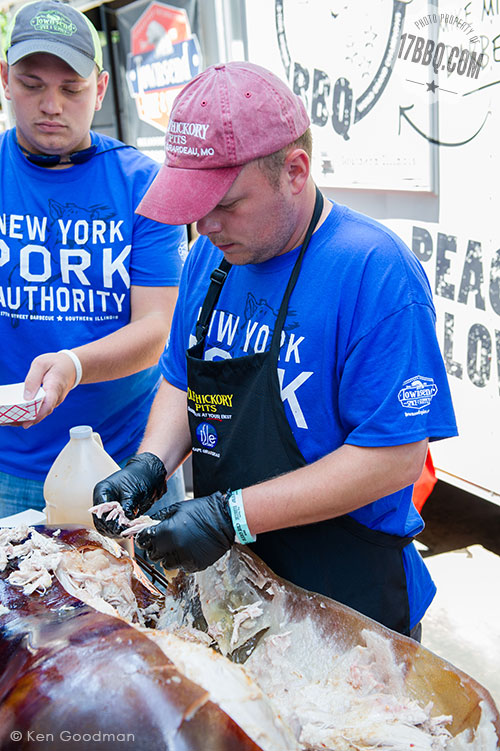 Lawson Linn of Townsend Spice, and our pit master, Phillip Heern.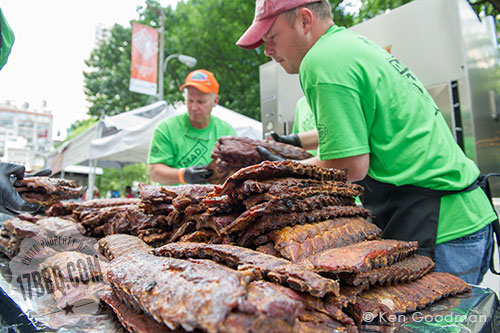 Each pit master serves one protein and one side. We always cook baby back ribs and our signature 17th Street tangy pit beans.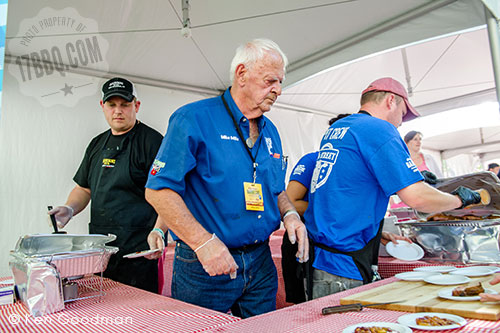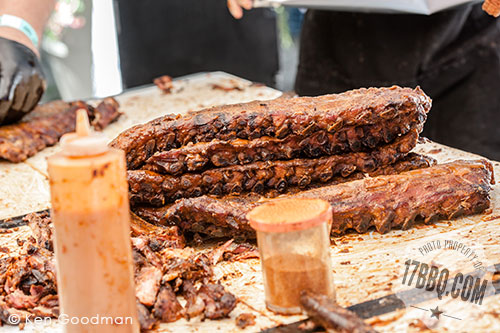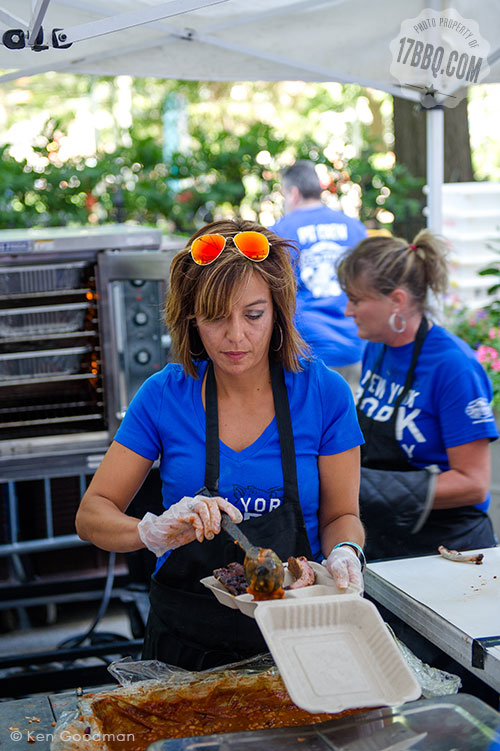 GM Laurie Neef, with Tracy Heern in the background. They supervised the serving station and helped plate thousands of orders.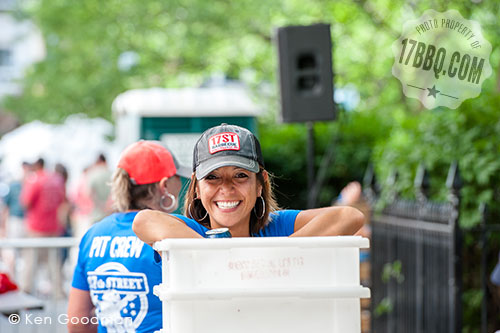 Makeshift dishwashing station. Oh, the glamour.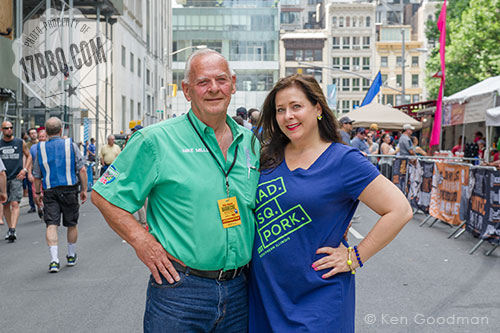 Mike and me. I know I'm so very fortunate to be working alongside this man.
Charlie Jones of C3, producers of the Block Party, along with many other music and wine and food festivals. Thank you for having us!
Stay tuned for more Block Party posts!
Photos by @Ken Goodman Photography. He's a rock star. 
Follow our adventures in real time on Instagram and Twitter.
See lots of entertaining and barbecue ideas on our Pinterest boards.
And we post fun things on Facebook, too!