Barbecue = Food + Family + Love
About Mike Mills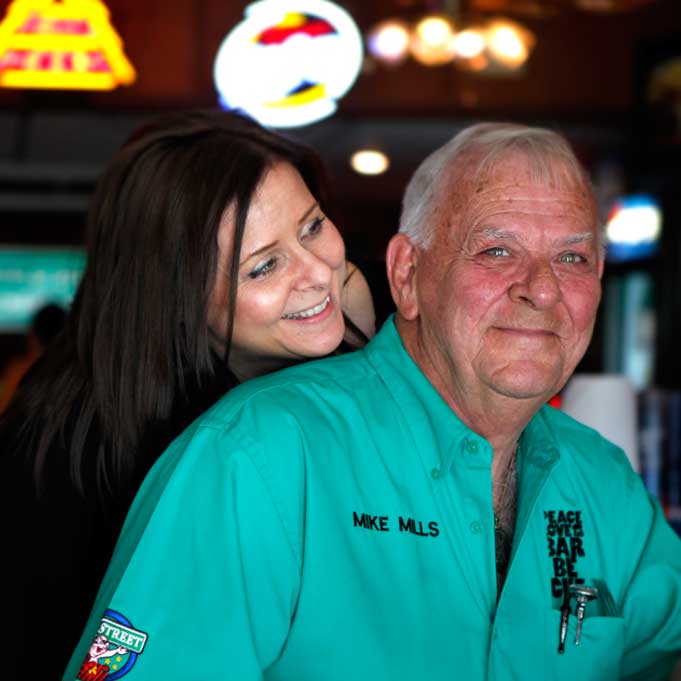 In the world of barbecue, champion pitmaster Mike Mills is affectionately known as "The Legend." He presides over the pits at his two nationally acclaimed 17th Street Barbecue barbecue restaurants in Southern Illinois.
In the early 1990s, he was co-captain of the Apple City Barbecue team, one of the most celebrated teams ever on the circuit. He is a four-time World Champion and three-time Grand World Champion at Memphis in May, otherwise known as the Super Bowl of Swine. He is also the 1992 Grand Champion of the Jack Daniel's World Invitational Barbecue Cooking Contest and he won the Jack Daniel's Sauce Contest that year as well.
Mike is the barbecue guru at and a partner in Blue Smoke restaurant in New York City. He was a founding partner in Memphis Championship Barbecue in Las Vegas. His book, Peace, Love, and Barbecue was nominated for a 2006 James Beard Foundation award and received the 2006 National Barbecue Association Award of Excellence. In October 2008 he was honored with the Pioneer of Barbecue award at the Jack Daniel's World Invitational Barbecue Cooking Contest. Mike was inducted into the Barbecue Hall of Fame in 2010.
About Amy Mills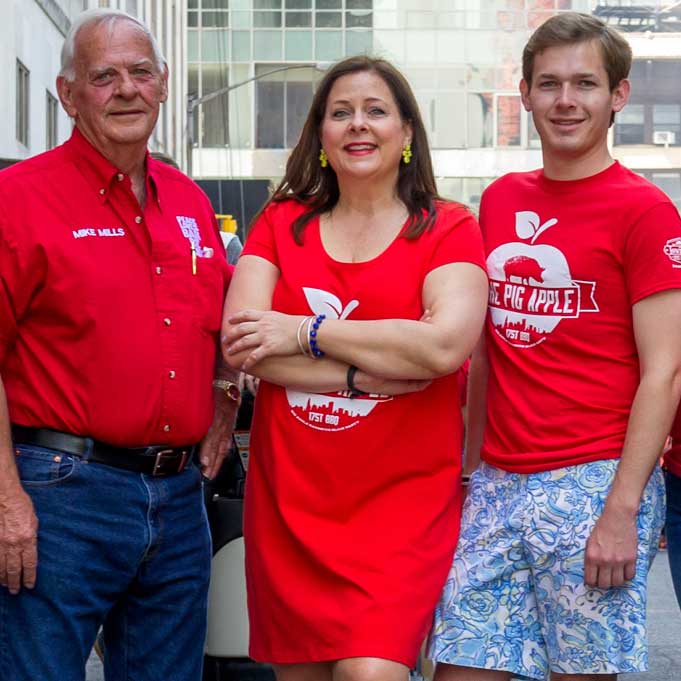 Barbecue heiress Amy Mills, daughter of barbecue legend Mike Mills, is considered the industry's go-to girl for all things barbecue. She is the James Beard Award-nominated author of Peace, Love and Barbecue, a television personality, and a branding, marketing and PR pro. Her company, OnCue Consulting, offers premiere barbecue industry education and she consults with restaurants and barbecuers world-wide.
Amy divides her time between Boston, Southern Illinois and barbecue destinations across the country. She always wanted to be a glamorous heiress. Little did she dream her fortune would lie in barbecue.
---
To arrange an interview or for media queries, please call Robin Insley Associates at 212-849-8256
Through the years, here's what we've learned:
Barbecue soothes the soul.
It's simple in philosophy and rich in tradition.
It's an art and a craft, a love and a passion.
It's provided us with a life full of friendship and love.
Here's more history and a few fun facts, if you're interested in that sort of thing:
Owner of four nationally acclaimed barbecue joints - two 17th Street Barbecue restaurants in Southern Illinois and two Memphis Championship Barbecue restaurants in Las Vegas. Mike's restaurants operate under different names - but it's all Mike Mills' barbecue.
Mike is the only barbecuer with top-security clearance to board Air Force One and he's the only barbecuer who's been featured in Vogue magazine four times!
Named Best Ribs in America by Bon Appétit magazine (September 2007) and featured on the Food Network special Bon Appétit Picks the Best.
Restaurants & Institutions (September 2007) magazine called Mike America's most-revered barbecue restaurateur.
For 13 years, Mike was the only three-time Grand World Champion at Memphis in May, otherwise known as the Super Bowl of Swine. His record was tied in 2007.