Join 17th Street Barbecue for the 7th annual Whole Hog Extravaganza seminar and invest in your business, your network, and your dreams.
Building a barbecue empire requires more than the ability to cook great barbecue. Not only must you master all aspects of the restaurant business; you have to adapt to ever-changing trends, technology, and ways of conducting business.
Pitmasters at the top of their game invest in continuing education. Similarly, they constantly build relationships in both the barbecue and restaurant communities.
Above all, you'll hear from a powerhouse lineup of legendary and celebrated pitmasters, restaurateurs, and marketing professionals discussing topics that will directly impact your business.
So whether you're a seasoned or aspiring restaurateur, barbecue competitor, or a lifelong super enthusiast, we invite you to continue your education at the 7th Annual Whole Hog Extravaganza/Brisket Bonanza/BBQ MBA seminar on January 15th and 16th!
This two-day event is packed with speakers, relevant seminar topics, and networking opportunities. Even more, it's all designed to connect you with the ultimate tips of the barbecue trade that you can't find anywhere else.
Presented by OnCue Hospitality Consulting, the Whole Hog Extravaganza seminar takes place at the legendary 17th Street Barbecue in Murphysboro, IL!
In addition, the classes explore a variety of cooking methods and demonstrations from prep through finished product for whole hogs, brisket, sausage, and more. During the BBQ MBA portion of the program, hear advice from this group of top talent. Bring your appetite too, because all the food will be sampled! You'll also get a peek behind-the-scenes at the 17th Street operation.
Here's an insider's look at last year's event. Every year, our lineup of top pitmasters, speakers, and press varies to bring you a fresh, relevant, learning experience. Check out this year's lineup below!
THIS EVENT SELLS OUT. Remember, space is limited to just 35 participants in order to provide ample opportunity for learning and networking.
Click here for your all-access pass!

Whole Hog Extravaganza Seminar Lineup
Get ready for your sneak preview of the talent on board this year:
Mike Mills, Amy Mills and Phillip Heern of 17th Street, known as "The Legend," "The BBQ Heiress," and "The Right-Hand Man," respectively, graciously host the event! While Mike is the most decorated pitmaster in America, Amy is the industry's go-to girl for all things barbecue, and Phillip is an integral part of the crew.
@17thstreetbbq
John Lewis and his barbecrew opened Lewis Barbecue in Charleston in 2016. Barbecue enthusiasts flock to his pit year after year and wait in long lines to taste his expertly smoked pork spareribs, beef ribs, "Texas hot guts" sausage, oxtail and his legendary beef brisket.
@lewisbarbecue
Aaron Kleidon, brewmaster, co-owns Scratch Brewing Company, a farmhouse brewery in Ava, Illinois. Named one of the top four breweries for foraged beer by Outside Magazine, Scratch Brewing Company also focuses on farmhouse beers and other styles brewed with home grown and locally farmed and foraged ingredients.
@scratchbeer
Kat Kinsman, Journalist and author of Hi, Anxiety, is also the founder of Chefs with Issues and the Senior Food and Drinks Editor at Time Inc.'s all-breakfast site Extra Crispy.
@katkinsman
That's not all!
Barry Sorkin, former IT professional, opened SMOQUE BBQ in 2006. It quickly developed a reputation for serving some of the best BBQ in Chicago. He's also the co-founder of the Illinois BBQ Alliance.
@barrysorkin
Tom and Shelley Niemeier of architectural and design firm SPACE STL, specialize in strategic planning, interior design, historic renovations, and more. Tom is a Registered Architect with over thirty years' experience in the design industry. In addition, Shelley works closely with clients to develop cohesive branded themes in their new spaces and on a variety of interior design projects in the office.
@spacearchitects
Finally, the lineup continues with appearances by: 
Roderick Weaver is no stranger to the beverage scene across the country with nearly two decades of experience. After mastering the art of mixology, Weaver started his own firm, BarWeaver Consulting, in 2013, where he has helped create and mentor notable bar programs like OBC Kitchen in Lexington and Lewis Barbecue in Charleston.
@barweaver
Michael Ollier
Certified Angus Beef
@certifiedangusbeef 
Chris Chamberlain
Journalist
@ceeelcee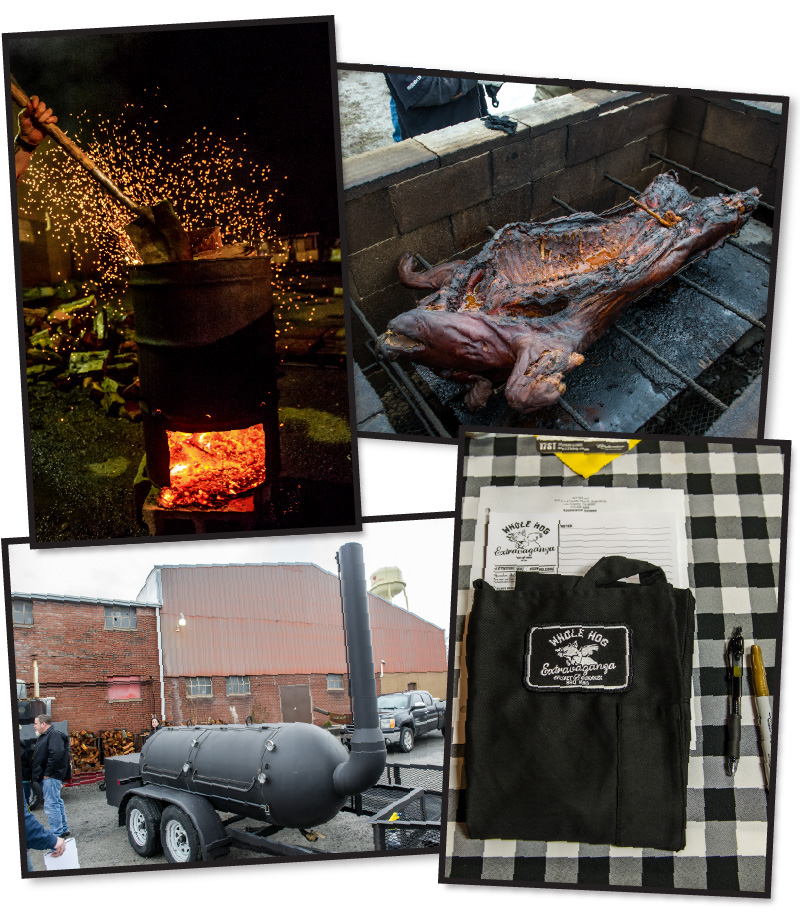 Click the link below to register online or email Amy to pay by check and avoid the ticketing fee.