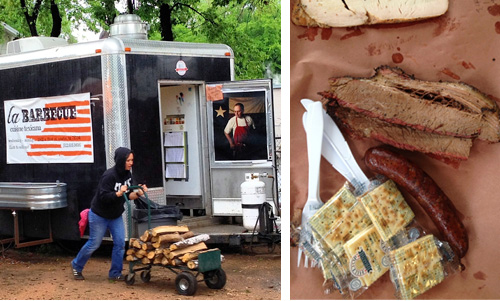 When traveling to Austin, my focus is pretty specific: Visiting with friends, which means barbecue. Shopping, which means boots. Cocktails, which means tequila.
I have an email with suggestions for all of the above that I've edited and revised and sent to dozens of friends over the years. I've updated it again and am posting it here. If you're traveling to Texas for the NBBQA convention or SXSW, here are some places you might enjoy.
Barbecue:
The barbecue scene has exploded in the few years since the last convention. I won't re-invent the wheel here as this list by Burger Mary is quite good and well organized. If you're going on the NBBQA bus trip, you'll hit a few of the really good ones and if you have extra time, here's your guide.
Before heading out for a barbecue crawl, grab a breakfast taco from Torchy's and eat it while you're standing in line at Franklin's. Buy a few extra and give them to the people standing next to you. You'll make instant friends.
An ideal afternoon:
You can spend an entire day or afternoon on South Congress. Buy or ogle the boots at Allen's – my absolute favorite spot to buy boots. Ask for Ryan and tell him I sent you. Heritage Boots, just down the street, has a beautiful selection, too. Pop into Guero's for a margarita and good chips and salsa. Their margaritas are all from scratch — no mixes — so they're not cloyingly sweet and they go down fast and easy. Browse the antiques and collectibles at Uncommon Objects. Wander in and out of all the cute shops. Jo's Coffee is perfect if you need a pick-me-up. The lounge at the San Jose Hotel is great for an appetizer and cocktail. End up at the Continental Club for live music.
Austin has quite the dining scene. These places are tops:
Lucy's Fried Chicken has some of the best sweet tea chess pie I've ever eaten.
Sway for modern Thai food.
Uchi and/or Uchiko are billed as contemporary Japanese dining and sushi and Japanese farmhouse dining and sushi. I've only been to Uchi and I highly recommend.
Qui is helmed by Top Chef and James Beard Award winner Paul Qui and it's quite the dining experience.
Easy Tiger is great in the morning — beautiful baked goods. Also fun for late night dining and drinking in their beer garden. Have the pretzels with butter and/or beer cheese.
This guide and this guide are good ones for navigating the huge, constantly changing food truck scene. There's also an app for that.
Hotels
Four Seasons is centrally located and has a beautiful lounge perfect for cocktails and meetings.
Hotel San Jose is clean and contemporary. Superb location, pool, and lounge.
The Driskill has that old-line Austin feel. Great bar.
Crowne Plaza is a bit farther out, but a good location if you're spending time in the Hill Country.
I haven't stayed at the Hotel St. Cecelia, but it looks swanky and quite cool.
AirBNB has many good Austin options. I'm going to try this on a future visit.
More favorite shops include:
Blue Velvet for vintage shopping. Friends have purchased great vintage cowboy boots here.
One of my favorite outfits ever came from By George on South Congress.
Cavenders also has a great selection of cowboy boots, some very well priced.
Live music is everywhere.
Classic Texas two-stepping at the Broken Spoke is a fun, fun night.
6th Street is home to music venues and many, many bars.
Please let me know if I've missed one of your favorites and I'll add it to the list!
 You can read about some of my previous Austin experiences here, here, and here.