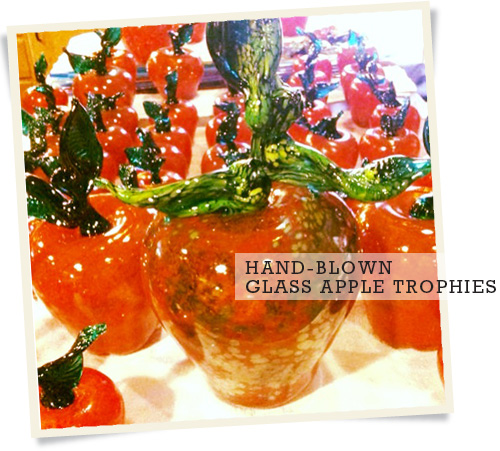 A few years ago we decided to upgrade our trophies and come up with something special and meaningful that would represent Murphysboro and our contest. We're fortunate to have award-winning glass artists at the Douglass School Art Place and we commissioned these one-of-a-kind glass apples, in varying sizes, to use for the category runners-up and the reserve grand champion.
The Frederick Douglass School was Murphysboro Illinois's segregated black elementary school from 1897-1966. Purchased in 1993 by art historian Gretel Chapman and glassblower Jan Thomas for development as an art place, "The Doug" offers studios for rent to artists, exhibition and performance spaces, and a developing sculpture garden. The DO U GLASS Hot Shop is housed in the WWII quonset hut which was the school's cafeteria . Cam and Jan are renowned glass artists and they sell their creations at fairs and festivals all over the region.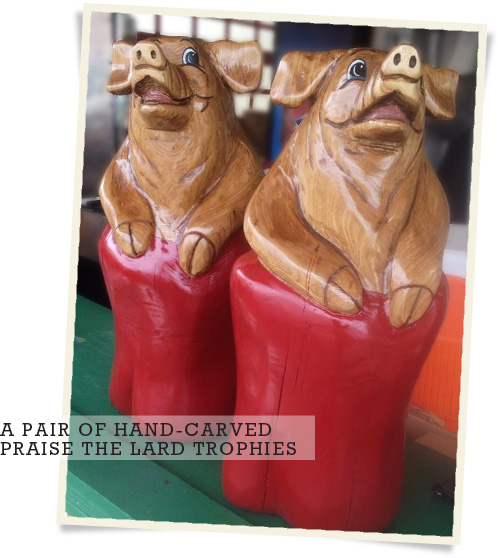 The lucky MBN and KCBS Grand Champions will each take home one of these chainsaw-carved apple and pig trophies, crafted by Bear Tracks Chainsaw Carving.  Boars Night Out won one of these several years ago and I saw pictures of this pig, strapped in with a seat belt and wearing sunglasses, riding all over the country in Allen Smith's truck.
Wendy Rhodes and her dad, Mike Rhodes, are a father/daughter carving team. Mike cuts and preps the raw material and Wendy is the artist, finishing each intricate piece.
We're thrilled to have Illinois artists creating these special pieces of art for our contest prizes. We'll be awarding these trophies starting at 6 p.m. on Saturday, September 20.
Instagram and Twitter: @17thstreetbbq  •   Official event hashtag is #PraiseTheLard
Follow our adventures in real time on Instagram and Twitter.
See lots of entertaining and barbecue ideas on our Pinterest boards.
And we post fun things on Facebook, too!