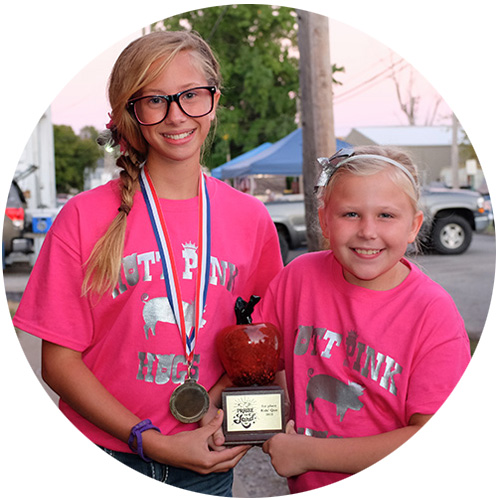 Did you know that there is a kids' category at the Praise the Lard™ Cook-Off? The Townsend Spice and Supply Kids' Que competition, will take place on September 20, 2014 and has two age categories. The $30 entry fee includes meat, t-shirt and a small grill. Space is very limited and the deadline to sign up is September 10, so get those entry forms in fast!
Barbecue teams can still enter the World Food Championships Super Regional contest, as well as the Bloody Mary Contest.
Here's a list of the teams who will be competing next Saturday:
Kansas City Barbecue Society Teams
270 Smokers
A Boy & his BBQ
All in Que
A Pig's Worst Nightmare
Always Sugar Absolutely Fire
Back Draft BBQ
Back Porch
Big O Dang O
Blazin' Blues BBQ
Boss Hawg BBQ
Brewmaster Bar-B-Que
Carbondale Pork District
Choke It and Smoke It
Clark Kent Super Smokers
Dewey Smoke'm & Howe
F.B.I. BBQ
Gilly's BBQ
Hickory Pit Stop
High on the Hog
Iowa's Smokey D's BBQ
It's 5 O'Clock Somewhere
Jug's BBQ
Killer Hogs
Mispits
Monster Q
Nuthatch Hill BBQ Co.
One2bbq
Party Q
Piggy Q
Pitmaster IQ BBQ
Porkmafia
Posey County Cookers
QUAU
Q-bones
Qubed
Runaway Hogs
Sexy Q
Sideburn BBQ CrewSmell That Smoke
Smokey's Q
Smoki Bros.
Smokin' All Your Butts BBQ
Smokin Bullets
Smokin' Sauced
Smokin' T's
St. Louis Black Iron BBQ
Standing Rock
Sweet Swine O'Mine
The Fabulous Faultliners
Too Big to Fail BBQ
TR's Up in Smoke
Two Butts & A Ham
Twyford BBQ & Catering
Uncle Bones BBQ
West Point Porkers
Wild Boar Smokers
Wright on Que–IL
Memphis Barbecue Network Teams
Always Sugar Absolutely Fire
BBQ Travel Germany
Clark Kent Super Smokers
FBI BBQ
Goin' Hog'n
Gwatney Championship BBQ
Mispits
Party Q
Piggy Style
Qubed
Sweet Swine O' Mine
The Flying Pigs
The Ninja Pigs
Twyford BBQ & Catering
Victory Lane BBQ
Wild Irish "Q"
Will-b-Que BBQ Team
Teams Cooking Both KCBS & MBN
Always Sugar Absolutely Fire
Clark Kent Super Smokers
FBI BBQ
Mispits
Party Q
Qubed
Sweet Swine O' Mine
Twyford BBQ & Catering
Photo courtesy of Rob Burke.
Official event hashtag is #PraiseTheLard
Follow our adventures in real time on Instagram and Twitter.
See lots of entertaining and barbecue ideas on our Pinterest boards.
And we post fun things on Facebook, too!