Mike's Original
The sauce that won dozens of awards and accolades on the competition circuit. Mike's Original is a harmonious combination of ketchup, vinegar, and mustard – the three ingaredients that typically set regional barbecue styles apart from one another. This is a thinner sauce, best applied in several coats during the cooking process or simply slathered on table side. It's a favorite on ribs and pulled pork sandwiches, as well as on chicken and burgers.
---
Apple City Red
A sweet, ketchup-based sauce with a little heat on the end. Apple City Red is excellent on pork, poultry, and beef. Try it in place of ketchup after melting a thick slice of sharp cheddar over a juicy flame-grilled burger.
---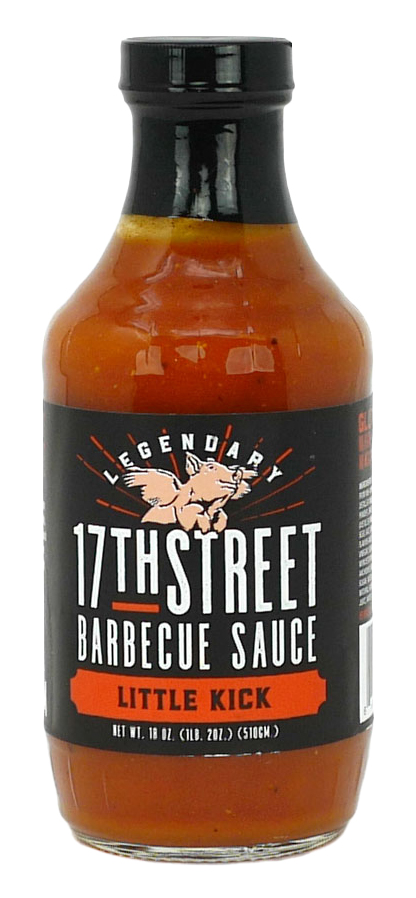 Little Kick
Identical to Mike's Original harmonious combination of ketchup, vinegar, and mustard, but Little Kick has extra cayenne for a touch of heat. Pour some Little Kick on a plate and some Magic Dust® on another, then dip the rim of a chilled glass – first into the sauce, then into the Dust – and fill with a freshly stirred bloody mary. Add your favorite garnishes and a straw and wait for your brunch guests to sigh with delight.
---

Hog Warsh
Splash this pepper-flecked Carolina vinegar sauce on pulled pork or brisket, just before serving. You can use Hog Warsh alone for traditional Carolina-style barbecue, or layer it with your favorite sauce. It's also a great option for brushing over the skin of your roasted or smoked chicken, just before taking the bird off the heat, to help crisp things up with a tangy punch.
---

Magic Dust®
The secret to all of our success! Use Magic Dust® as a seasoning for just about anything you prepare. Garnish your scrambled eggs, rice bowls, and grilled veggies. Toss it with freshly-popped and buttered pop corn for a savory movie snack. Sprinkle it over your favorite hummus or dip for an eye-popping (and delicious) presentation. It's spectacular on barbecue, naturally, but also so much more.
---

Brisket Rub
A robust blend of black pepper, salt, and garlic, our Brisket Rub adds the perfect punch to brisket, steak, burgers, eggs, and more. Slather a pork tenderloin with some dijon mustard and a healthy sprinkle of Brisket Rub before searing on all sides to get a savory crust before finishing your cook inside a hot oven or grill. Drizzle the slices with Hog Warsh and a light dusting of the rub for a finishing touch. Want one more layer of flavor? Add a drizzle of your favorite hot honey just before serving.
---