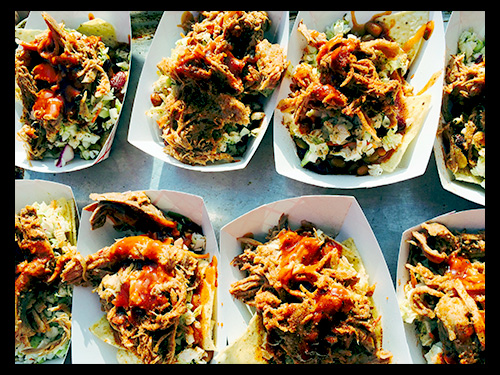 I realize we're well into 2015 – hello, February! – so please bear with me as I catch up and document the rest of an amazing 2014. I'm not sure what we did without camera phones to capture every interesting plate of food put before us? Scrolling through my photo album and remembering plates of food – and with whom I shared them – makes me inexplicably happy. Most of these are moments I didn't document elsewhere on this site and I want to remember them.
We served these barbecue parfaits to groups of VIP guests at Memphis in May. Layers of tortilla chips, slaw, and succulent strings of pulled pork, drizzled with a bit of sauce.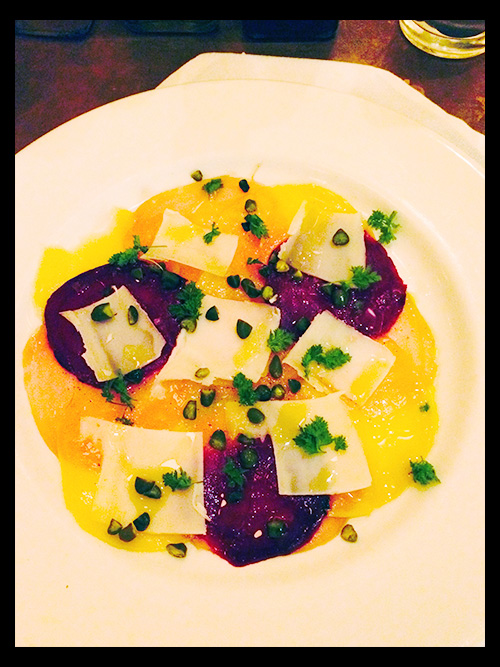 Beet carpaccio at Cherche Midi. Red and golden beets sliced paper thin and layered with brebis and sprinkled with a pistachios. One of my favorite NYC nights in 2014. I will never not order this at Cherche Midi. Shane McBride is brilliant.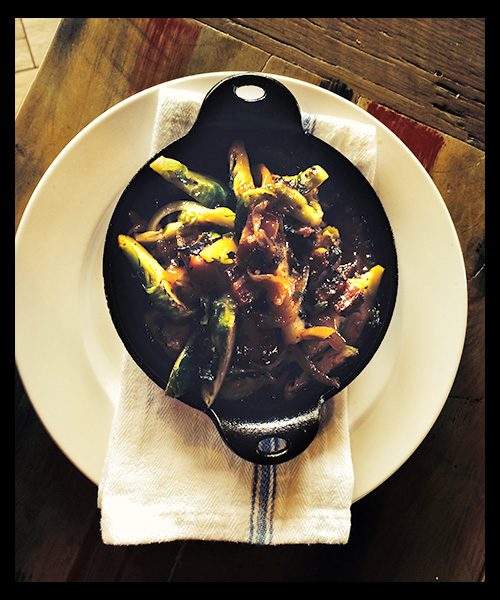 Sizzling, balsamic-glazed Brussels sprouts at The Pig in St. Louis. Loved these.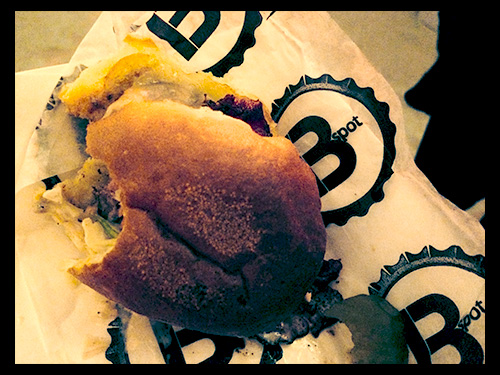 Michael Symon's burger at the Burger Bash at South Beach Wine & Food Festival. So good.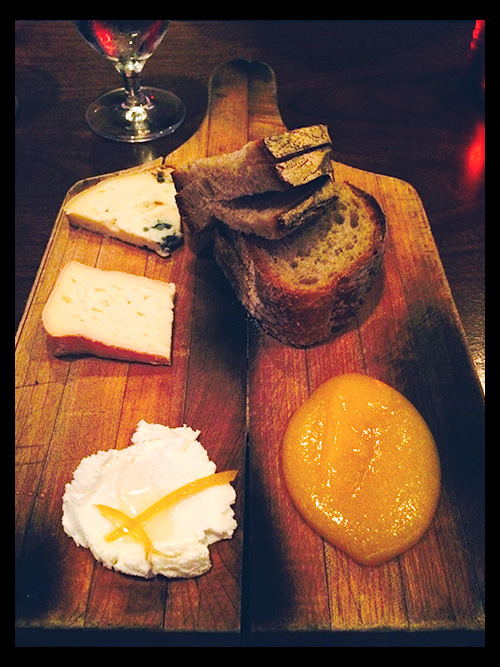 Cheese board at Craftbar. Accompanied by lots of rosé and great friends.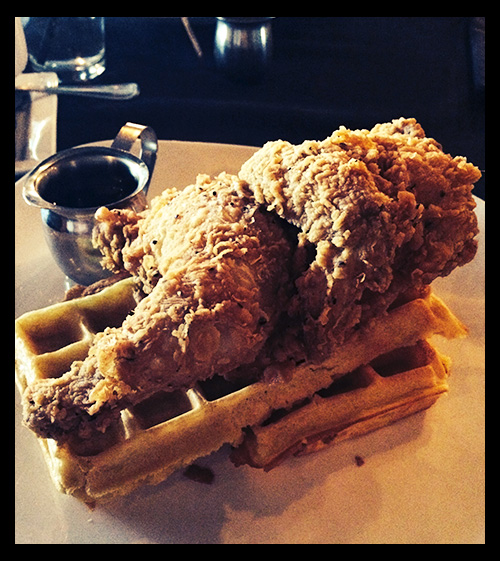 Cornish game hen and waffles with cayenne-spiked syrup. Fun take on the standard chicken and waffles. At Cody's Bistro in San Marcos, Texas with my whole pit crew and Keith Schmidt of Kreuz Market.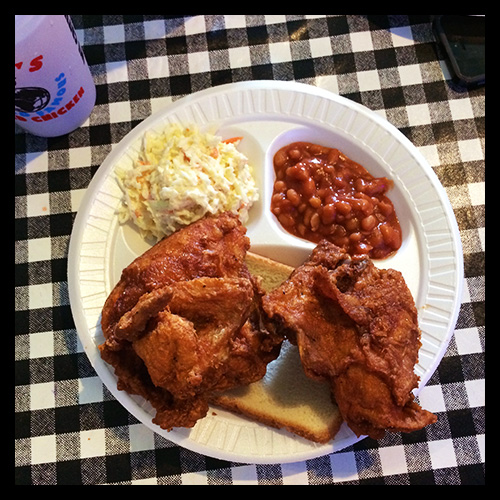 Gus's fried chicken. A must during Memphis in May.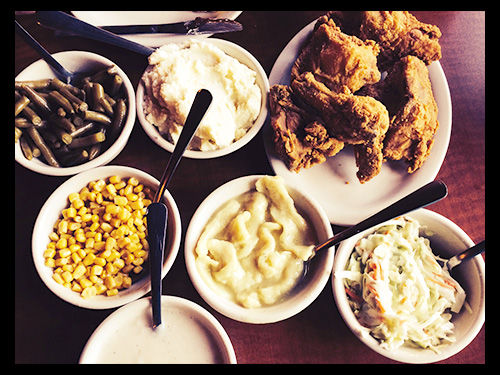 A sleepy Sunday afternoon at The Lodge at Giant City State Park with my daddy. All-you-can-eat fried chicken and all the fixin's. A family tradition.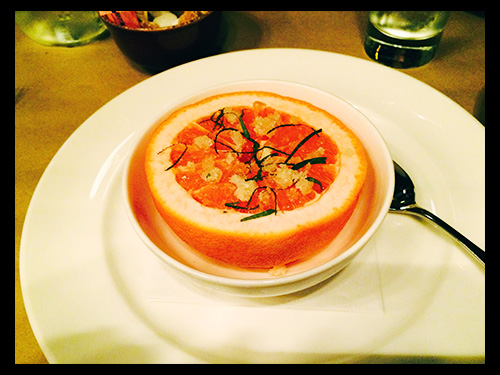 Bruleéd grapefruit at The Breslin at the Ace Hotel. A life-changing breakfast meeting. Must remember how big the possibilities seemed at that moment.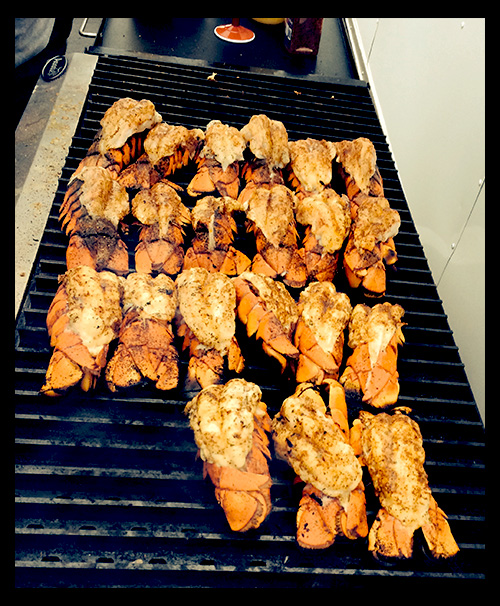 Lobster tails, carried fresh from Maine by DennyMike Sherman, and grilled during the National Barbecue Association convention in San Marcos, Texas.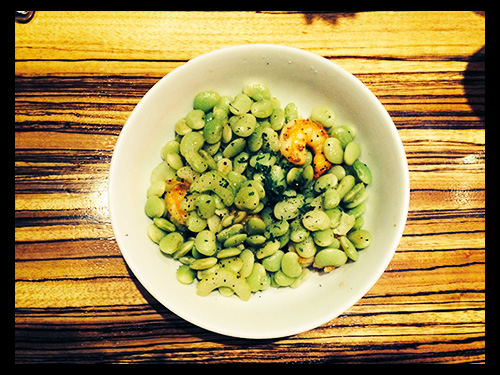 Simple and fresh salad of butter beans, fresh South Carolina shrimp, and a light lemon vinaigrette. Monza, Charleston, SC.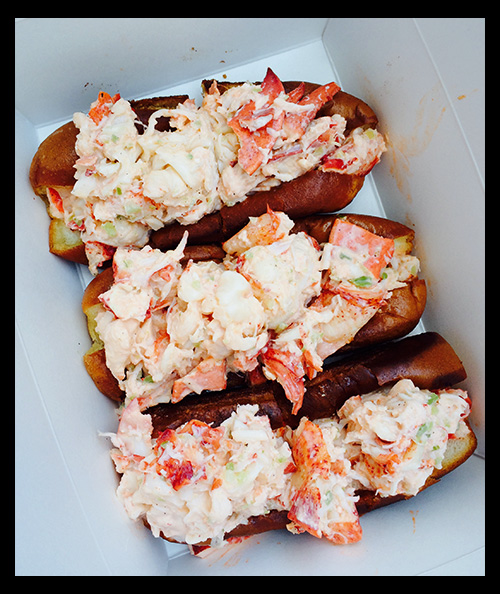 Buttery buns stuffed full of fresh, tender lobster. An early morning treat handed over the fence during the Big Apple Barbecue Block Party by Ed McFarland of Ed's Lobster Bar in Manhattan. Go there.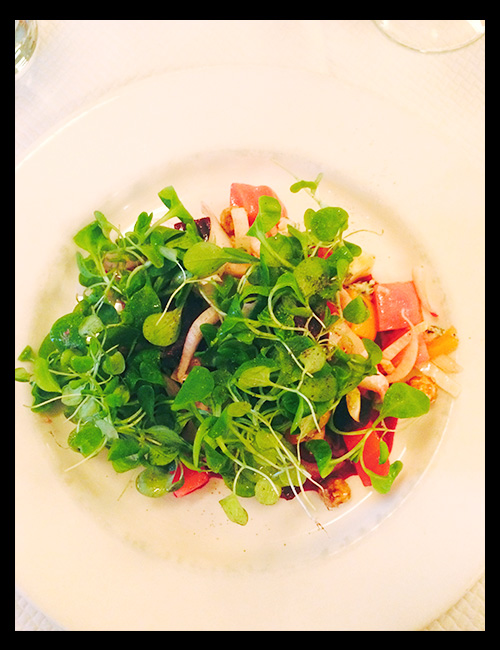 Beet salad and a bottle of rosé at Balthazar. Always a special treat.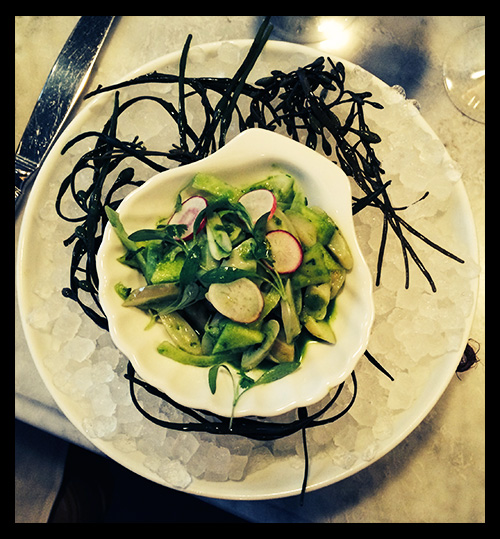 Razor clams with apple, radishes, and bright with cilantro at The Ordinary in Charleston. We ordered pretty much the entire menu and it was all so, so good.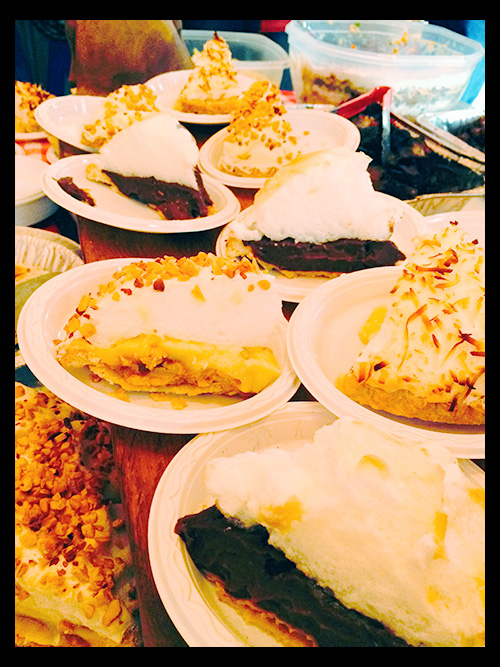 Slices of the very best Big Bob Gibson pies, carefully carried by Carolyn McLemore to Memphis in May. Peanut butter, coconut, and chocolate. Feels like home.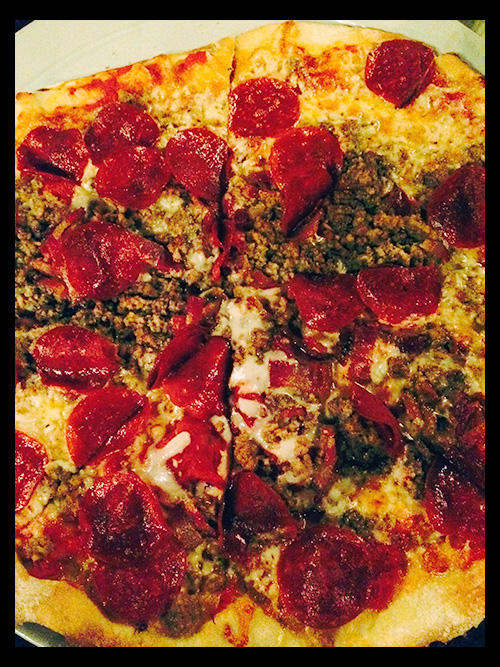 Sugo's is one of my favorite places in St. Louis. My great college friend and Mizzou J-school cohort introduced me to this spot. Next to my favorite shopping spot and hotel, I go there often when I'm St. Louis. Great salads, wine, and pizza. Mike Del Pietro creates great dining experiences.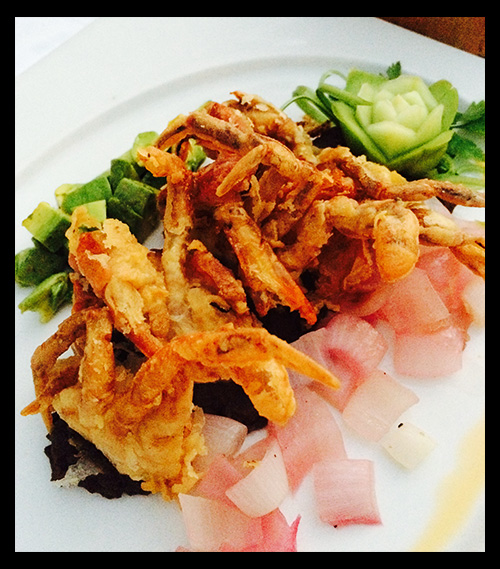 Softshell crab at Lorenzillios in Cancun. My first vacation not attached to a business trip in 20 years. Slow learner.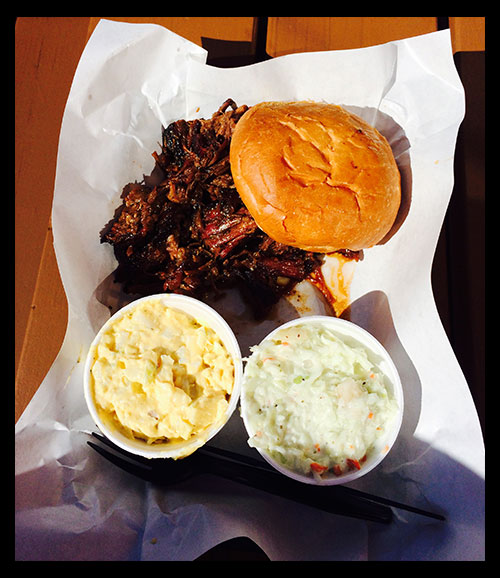 Celebrating a big deal with our Coolfire partners. Really great burnt ends sandwich at Bogart's in the Soulard neighborhood of St. Louis. Also the deviled egg potato salad. Bravo, Skippy!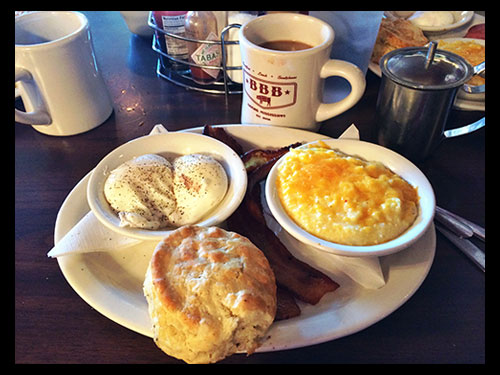 Breakfast does not get much better than this. Big Bad Breakfast in Oxford, during SFA, with my partners in crime.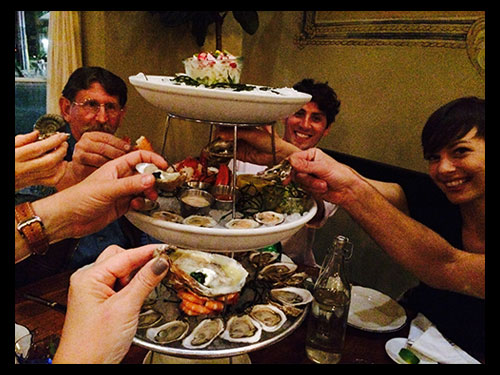 And, the triple tower. During eight visits to Charleston in 2014, The Ordinary became our go-to celebratory spot, with the triple tower as the centerpiece. The memories of each of these evenings, and the people gathered around the table, are seared into my mind. Moments as big as years. Looking forward to many more of these evenings in 2015.
Keep up with us!
Follow our adventures in real time on Instagram and Twitter.
See lots of entertaining and barbecue ideas on our Pinterest boards.
And we post fun things on Facebook, too!