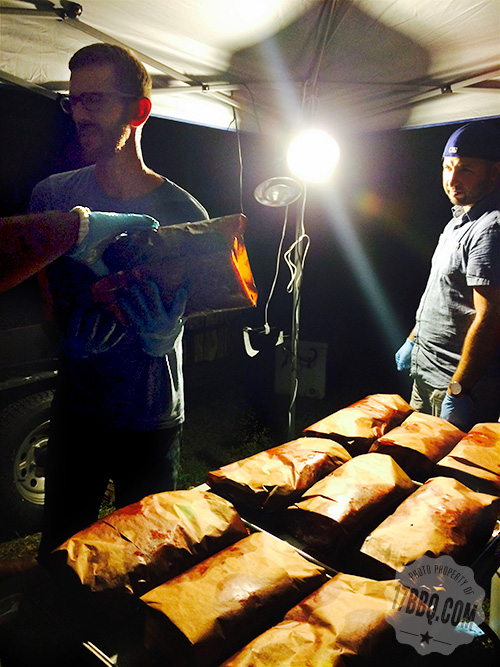 I'm still documenting my summer fun and one of my favorite barbecue trips involved  the Charleston Brown Water Society SC-TX Barbecue Invitational at Holy City Brewing.
John Lewis of La Barbecue, the top-ranked barbecue in Austin, TX, accompanied by fellow Texans Robert Sierra and Emma and Travis Heim, traveled from Austin to cook brisket and beef ribs alongside famed South Carolina whole hog wizard Rodney Scott.
Above is John, with Travis looking on, cooking briskets by moonlight.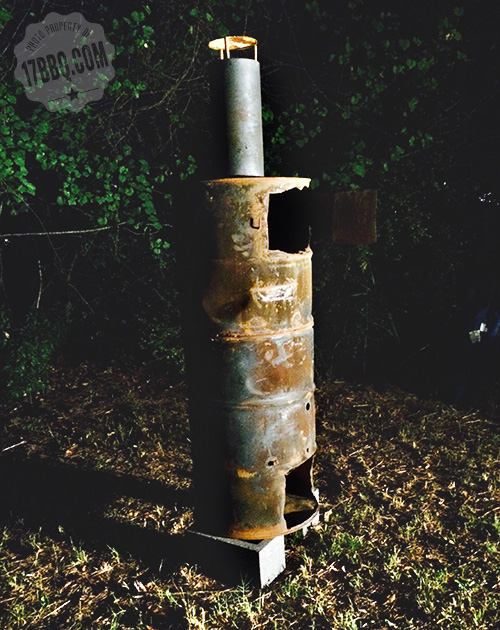 The ritual of prepping and cooking barbecue is my favorite part of an event. Here's Rodney's burn barrel, just before firing it up …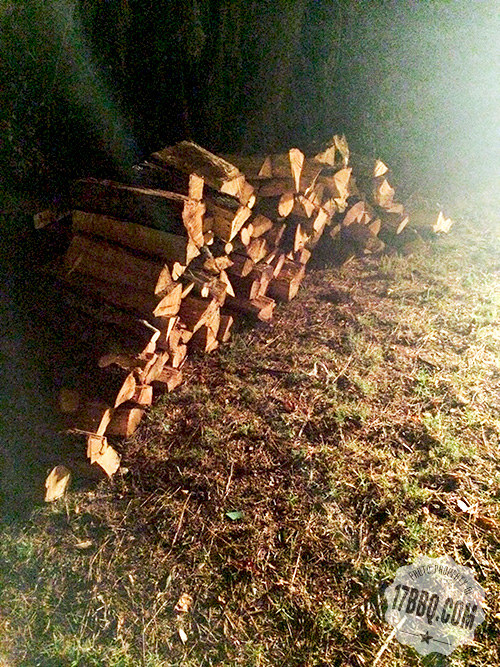 with this pile of hewn oak, hauled from his hometown of Hemingway South Carolina.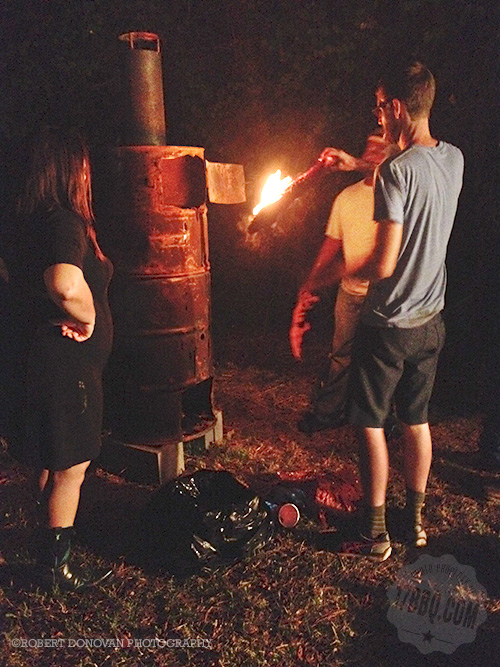 We lit the fire with Texas butcher paper dipped in beef fat from John's pit. A true collaborative effort.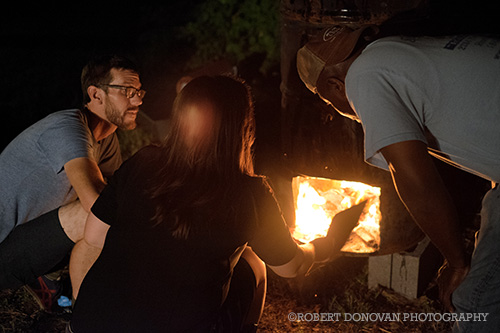 It took a lot of fanning to get the fire going.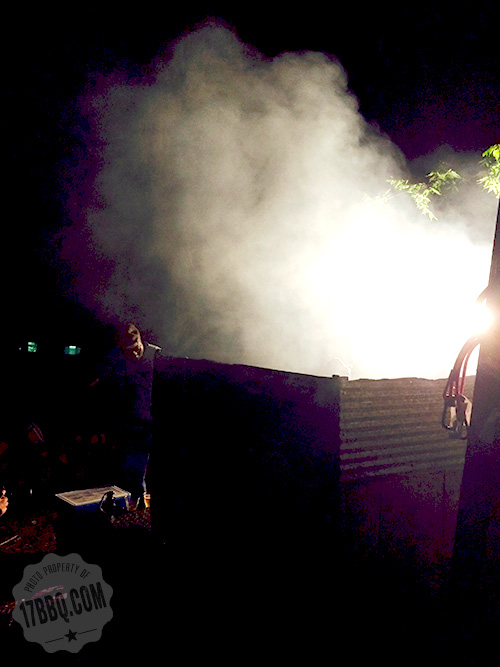 After prepping the hogs, they were put on the pit to smoke and smolder through the night …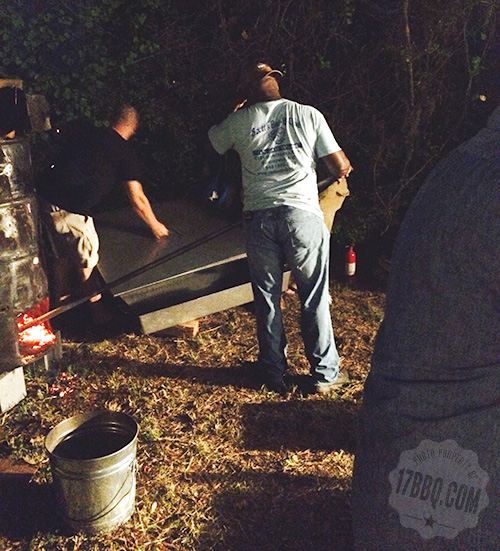 … with more coals shoveled on as necessary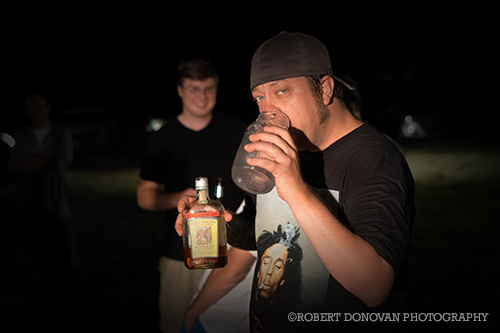 Of course, the good stuff always happens after midnight. We took swigs out of this bottle of 98 year-old whiskey that Jed Portman brought out for the occasion. This is Dan Latimer, CBWS founding member and head puppeteer of the Husk/McCrady's/soon to be Minero empire.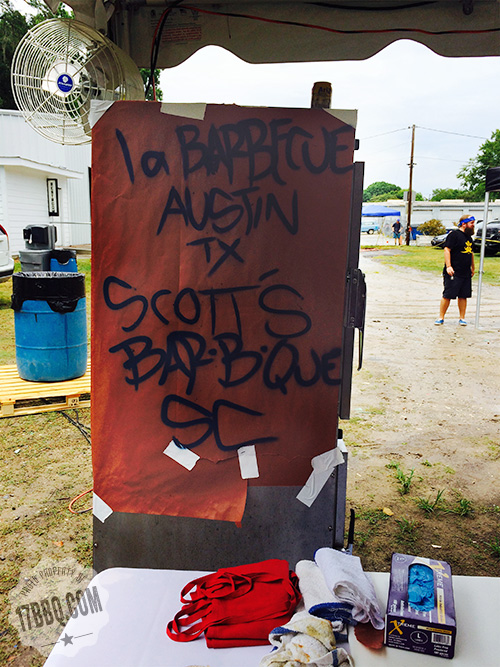 The day's simple menu written on butcher paper.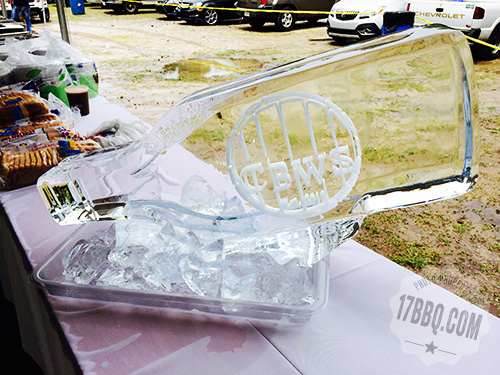 The carved ice luge saw some action throughout the party.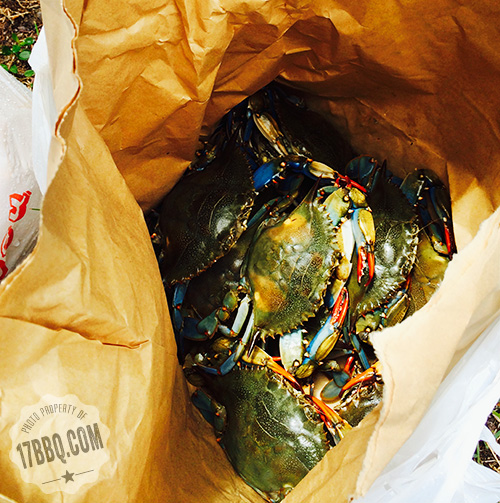 Chef BJ Dennis brought a bag crabs to cook for us. BJ is revered for his Gullah/Geechee cuisine.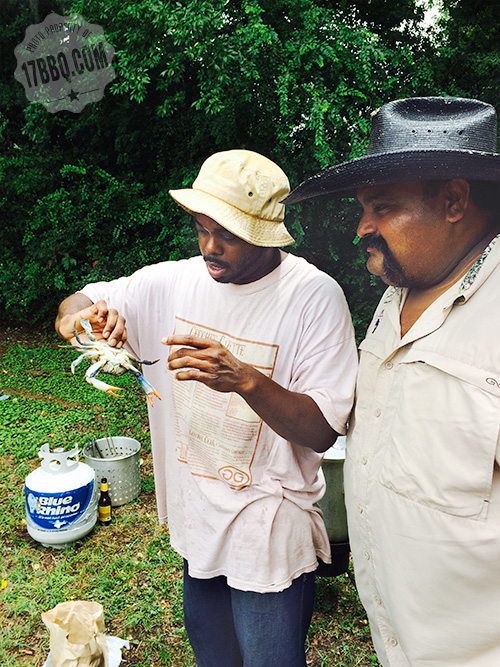 Watching Robert's reaction to those crabs, especially when the bag was dropped and some escaped, was pretty amusing. You're not in Texas anymore, Robert!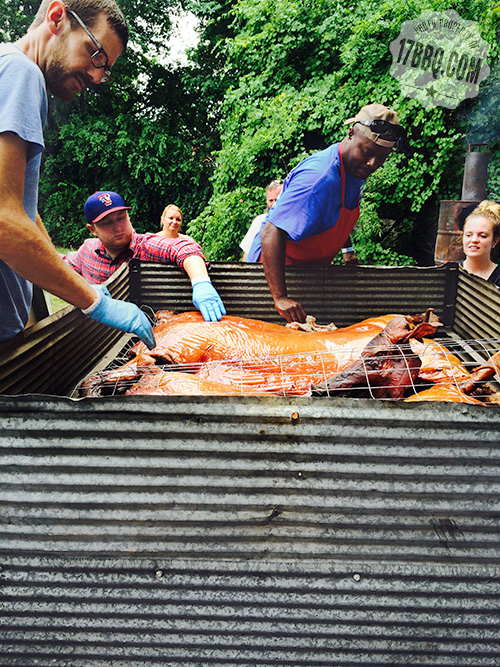 The Texas contingent up close and personal with Rodney and the hogs.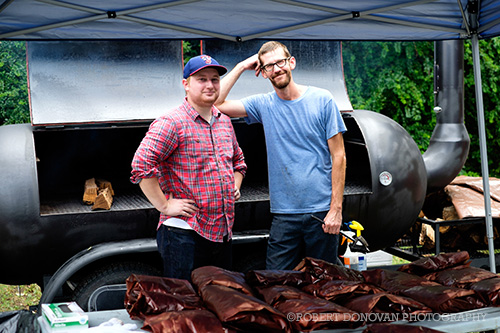 Travis  and John posing with piles of wrapped beef ribs.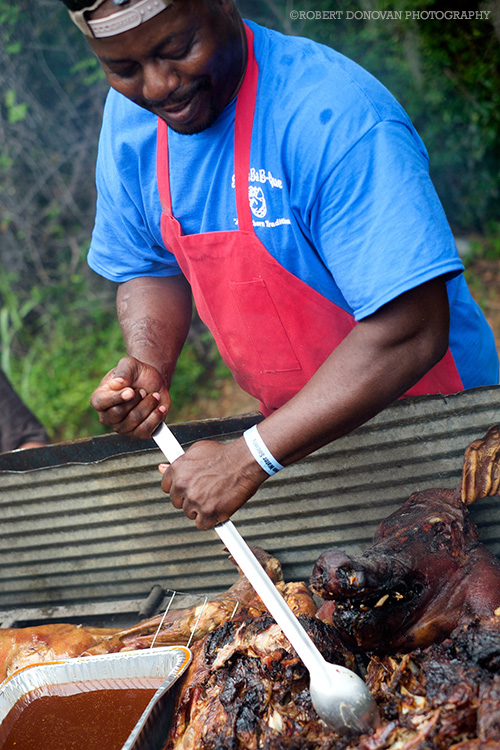 The master: Rodney checking the hogs just prior to pulling them off the pit.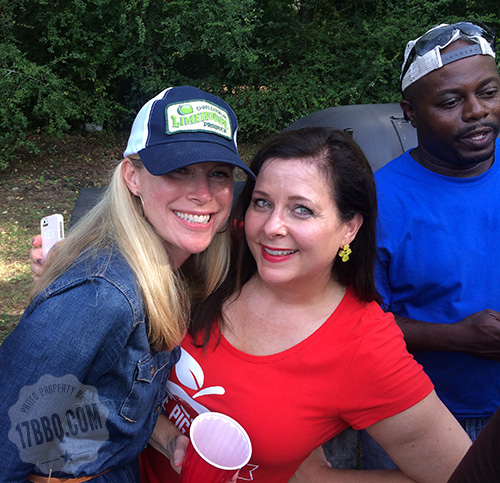 Loved spending time with Angel Postell, Hometeam PR girl extraordinaire. We had lots of time to chat as we teamed up to pull the pork.
One carcass down.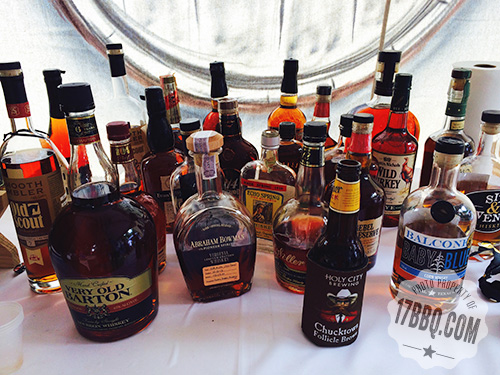 These Charleston Brown Water Society boys are not messing around. This was their private stash.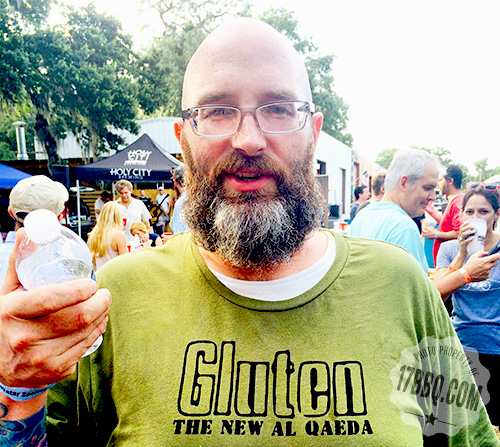 Husk bar manager Robert Weaver ha the best t-shirt at the barbecue. Hands down.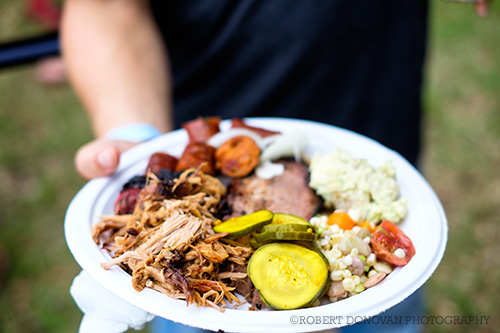 Plate of delicious food. Sides by BJ Dennis.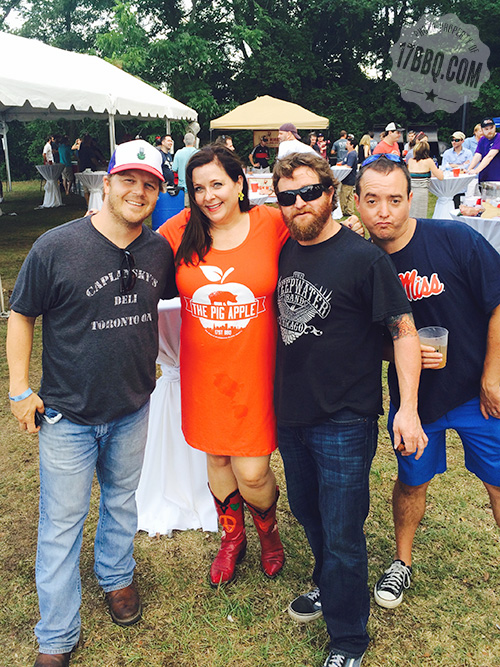 Hanging with the Hometeam BBQ boys, Aaron and Taylor, was a highlight.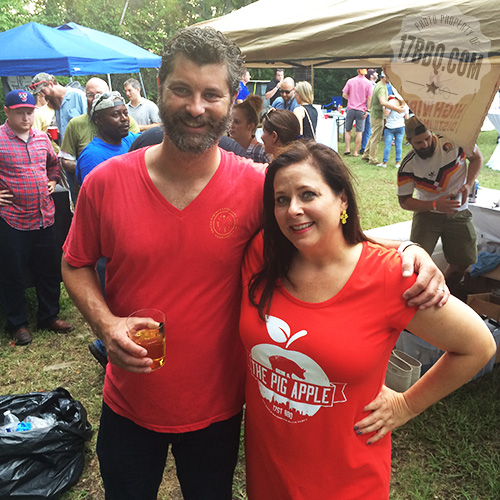 New bestie, Craig Nelson from Proof. If you're ever in Charleston, you must sit at his bar and marvel at the precision and care he takes with his cocktails.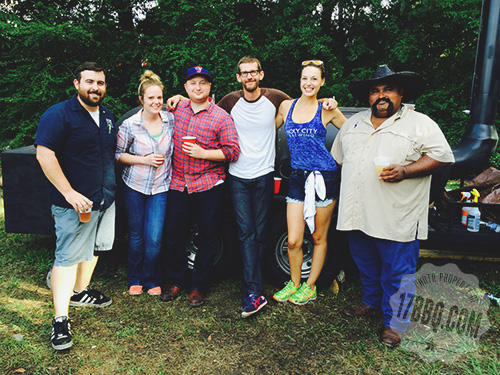 JT Stellenmach from Holy City Brewing with the Texas contingent: Emma and Travis Heim, John Lewis, Becca DuPree, and Robert Sierra.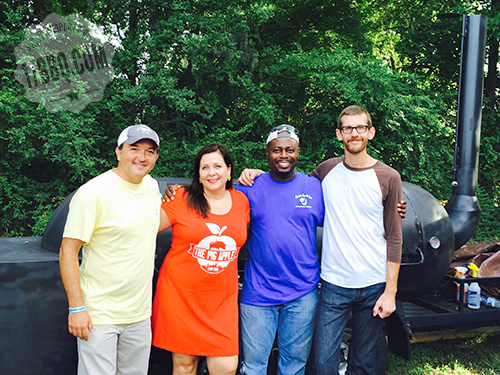 Barbecue family: Sam Jones, me, Rodney, and John.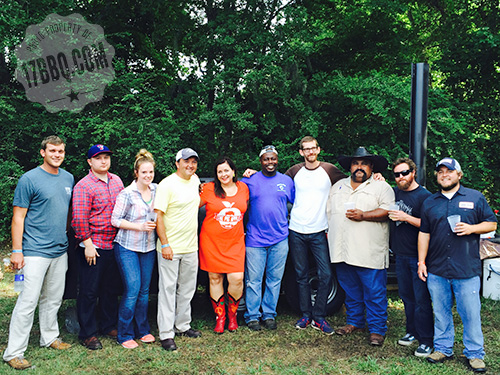 Now THIS is barbecue. Great shot of a great time.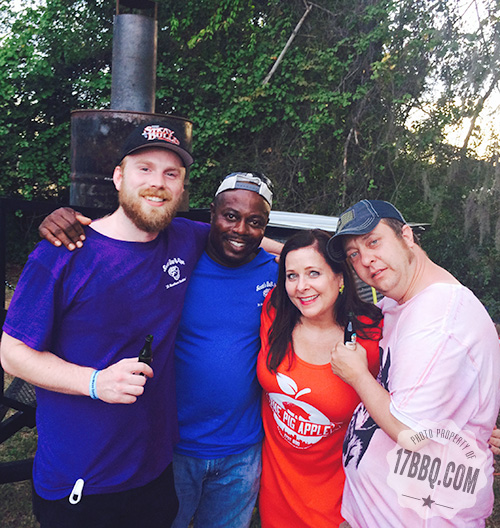 Jed Portman of Garden & Gun, Rodney, me, and Dan Latimer celebrating at the end of the event.
This event was magic. Holy City Brewing was such a gracious host, providing late morning yoga, great beer, a place to watch the World Cup, and the perfect spot for 300 guests to comfortably gather enjoy great food. Highwire Distillery, Charleston Distilling, and Six & Twenty Distilling sampled their wares and King of Pops distributed an array of refreshing, inventively flavored popsicles. While the pace of prepping barbecue for the lines was a bit rapid at times, the overall pace of the day was relaxed, and the guests were so appreciative of the food, libations, and fun. Heartfelt thanks to Robert Donovan, Eric Doksa, Dan Latimer, Robert Moss, Craig Nelson, Jed Portman, Roderick Weaver, Bear Barrow, and the entire CBWS and Holy City Brewing crews for their hospitality, hard work, and good cheer. Can't wait to do it again!
Special thanks to Robert Donovan Photography for the use of some of his photos. 
Follow our adventures in real time on Instagram and Twitter.
See lots of entertaining and barbecue ideas on our Pinterest boards.
And we post fun things on Facebook, too!