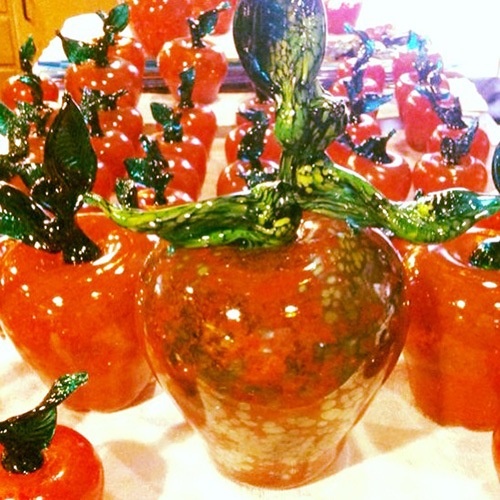 We have a record number of competitors at Praise the Lard this year: 9 MBN teams, 61 KCBS teams, and 14 teams cooking in BOTH categories totaling 84 teams. The blown glass apples above are some of the trophies for the contest, expertly crafted by the Douglass School Art Place in Murphysboro.
Are you cooking, judging, or volunteering in some way? Sign in the comment section below and tell us your favorite part of contest or to what you're most looking forward.
TEAM NAME
3 Taxi Guys
270 Smokers
A Boy & His BBQ
A Pig's Worst Nightmare
Adventure Partners BBQ
All In Que
Back Porch Q
BBQr's Delight
Beer & Smoking In Las Vegas
Big O' Dang O' BBQ
Boars Night Out
Bone 'E' Fide BBQ
Boondocks BBQ
Boss Hawg BBQ
Bubba Joe's BBQ
Carbondale Pork District
CT's Custom Smokers & Barbeque
Desperados Barbecue
Dewey Smoke'm & Howe
Diamond D Cooking Team
EnFuego BBQ and Grill Team
F.B.I BBQ
Firehouse BBQ
Fowl Butt BBQ
Getta Que
Gilly's BBQ
Goin Hog' N
Gwatney championship BBQ
Hawg N Dawgs
Hickory Pit Stop
HOOAH Wounded Warrior BBQ
Iowa's Smokey D's BBQ
It's 5 O'clock Somewhere
Jugs BBQ
Killer Hogs
Lock Stock & two Smokin' Barrels
Meadow Valley BBQ
Mike & Zachs BBQ
Mispits BBQ
Nuthatch Hill BBQ Co.
Oink-A-Doodle-Moo-1559
One2bbq
Party Q
Piggy Q
Piggy Style
PitMaster IQ BBQ
Posey County Cookers
Q Live Crew
QUAU
Que's Your Daddy BBQ
Redneck Grillers
River Eagle Smokin Butts Weise
Runaway Hogs
Serial Grillers
Sexy Q
Shake' N Bake BBQ
Shawnee Parkway Cracklin Butts
Sizzlin' Bones BBQ
Smokers Wild
Smoki Bros. BBQ
Smokin All UR Butts BBQ
Smokin Bullets BBQ Team
Smokin Fyrpit
Smokin' Sauced
Smokin' T's BBQ
Sonny's Competition Team
Spicewine Ironworks
Squealers Award Winning BBQ
St. Louis Black Iron BBQ
Team Enoserv
The Fabulous Fault Liners
The Flying Burritos
The Flying Pigs
The Heat Is On
Thunder Hog BBQ
Too Big to Fail BBQ
TR's Up In Smoke
TrueBud BBQ
Two Butts and A Ham
Twyford's BBQ & Catering
Uncle Bones BBQ
Victory Lane BBQ
Will-Be-Que BBQ team
Wright On Que- IL