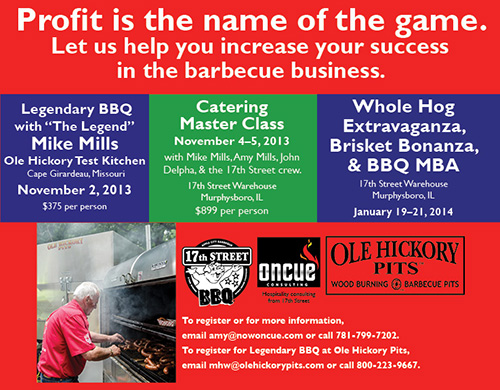 Seems we are constantly in planning mode and this month is no exception. We have three OnCue events coming up and I hope some of you will join us. We've welcomed participants from 40 states and 14 countries to Southern Illinois to soak up barbecue culture and knowledge. You can read descriptions of our programs here.
We focus on both the cooking and business aspects of running a barbecue restaurant and attendees are both seasoned professionals and those new to the business. We constantly hear from past attendees that we shortened their learning curve. Established pitmasters come to our events to get new ideas and to fine-tune their procedures.
We're proud to have helped incubate several dozen barbecue restaurants across the globe, with several more opening within the next six months. Among the summer/fall openings are Peg Leg Porker, Nashville, Keaster's Barbeque in Hattiesburg, MS, Hometown Barbeque, Brooklyn, Mac's Texas Bar-B-Q in Brady, TX, and  Gold Mine Barbecue in Denton, TX.
We have a few spots left in each class. Email or call now to receive a registration form. 
If you've attended one of our classes, we'd love to hear your best takeaway in the comments below!